Yankees Fans: Mark These Important Offseason Dates on Your Calendars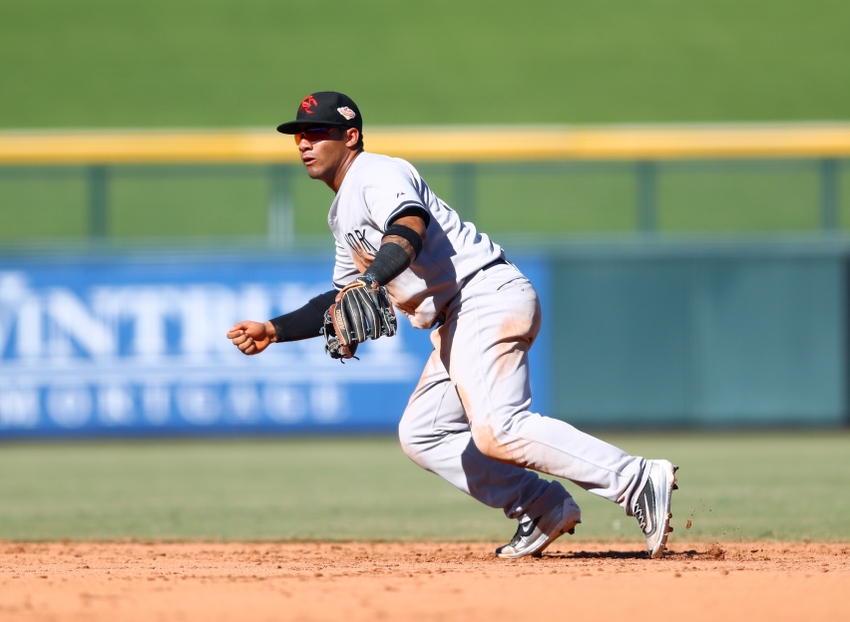 Yanks Go Yard breaks down all of the most important events of the 2016-2017 offseason for the New York Yankees that fans need to know.
With the end of the World Series, the 2016-2017 offseason officially kicks off for the New York Yankees. The 2016 season was definitely a mixed bag for the franchise. The first half was probably the most disappointed I've ever been in my 20 years following the team. On the other hand, the trade deadline and the next generation stepping up down the stretch gave the club and the fandom a new energy that had been a lot of fun.
Just because the team is committed to building from within doesn't mean this will be a quiet winter. New York is shedding roughly $60 million in payroll with the departures of Mark Teixeira, Carlos Beltran, Andrew Miller, Aroldis Chapman, and Ivan Nova. We've already heard they will go hard after Chapman this offseason, and I wouldn't be surprised if they had room in the budget for one more notable signing (Rich Hill? Jeremy Hellickson?) as well.
Yankees fans should also expect more wheeling and dealing from the front office this winter. General manager Brian Cashman made four big trades last winter, acquiring five key contributors to this year's club (Chapman, Aaron Hicks, Starlin Castro, Luis Cessa, and Chad Green).
With the best farm system in baseball at his disposal, Cashman has the option of putting together a blockbuster for one or more of the biggest available names, but more likely we will see him continue his recent approach of making incremental upgrades and improving the club's overall depth, especially of the pitching staff.
Important Dates in November (Hat tip to MLB Trade Rumors for their excellent overview)
November 3: This is the start of the five day window to negotiate with any impending free agents. The Yankees traded most of those guys away at the deadline, but if they really want to hash something out with Billy Butler, this would be the time.
November 5: The Arizona Fall League Fall Stars Game will be held at Surprise Stadium and is available to watch on MLB Network and through MLB.TV. Gleyber Torres and Dillon Tate will represent the Yankees, while Miguel Andujar is one of three vote in candidates for the East Fall Stars.
November 7: This is the deadline for team's to submit qualifying offers, which has been upped to $17.2 million this year. Again, unless New York is much higher on Country Breakfast than the rest of the industry, this probably isn't relevant to them.
November 8: The official start of free agency! Brian Cashman can finally express his true feelings to Aroldis Chapman without repercussions. This is also the day that the Gold Glove awards are announced. Brett Gardner was one of three finalists among left fielders.
November 8-10: The rumor mill will likely kick off in earnest with the general manager's meetings in Scottsdale, Arizona. There are usually a few moves that happen here, so it's possible Cashman strikes quickly with something.
November 14: Decisions of qualifying offers are due. Only relevant to the Yanks because they have a clearer sense of who will be available on the market. This is also the date that the AL Rookie of the Year award is announced. It should be a very close decision between Gary Sanchez and Michael Fulmer.
November 15: AL Manager of the Year announced. Joe Girardi won't win, and probably shouldn't, but he usually gets a few votes.
November 16: AL Cy Young announced. Masahiro Tanaka was a strong contender before missing his final two starts with a forearm issue. He still might make a few ballots after such an excellent year.
November 19: The Arizona Fall League seasons ends with their championship game. At 18-12 and in first place as of this writing, the Scottsdale Scorpions are strong candidates to represent the East Division in this contest. It would be fun to see James Kaprielian start this one.
Important Dates in December
December 1: The current CBA expires. The new deal could have major ramifications for the Yankees' future plans, as both a possible international draft and a new luxury tax ceiling figure to be addressed.
December 4-8: Watch Yanks Go Yard closely on these days as there are always a ton of trades and signings made during the annual Winter Meetings, which will be held this year in National Harbor, Maryland. During last year's meetings, the Yankees completed two major trades, bringing in Starlin Castro from the Cubs, as well as Luis Cessa and Chad Green from the Tigers.
December 8th: The Winter Meetings wraps up with the Rule 5 draft. The Yankees are unlikely to have the roster space to make any additions because of their crowded 40-man roster. Far more likely the organization will lose one or more players that they don't have room to protect. Last year, both Evan Rutckyj and Jake Cave were each selected and subsequently returned.
New York has already revealed that catcher Kyle Higashioka will be protected following his breakout 2016 campaign, but other notable players who could be left exposed to the Rule 5 include Cave (again), Dietrich Enns, Tyler Webb, Giovanny Gallegos, Luis Torrens, Mike Ford, and Cito Culver. Top prospects like Jorge Mateo, Domingo Acevedo, and Miguel Andujar are expected to be protected this winter.
Important Dates in January
January 18: The Hall of Fame class of 2017 will be announced. The former Yankees player with the best chance of being inducted is Tim Raines, who played a key role as a part-time guy during the 1996 and 1998 World Series championships in the twilight of his career.
Before that, Raines was one of the greatest leadoff hitters of his era, putting up a .294/.385/.425 slash line over 2502 career games, swiping 808 bags and compiling 69.1 WAR according to Baseball-Reference. He fell just short of the 75% necessary for induction last year at 69.8% and is in his last year on that ballot. He is one of my all-time favorite players and it really would be a tragedy if he didn't get in.
Appearing on the ballot for the first time this year is one of the best catchers in Yankees history, Jorge Posada. At just 42.7 career rWAR, Posada likely will fall of the ballot fairly quickly. He was terrific during his peak, but he was a late-bloomer with a poor defensive reputation (rightfully).
Still, he's a five-time All-Star who was one of the best offensive catchers of his generation (five silver sluggers to his name). He finished in the top six of MVP balloting twice and played for an impressive five World Series champions.
Also in January: We won't have the exact dates until the new collective bargaining agreement is hammered out, but teams and arbitration eligible players who haven't reached an agreement on a new contract by now will each file the salary figure that they think is fair, and eventually an arbitration panel will decide between them if a decision can't be reached.
Real live baseball (sort of) starts up again in Feburary with pitchers and catchers reporting to spring training. The World Baseball Classic will also run from March 7th to 22nd. The preliminary rosters were just announced and will be finalized in January. Dellin Betances and Masahiro Tanaka both are candidates to play apparently, so cross your fingers they stay healthy and the extra workload doesn't affect their seasons.
This article originally appeared on