Yankees Fans: Are These Pitchers Best Suited for the Rotation or the Pen?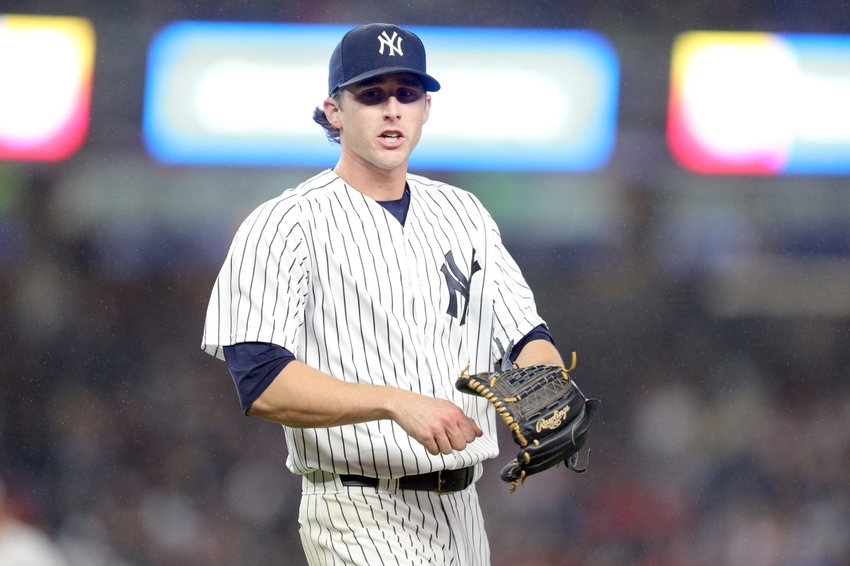 The New York Yankees have a number of pitchers who could either slot into the rotation or the bullpen going into the 2017 campaign.
Unless the New York Yankees make an unexpected trade or signing before spring training, the club will likely fill their two open rotation spots with a spring competition between the stable of interesting but unproven arms who bounced between the upper minors and the big leagues last year.
Interestingly, many of the guys under consideration have significant experience working both as starters and in relief, giving the Yankees a ton of flexibility with how they set up their pitching staff in 2017. Even the guys who don't earn a starting job could end up breaking camp on the MLB active roster in a short or long relief role.
Beyond the established front three of Masahiro Tanaka, CC Sabathia, and Michael Pineda, he primary names under consideration for a rotation spot next year are Adam Warren, Luis Cessa, Bryan Mitchell, Chad Green, and Luis Severino.
Those five guys have a leg up on promising Double-A and Triple-A starters like Chance Adams and Jordan Montgomery because of their 40-man roster spots. It's worth noting that Dietrich Enns was added to the 40-man this winter, but is likely lower on the depth chart than the guys with MLB experience.
Let's take a look at the primary five candidates for the two open rotation spots and consider whether they are better suited to start, work as relievers, or head back to Triple-A for a little more polishing.
Adam Warren
When given the chance to start consistently for the first time in his MLB career coming out of spring training in 2015, Adam Warren rewarded New York with a very solid 3.66 ERA over 96 IP (17 GS) but was frustratingly moved back into the bullpen when Ivan Nova returned from the disabled list following his TJ surgery rehab.
Warren came up through the minors as a starter, pitching to a 3.13 ERA in 92 MiLB starts over his five seasons on the farm. He was converted to the pen in the big leagues because the rotation was full and has established himself as a consistently above-average reliever who gives the Yankees some valuable flexibility because of his ability to soak up multiple innings at a time.
As good as he's been as a reliever, it seems strange to me that a guy who has never really failed as a starter has been confined to the bullpen without much of a second thought. Every year, the team brings Warren to spring training stretched out as a starter, and every year they go with someone else in the fifth starter role.
In a just world, Warren would finally get the opportunity to show what he can do over a full season's worth of starts in 2017. At the moment, he's probably the best MLB starter among this group of five guys and therefore deserving of a rotation spot.
At the same time, he's also the oldest of the five and has the least remaining team control, and that has to be a consideration for a rebuilding club. Because of this, and the team's historic preference to use him as a reliever, it seems inevitable that Warren begins the year as one of Aroldis Chapman's setup men.
Luis Severino
In his end-of-season press conference back in October, general manager Brian Cashman apparently put an end, at least temporarily, to the controversy of whether he is going to work as a starter or reliever, confirming that he will enter 2017 in either the MLB or Triple-A rotation:
All I can tell you is I hope he can regain starter-ceiling status. He'll get that opportunity. Whether it's in New York or in Scranton next year remains to be seen. Only he'll dictate that. The game will tell us, and then over time, if he eventually winds up in the 'pen because of it, because he can't seem to have that consistency, and then that's ultimately what he'll settle. So I do believe that he's a major league pitcher. But the hope is that he'll be a major league starter, and that's something that we need.
Cashman certainly leaves the door open to Severino moving to the pen in the long run, but the 22-year-old righty remains one of the few pitchers in the minor league system with the potential to be a front-of-the-rotation arm, so they need to give him every opportunity to stick as a starter.
Yankees skipper Joe Girardi sounded much more open to the idea of using Severino in the bullpen in 2017 at the conclusion of last year, telling Chad Jennings of the Journal News:
"I think (his role) is a topic for discussion in the winter. I do. And I think what you try to do next spring is you take the 12 best pitchers when you leave camp, but I'm sure there will be talks around the table about that."
Severino looks like he could be a late-inning weapon to rival Chapman or Dellin Betances next year if given the chance. It really comes down to whether the Yankees want to prioritize their short or long-term interests, and for a rebuilding team, the focus needs to be what is best for the organization's future.
However, if Severino continues to struggle next year as a starter but New York is in the playoff hunt, I wouldn't be surprised to see him moved to the pen full-time once again to help with their postseason push, and if that happens, the transition would likely be a permanent one.
Luis Cessa
Cessa seems like the safest bet from this group to win won of the two open rotation job next spring after pitching to a 4.01 ERA over his nine second-half starts after being pressed into regular rotation duty by the Nathan Eovaldi injury in mid-August.
It's an open question whether the 24-year-old righty will be able to sustain his success going into 2017 after posting some scary peripheral stats down the stretch. He didn't really strike anyone out (15.8% of opposing batters), and while he did a good job of limiting free passes (5.5% walks), he allowed way too many home runs, even for Yankee Stadium (2 HR/9).
While most of the other youngsters in this group live or die with their plus heaters, Cessa has a full arsenal of four pitches that he mixes well. His fastball did average an impressive 94.6 mph in the big leagues last year according to Pitchf/x, but he also made good use of his curve, slider, and change as well. All look like at least average MLB offerings.
Between Triple-A and the majors, Cessa threw 147.2 frames in 2016, putting him in a good position to be an innings eater for New York next year. 180-200 IP should not be a problem for him assuming he's healthy. That won't necessarily be the case for guys like Severino, Warren, Mitchell, and Green, who all either missed time with injuries or spent a big chunk of the season in the pen.
With so many question marks in the rotation, a young potential innings eater like Cessa is a real asset, even if he doesn't miss as many bats as you might like. He's a solid number four or five starter with six years of team control remaining. That's not a bad piece to have.
Chad Green
The 25-year-old righty was the lesser-known of the two arms the Yankees got from the Detroit Tigers in the Justin Wilson trade, but he was the first of the pair to get a crack at the big league rotation after a completely dominant performance with Triple-A Scranton Wilkes-Barre in which he pitched to a 1.52 ERA in 95.2 IP (16 GS) while striking out 27.4% of the batters he faced (9.5 K/9) and walking just 5.8% (2.0 BB/9).
Green made a few spot starts for New York throughout the summer, bouncing between the rotation and long relief with mixed results. He settled in as a starter following the departure of Ivan Nova following the August 1st trade deadline and pitched pretty well before a UCL sprain ended his season at the beginning of September.
An elbow injury for a young pitcher is always a bad sign, but Green will apparently avoid TJ surgery and be ready to go in spring training. These things do tend to flare up again though, so it's worth keeping an eye on how Green looks next March.
All told, Green had an ugly 5.94 ERA over eight big league starts while also pitching 9.1 scoreless innings of relief. His big fastball is his only plus offering and he has a pretty significant platoon split (lefty batters hit .287/.351/.663 off of him), so he probably profiles better as a reliever than a starter despite his strong numbers in the upper-minors.
That said, I wouldn't mind seeing Green begin next year as rotation depth in Triple-A. They are certainly going to need an extra starting pitcher at some point and Green seems like the worst starting of this group of five. The Yanks probably have better relief options as well, so Green may be most valuable as a backup plan in the minors.
Bryan Mitchell
Mitchell appeared to be on the verge of a breakout campaign before a fractured toe during his last Grapefruit League outing ended his 2016 season before it could begin. He had been dominant during the spring, allowing just one run while striking out 12 and walking three over his 15.2 innings of work in March.
Unfortunately the injury he suffered would keep him from donning the pinstripes until the last month of the season, when he was pressed into duty ahead of schedule by the club's lack of viable starting pitching options.
While he understandably showed signs of rust after missing the first five months of the MLB season, Mitchell acquitted himself well over his five September starts pitching to a 3.24 ERA and 4.23 FIP in 25 IP.
His control was kind of a mess, and he walked more batters than he struck out, but if you squinted, you could see signs of the guy who made a strong push to win the Yankees fifth starter job way back in the spring.
Want your voice heard? Join the Yanks Go Yard team!
Mitchell has two excellent pitches in his fastball and hammer curve, and then two kind of meh offerings in his cutter and change. If he can develop a third and/or fourth MLB quality pitch and continue to make progress with his erratic control, he could turn into a useful mid-rotation arm over the next year or two.
Probably the more likely outcome is that he ends up moving back to short relief. His lack of innings last year and the number of other candidates probably means he ends up alongside Adam Warren in the big league pen.
To sum up, I think Cessa and Severino end up with the two starting jobs out of camp, Warren and Mitchell are used as relievers, and Green gets sent back to the minors to serve as rotation depth.
This article originally appeared on