Yankees: Dellin Betances May Pitch for Team USA in 2017 WBC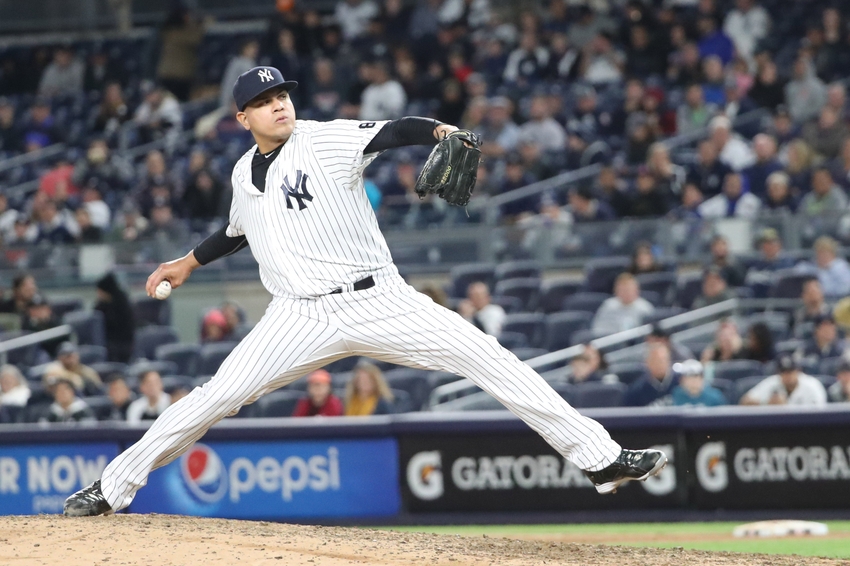 New York Yankees closer Dellin Betances is one of 50 players submitted on a preliminary roster to represent the United States in the 2017 World Baseball Classic.
Joel Sherman of the New York Post reports that Team USA general manager and former New York Yankees skipper Joe Torre has submitted a preliminary 50 man roster for the 2017 World Baseball Classic, which takes place in March.
At the moment, the only current Yankee under consideration for a spot on the squad is closer Dellin Betances. The 28-year-old righthander from Brooklyn has been one of the most dominant relief pitchers in the game the past three seasons and is clearly deserving of a spot, but fans might wince at the idea of adding more innings to their star pitcher's already heavy workload.
When discussing whether Masahiro Tanaka will pitch for the Japanese National Team in his end of season press conference, general manager Brian Cashman noted that he didn't think team's had any control over whether a player chooses to participate in the WBC as long as they didn't have a serious injury concern.
Betances was healthy this year, so although fatigue was an issue, the front office can't stop him from participating in the tournament if it is something he wants to do.
While I'm a fan of the WBC in theory, it is hard to forget the wrist injury that derailed Mark Teixeira's career took place while playing for Team USA back in March of 2013. A 162 game season is already a marathon. Adding an additional month of games on top of that is asking for trouble.
The roster is not finalized until January, so it's possible that Betances does not end up pitching for Team USA next year. Alternatively, one or two of his teammates who are not currently listed could be added to the squad.
According to Sherman, some of the other notable stars listed on the preliminary roster include Chris Archer, Nolan Arenado, Jake Arrieta, Kris Bryant, Eric Hosmer, Ian Kinsler, Corey Kluber, Jonathan Lucroy, Andrew Miller, Buster Posey, David Price, Max Scherzer, Giancarlo Stanton, Noah Syndergaard, Justin Verlander and Christian Yelich. He also points out that neither Mike Trout nor Bryce Harper are willing to commit to playing at this time.
This article originally appeared on