Yankees: Chris Archer Thinks He's Worth Gary Sanchez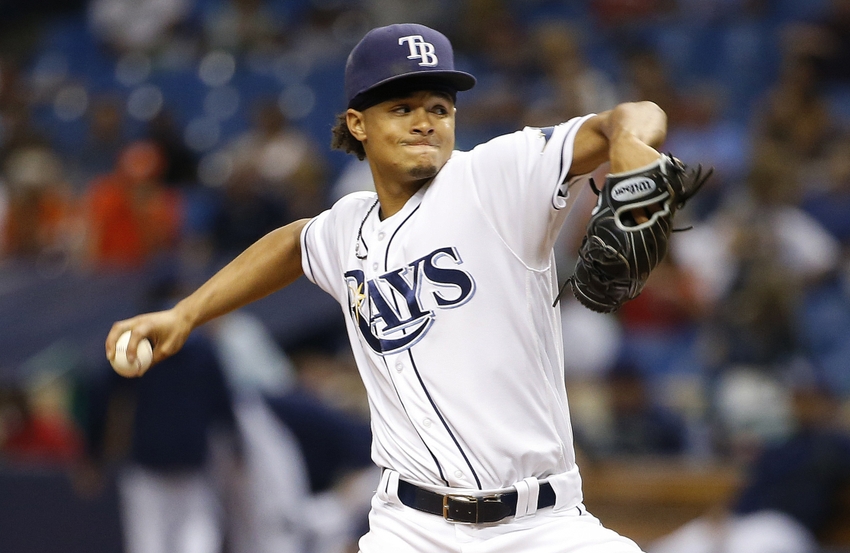 The Yankees will undoubtedly be in the market for a starting pitcher or two this offseason, yet avoiding the high asking price for Chris Archer would be wise.
Tampa Bay Rays starter Chris Archer is the type of injury free–proven commodity that most teams looking for a top of the rotation type right-hander would covet.
Over the course of his five-year career, Archer is 40-50 with a 3.51 ERA in 753.1 innings pitched. Much like this year, Archer's wins to loss ratio is upside down (8-18), but a lot of that can be contributed to pitching on a last place team in the ultra-competitive AL East.
The worrying factor instead is his 4.05 ERA. And although you have to take the bad with the good (his 221 K in 188.1 IP), you have to wonder if perennially pitching for a woeful team will have a lasting effect–even if he were to be traded to a contender.
Although James Shields is a seven years older, his career path could be a precursor to Archer's–who went from pitching with the Rays while they were competing for a Postseason birth year after year, to a World Series appearance with the Royals, to inevitably disappearing with the Padres, only to be jettisoned to the White Sox–where he has failed miserably (3-11 with a 7.11 ERA).
During a recent interview with the NY Post, Archer decided that regardless of his 2016 statistical down year, the mear fact that he is club controlled for the next five seasons is enough in his estimation that a team like the Yankees would need to deal a player such as Gary Sanchez to the Rays for the rights to Archer's services.
Kind of sounds ridiculous when you read it aloud.
"That's [Sanchez] a once-in-a-generation possibility: A catcher who does that, there's four of those guys in the entire league. I don't think it would be smart on either side."
Here's what else the 27-year-old North Carolina native said during the interview.
"Any person who knows anything about how volatile our division is — any team can win any year — there's no way that either side would try to make the other team in the division better," Archer said. "Unless it was me and a couple people for him and a couple people. And then you're starting over."
Archer definitely isn't short on confidence, that's for sure.
"You look at the swing and approach, it's not a fluke," Archer said. "He does a really good job capitalizing on mediocre pitches. That's what all good hitters do. [Jose] Bautista, [Edwin] Encarnacion, [Carlos] Beltran they capitalize on mistakes more frequently than other guys. That kind of thing is sustainable. He's locked in."
I myself think Sanchez has capitalized on good pitches as well, but who am I to argue with a Major League shooter.
"Is he gonna hit 60-70 homers next year?" Archer said. "Doubtful. But is he going to be a highly productive player at a premium position? I think so."
At the end of the day, the only player in the entire league that the Yankees might contemplate trading Sanchez for (and that's a big might) is a player like Mike Trout. After all, he is undoubtedly the game's most consistent standout superstar.
The seismic trade Archer is speaking about certainly wouldn't happen for a pitcher who's best statistical year came in 2013 when he went 9-7 with a 3.22 ERA, and finished third in the AL Rookie of the Year Award voting.
Besides, Archer certainly isn't any better than Masahiro Tanaka at this point in their careers. Actually, he's barely more accomplished than Michael Pineda (career 32-36, 4.00 ERA, 583 K in 573.2 IP) when you compare the stats of both side-by-side.
So pump the breaks, Archer. While a certain amount of bravado is a necessity to excel at this level of professional sports, especially for a big league pitcher, don't push your luck; otherwise you could end like your ex-teammate, Shields; you know the guy that wouldn't resign with the Royals because he felt he was worth more money, only to get find that excess cash in San Diego; the exact destination where his once fortuitous career came off the tracks.
This article originally appeared on