Yankees Brian McCann Trade Imminent?: 2017 Fantasy Value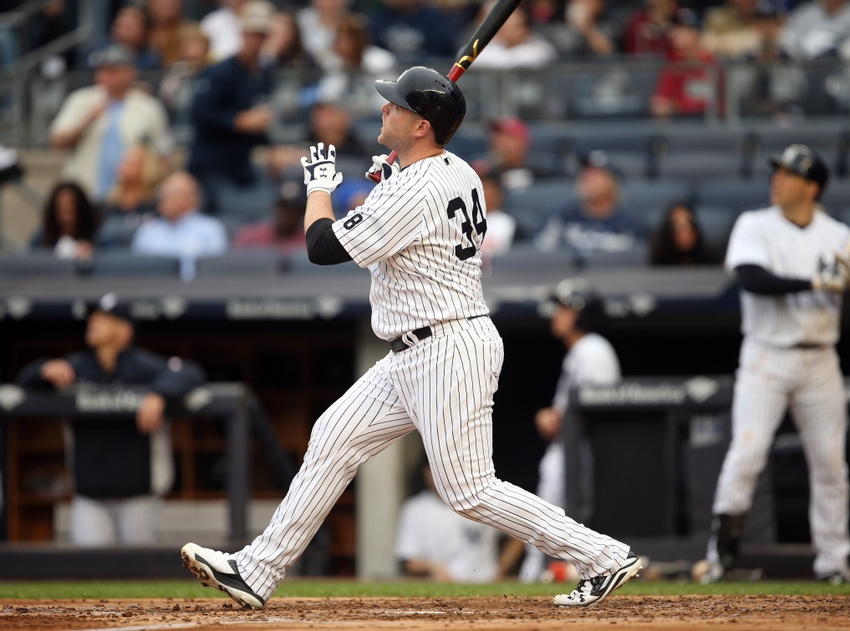 Brian McCann had a disappointing season for the Yankees in 2016, and now finds himself in multiple trade rumors. If dealt, what does his fantasy value look like in 2017?
The Yankees did not meet expectations last season , and a part of those shortcomings, was the disappearance from Brian McCann. McCann's struggles last season, combined with the emergence from Gary Sanchez, will more than likely have him dealt to a new team next season. Once out of New York though, what is his fantasy value in 2017?
Since 2008, McCann has posted at least 20 HR/57 RBI  per season. This is an incredible stretch, and speaks to why fantasy owners have always had no issue with slotting him in as their starting C. While his AVG has fallen off thanks to the increase in shifts, and his pull-centric tendencies, but run production numbers were always there. However, things did not go so smoothly in 2016.
Take away the late season explosion from Gary Sanchez, McCann's losing his starting job could have been attributed to his performance. He posted a, .242/20 HR/58 RBI/.748 OPS/56 R line, but never strung together a solid hot stretch the entire season. In April he posted a respectable, .262/3 HR/7 RBI line, but could not replicate that success, only eclipsing the 4+ HR and 10+ RBI mark in two months over the course of the rest of the season.
The lack of RBI were helped by his struggles, but also more so a indicator of the lack of OBP options the Yankees had atop the order. He continued to be victimized by LHP, .218/3 HR/.662 OPS, and his K rate jumped to 20% for the first time of his career. Things are not trending in the right direction, but could his value survive if he left New York.
The two teams that are most connected to dealing for McCann, are the Astros and Braves. A reunion with the rebuilding Braves looks odd on the surface, but the team is ushering in a new stadium, and McCann is still considered a cornerstone of the organization.  Hypothetically speaking, if he were to be slotted in the cleanup spot behind Freddie Freeman, Ender Inciarte, and Nick Markakis, his counting stats would presumably see a boost.
No one knows how the Braves' new stadium, Suntrust Park, will play. But, it is universally agreed that Turner Field was more of a pitchers stadium. Compared to Turner Field, Suntrust Park's right center and right field corner are of a shorter distance. Right center is in by 15 ft., while the corner is in by 5 ft., but there will be the new addition of a 16 ft. wall as well. McCann has nearly pulled every HR he has every hit, so playing with similar shorter dimensions as New York could help his power.
The Astros' interest is intriguing. Houston may have the most dynamic top of the order next season with Jose Altuve, Alex Bregman, and Carlos Correa leading the charge. If McCann could be slotted behind these guys, it would serve as his best chance to post numbers similar to his prime years. Minute Maid Park is a hitter's haven as well, so he would not miss a beat if he winds up wearing a Houston uniform next season.
Even though owners may be bored of McCann and are discouraged by his down 2016 season, the fantasy C position is so weak, that he is still a top-12 option. He does have his fair share of ugly peripherals, but he did increase his LD rate up by five points to 22%, and posted a 36% Hard contact rate, his highest output since 2010.
The winter meetings will be here before we know it, and there will be a lot of player movement. Brian McCann's situation should be monitored by fantasy owners, because it may play a huge part in owner's decision to rely on him again in 2017. He is slowing down, but there is enough still here for him to be a starting fantasy C next season.
More from Fantasy Baseball Crackerjacks
This article originally appeared on