The Cubs are still having fun, and this World Series is far from over
CHICAGO — Aroldis Chapman went running through the Cubs' dugout, yelling, "Four! Four! Four!"
Jason Heyward asked Javier Baez, "What's he saying?"
Upon hearing Baez's explanation, Heyward burst out laughing.
"He's hitting fourth," Baez said, referring to Chapman's place in the batting order in the eighth inning.
Chapman had just recorded the biggest out in the most memorable performance of his career Sunday night, stranding a runner at third by painting the outside corner with a 101.3 mph fastball for a called third strike on the Indians' Francisco Lindor.
The strikeout enabled the Cubs to maintain their 3-2 lead in Game 5 of the World Series. Chapman would pitch a perfect ninth to complete the first eight-out save of his career. The Cubs would avoid elimination at Wrigley Field and return to Cleveland trailing, three games to two.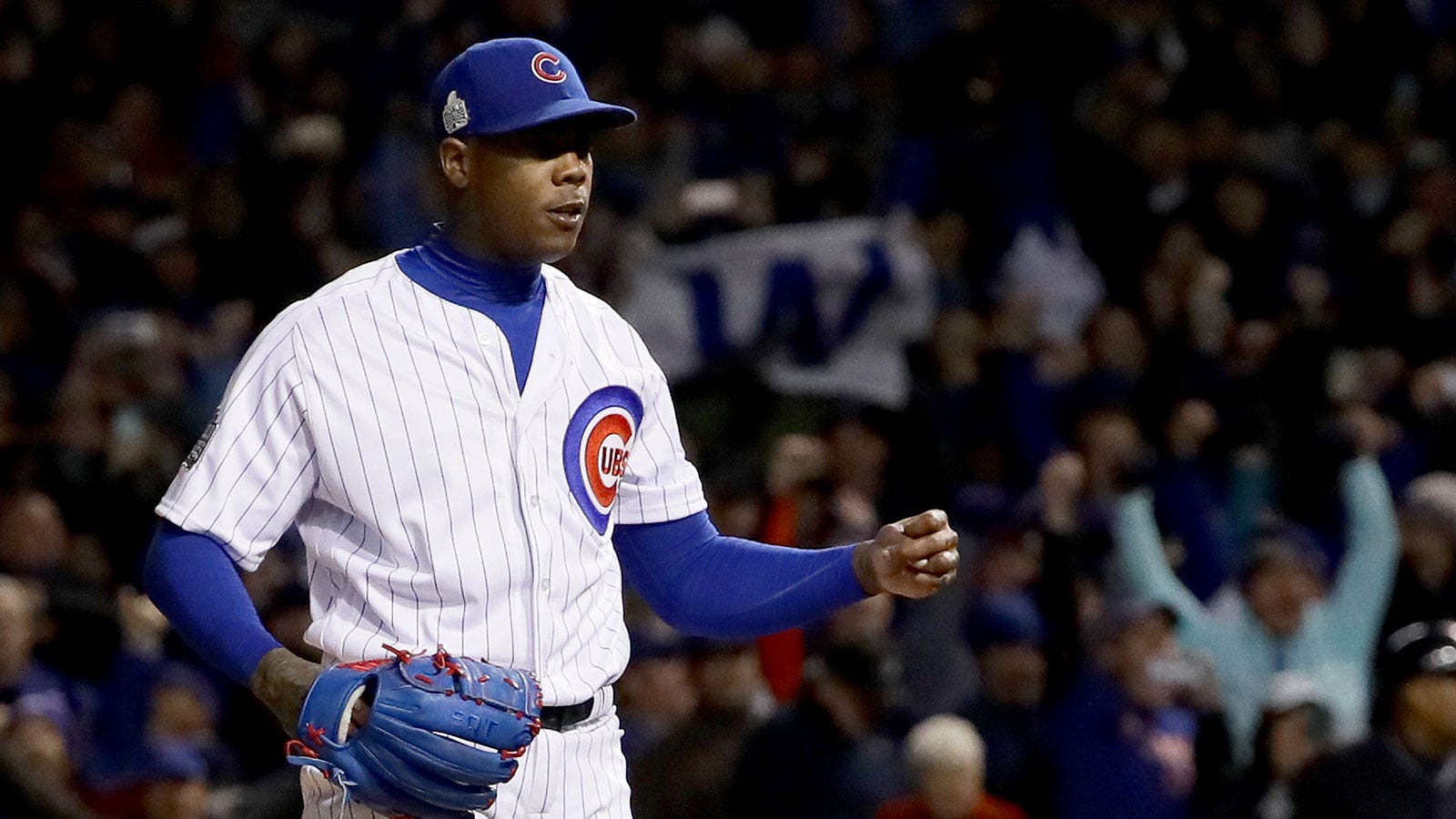 But on a night Cubs fans could barely exhale, the Cubs' players were their usual boisterous selves, at times acting more like a raucous fraternity than a baseball team on the verge of suffering major disappointment after 111 wins, including playoffs.
The day began with the playing of "Rocky" movies on the clubhouse televisions before the game, first baseman Anthony Rizzo said. Rizzo stepped into the batter's box to the "Rocky" theme for his first at-bat, then shadow boxed toward the dugout after hitting a double in the fourth. Ben Zobrist did the same after following with a single in the three-run inning.
The message?
"We're going to battle. We're going the distance," Rizzo said.
Chapman had his own cinematic visions, fancying himself a latter-day Roy Hobbs in the Cubs' version of "The Natural."
Never mind that he had only two career at-bats in the majors, the most recent coming on Aug. 31, 2015 at Wrigley — and was 0-for-2.
Reliever Pedro Strop said that Chapman, upon realizing that he might hit in the eighth inning, yelled, "I'm going to the (batting) cage!"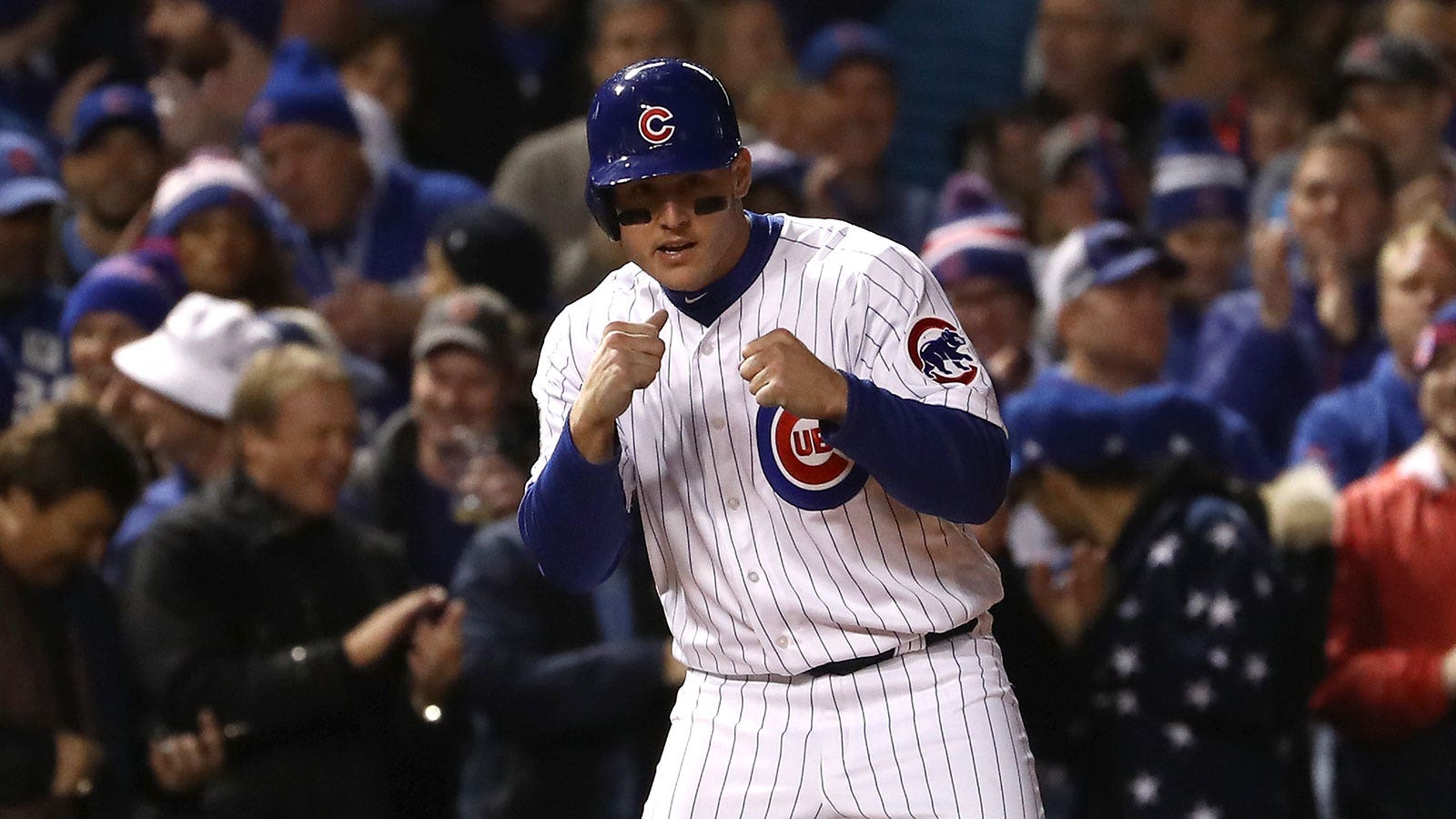 "He went to the cage, took a couple of swings. He was happy. He looked like a little kid," Strop said.
Actually, Chapman had begun preparing to hit even earlier. He joined the Cubs' hitters in the cage around the fifth inning, grabbed a bat and took a few swings off a tee.
"He was loose," outfielder Albert Almora Jr. said. "Everyone had a loose attitude."
Catcher Miguel Montero, who also was in the cage, all but rolled his eyes at Chapman.
"I was like, 'Dude, save it. Just go out there and pitch,'" Montero said. "But I was curious to see if he would hit a chopper. He can fly. If he would have hit a chopper, I think he would have beaten it out."
Chapman did not hit a chopper while batting with Heyward on third and two out in the eighth, striking out on five pitches instead — "too fast," he would say later with a smile, referring to Indians reliever Cody Allen.
Still, Chapman impressed several of his teammates with his take on Allen's 1-1 curveball.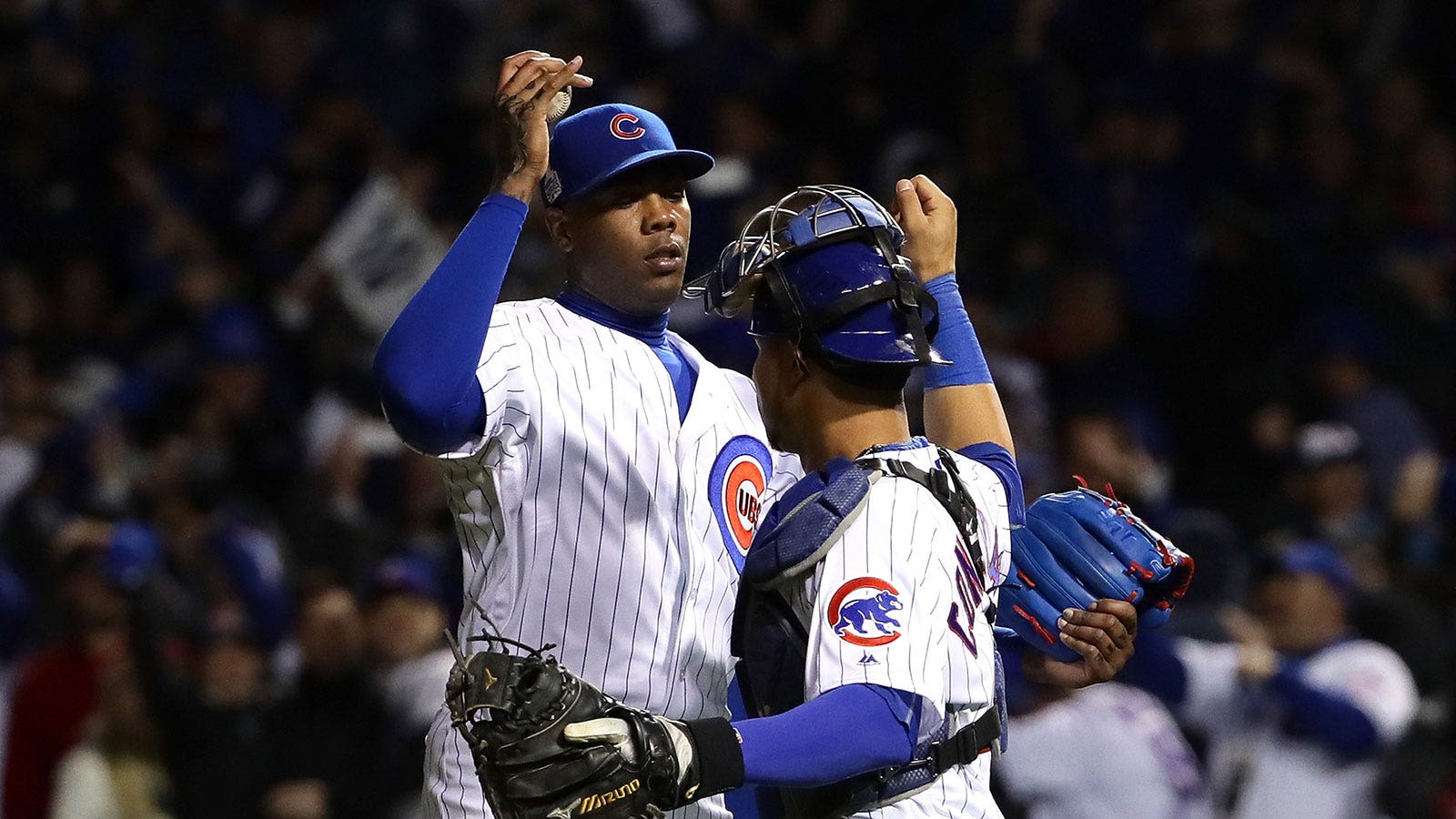 "I swung at that pitch from the bench," Montero said. "He had a pretty good eye right there."
And, oh yeah, Chapman pitched pretty well, too.
Prior to Sunday night, Chapman had not been in the class of the Dodgers' Kenley Jansen and Indians' Andrew Miller this postseason, distinguishing himself with outings of two-plus innings.
Maddon twice had inserted Chapman into difficult eighth-inning spots — first-and-second, none out in Game 4 of the Division Series; bases loaded, none out in Game 1 of the NLCS. Both times, Chapman blew the save.
Chapman is not the most pliable of closers — he goes through a prolonged warmup, starting with a heavier ball, and dislikes warming up more than once without entering a game. But his talent, of course, is otherworldly.
"He's got a 99 mph get-me-over fastball. That's pretty impressive," Indians manager Terry Francona said.
Chapman's Game 5 performance was not without bumps. He entered with one on and one out in the seventh, hit Brandon Guyer with two outs, then escaped on a groundout by Roberto Perez.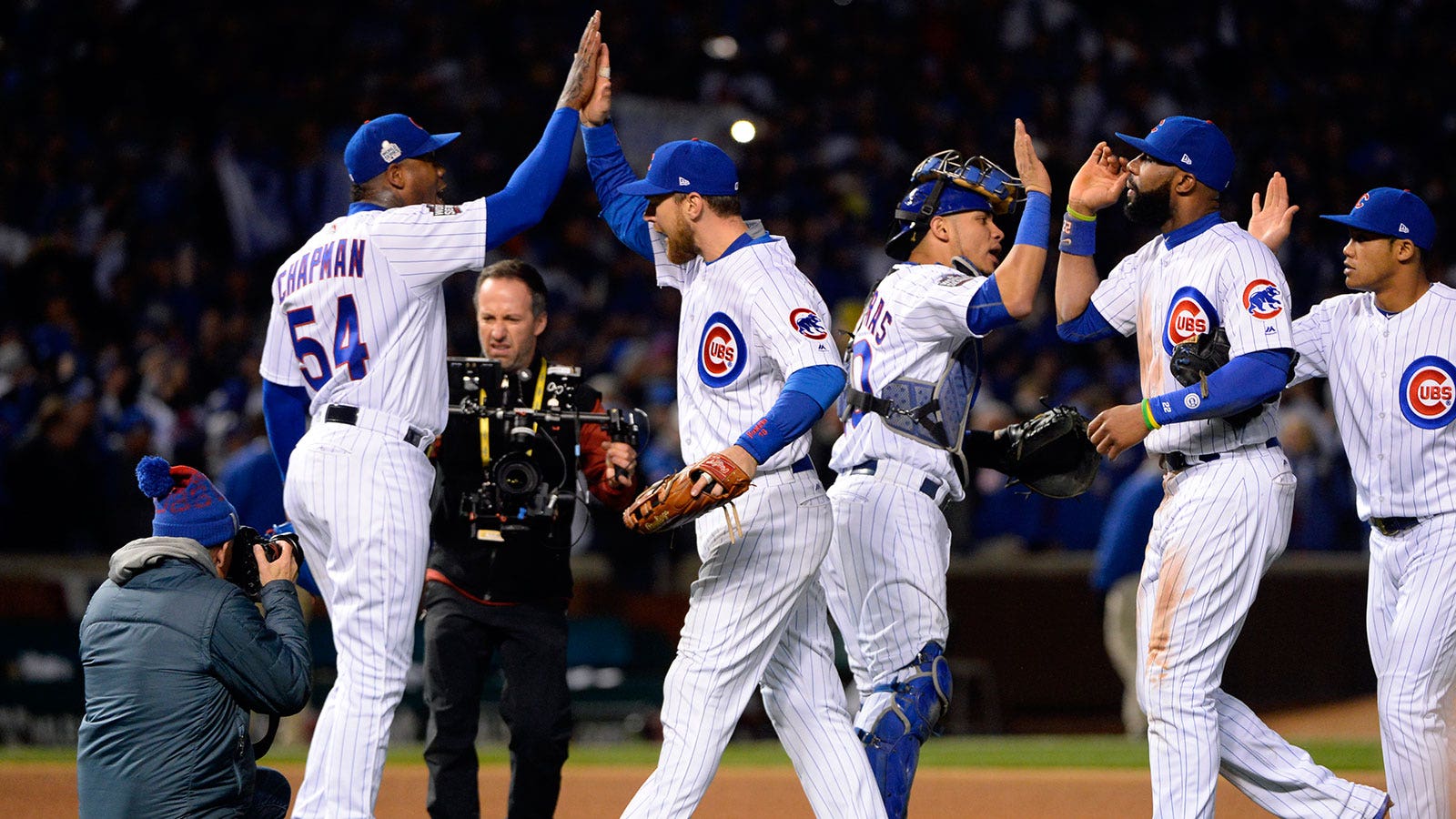 The eighth inning was considerably more tense, starting with Chapman failing to cover first on a sharp grounder to Rizzo by Rajai Davis with one out. Chapman said he fell completing his delivery and thought the ball was foul. Davis proceeded to steal second and third, leaving Lindor with a chance to tie the score.
Catcher Willson Contreras made several visits to the mound during both the seventh and eighth, once to change signs when Davis was on second base.
"He was kind of excited. I had to slow him down a few times," Contreras said of Chapman. "But he's smart. He knows what he wants to do."
Against Lindor, a terrific fastball hitter, Chapman threw three straight sliders, falling behind 2-1. Advantage, Lindor? Not quite. Chapman struck him out on called strikes of 100.8 and 101.3 mph, then ended the game one inning later by striking out Jose Ramirez on three pitches, all at 100.7 or above.
Francona referred to Maddon's use of Chapman "as a big ask," and Chapman wound up throwing 42 pitches, two short of his career-high. But after a day off on Monday, Chapman will enter Game 6 knowing he can handle a multi-inning load. And the Cubs also will hold other advantages.
Kyle Schwarber will rejoin the lineup as the DH, giving the Cubs another potent left-handed bat to go with Rizzo. The Cubs' Jake Arrieta will pitch on normal rest in Game 6, while the Indians' Josh Tomlin will be on short rest. The same scenario would occur in Game 7, if necessary — the Cubs' Kyle Hendricks would be on normal rest, while the Indians' Corey Kluber would be on short rest for the third time in four starts.
Alas, the only thing missing will be Chapman batting as the Series returns to American League rules. Not to worry: Perhaps the closer can revive his alter ego Monday on the flight to Cleveland, seeing that it is Halloween.
"7 p.m. Bus Departure Tomorrow," an electronic sign in the Cubs' clubhouse said. "Halloween Costumes Are Encouraged on the Plane."
Chapman should dress up as Babe Ruth. Even on the night he saved the Cubs' season, that's who he wanted to be.