World Series: Cubs credit Jason Heyward rain delay speech in win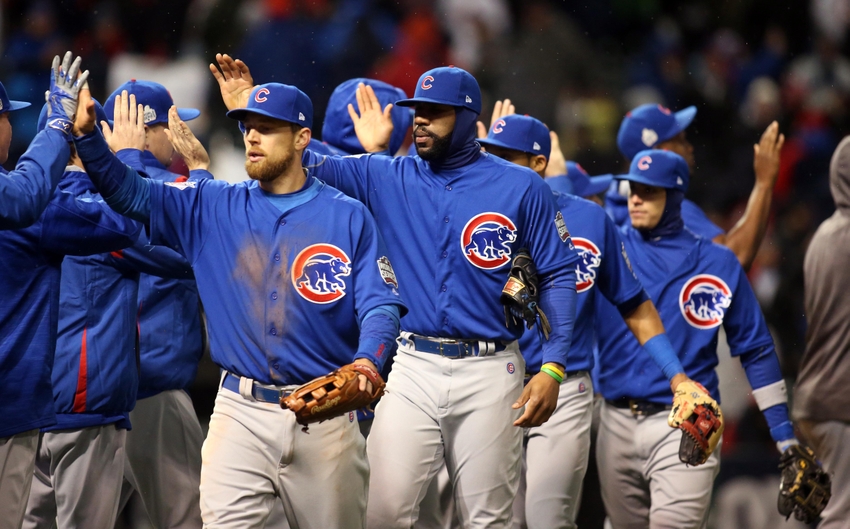 Ben Zobrist and Miguel Montero's RBIs were the deciding runs, but the Chicago Cubs credit Jason Heyward's rain delay speech with the World Series win
Things were certainly tense when Game 7 of the 2016 World Series went into a rain delay, especially for the Chicago Cubs. They'd played nine innings of baseball and were still tied at 6-6, but the visiting Cubbies had blown a three-run lead in the eighth inning and seemed to just be hanging on. During the rain delay, though, they got a spark from one of their teammates: Jason Heyward.
Anyone who watched all seven games will tell you that Heyward was a mess through most of it. While he came up with big defensive plays, his bat wasn't alive at all. However, it turns out his biggest role may have been as a vocal locker room leader. According to the Cubs players after the game (per CNN), it was the right fielder's speech during the delay that galvanized them.
Guys like Anthony Rizzo and Kris Bryant credited Heyward's speech as the driving force behind their 10th-inning scoring. Heyward told FOX Sports (again per CNN) that he told his team to remember who they were and all of the adversity they'd already overcome to get there. Moreover, he told his comrades that he was proud of them.
Though no one was in the players-only meeting when this speech happened, it certainly worked. The Cubs came out in the top of the first extra inning and dominated. They produced two runs off the bats of Ben Zobrist and Miguel Montero and were able to hold on for their first World Series victory in 108 years.
It's crazy to think that a player who went 0-for-4 in Game 7 may have had the biggest impact on it. If you ask the Cubs players, though, that seems to be the case with Jason Heyward.
This article originally appeared on