World Baseball Classic title is a perfect end to Jim Leyland's career
LOS ANGELES — His voice cracked. His voice always cracks at times like this, times of triumph and emotion and reflection. This would be the last time for any of that. And Jim Leyland got sentimental, because at his core, that's who he is, always has been.
A few minutes earlier, he had held himself together saying almost the exact same words during the on-field ceremony at Dodger Stadium. But now, in the interview room, a reporter asked Leyland what it meant to cap off his career by winning the World Baseball Classic.
Leyland, 72. started off fine — "Well, I've been retired for three years, and I'm going to stay retired. That I can promise you." Reporters around the room smiled; forever self-deprecating, that's part of who Leyland is, too. But then he started to repeat what he said on the podium about managing Team USA, and his voice wavered.
"I had the honor of managing for our country. The coaches had the honor of coaching for our country. The players had the honor of playing for our country," Leyland said. "But this is really about the men and women that serve our country. That's who this is for."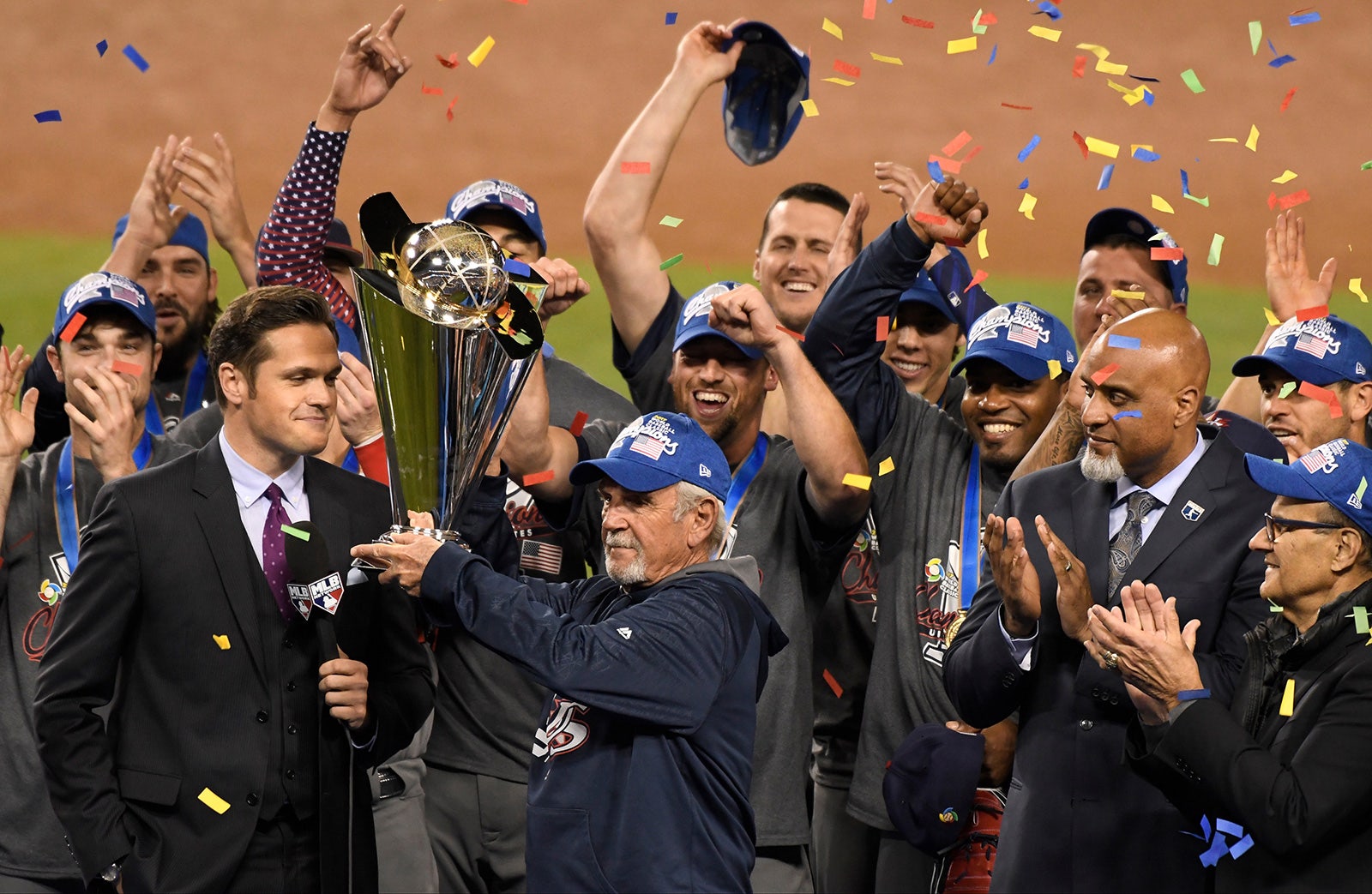 You might view his statement as hokey. You might view the WBC as contrived. But something happened with the U.S. team over the last 2 1/2 weeks, something that was quite special, even moving. Leyland told the players as much during his postgame address Wednesday night after their 8-0 victory over Puerto Rico in the championship game of the tournament.
Second baseman Ian Kinsler, who joined the Tigers in 2014, the season after Leyland retired, said that the manager was emotional while addressing the club. Catcher Jonathan Lucroy said that Leyland told the players that he had never seen a group come together as quickly as they did.
In the end, Team USA won what Leyland called the equivalent of three Game 7s, beating defending champion Dominican Republic, unbeaten Japan and unbeaten Puerto Rico, all in elimination games. The finale was decidedly anticlimactic, but the scene after the last pitch was nothing short of lovely, a portrait of the sport at its diverse and respectful best.
The U.S. players ran to the mound and bounced in unison, the way major leaguers do at home plate at the end of walk-off wins. Reliever Pat Neshek carried the team's trademark bald-eagle statue to the celebration, and the Puerto Rican players stood in front of their dugout, looking at the U.S. players wistfully.
After a few moments, Leyland strolled to the other side of the field and embraced Puerto Rico manager Edwin Rodriguez, then several of his coaches; Rodriguez would relate later that Leyland told him what he had been telling him the whole tournament — that the Puerto Rican team was "fun to watch."
In many ways, it was a shame that Puerto Rico had to lose. The commonwealth, struggling through a debt crisis, losing population to the mainland U.S., had drawn unusual strength from the team's run in the WBC.
Stores ran out of blond hair dye as fans imitated the look of the players. Schools made videos of children singing and holding flags. Not a single murder was reported last weekend, a peaceful interlude reminiscent of how the island reacted after tennis player Monica Puig won Puerto Rico's first Olympic gold medal in 2016.
"If we're going to live this quality of life for two weeks following a team, let's keep doing it," Puerto Rico general manager Alex Cora said before the game. "This is all cool. I love it. But our goal is not to give them joy for two weeks. Our goal is to change the feeling of the country."
A victory in the title game would have finished the job that Team Puerto Rico failed to complete four years ago, when it lost to the Dominican in the final, 3-0. This loss was much worse, but when it was over, the players gathered in a group prayer, then saluted their thousands of fans in the crowd of 51,565, applauding them, waving to them, tipping their caps.
Team USA's Adam Jones and Christian Yelich, clutching two ends of an American flag, led a group of about eight U.S. players in a victory lap around the field. The Puerto Rican players, still standing behind the third-base line, tipped their caps toward the U.S. players scattered near the mound. Eventually, the U.S. players drifted toward them, shaking hands, sharing hugs.
Perhaps the reactions would have been different, more raw, if the game had been closer. But the only hint of drama, after Kinsler broke a scoreless tie with a two-run homer in the third inning, came when Leyland sent right-hander Marcus Stroman back to the mound to start the seventh.
At the time, Stroman had a no-hitter. He had thrown only 69 pitches, faced the minimum 18 hitters through six innings. But the U.S. had scored three runs in a lengthy top half, and Leyland said later that sticking with Stroman, "was probably a mistake on my part, to be honest with you."
Puerto Rico's Angel Pagan ended the no-hit bid by leading off with a double, and Leyland popped out of the dugout immediately to make a pitching change. Not to worry: The U.S. starting pitchers — with no Clayton Kershaw, no Max Scherzer, no Madison Bumgarner — finished the WBC with a 1.25 ERA in 36 innings.
Stroman, the tournament MVP, was asked during his postgame news conference how he would have reacted if Leyland had removed him from a no-hitter.
"I'm sure I would have been upset initially, but I have so much respect for Mr. Leyland," Stroman said. "He's the man. I never played for such a down-to-earth, humble, confident manager. He is able to rile us up in perfect ways. I feel like every word he says is calculated and perfect and knows how to get us going."
Stroman went further, adding "I'm kind of upset that he's leaving the game and he won't be managing again," and musing, "We'll bring him back in four years." Leyland, though, had none of that, acknowledging, "There is a good chance this is the last time I'll ever wear a uniform."
Makes sense, given Leyland's age. But it's still a shame.
"I loved playing for him," Lucroy said. "He was locked in the entire game. Every inning when we would come in and hit, he walked up and down the dugout getting on us, saying, 'Let's go. Let's keep on it.' I love that. That's energy. And we fed off that energy."
Leyland won a World Series with the Marlins in 1997, but he said the WBC title was different, refusing to compare the two. He had drawn laughter by stealing a line from President Trump before the game, cracking that Team USA was trying to make America great again. But competition is never something Leyland took lightly.
The final sentence of his final postgame speech, according to Kinsler, was, "You come to the ballpark every day to win, to beat the other team regardless of who it is." Doesn't sound like much, but the U.S. team, full of baseball rats, could relate. That's how they approached the game.
Later, as Leyland concluded his postgame news conference, the moderator said, "Jim, World Series champion. World Baseball Classic champion. Congratulations."
"Thank you, all. I hope you enjoyed it," Leyland said.
Always did, Jim. Always did.