Will Ketel Marte be the M's starting shortstop in 2017?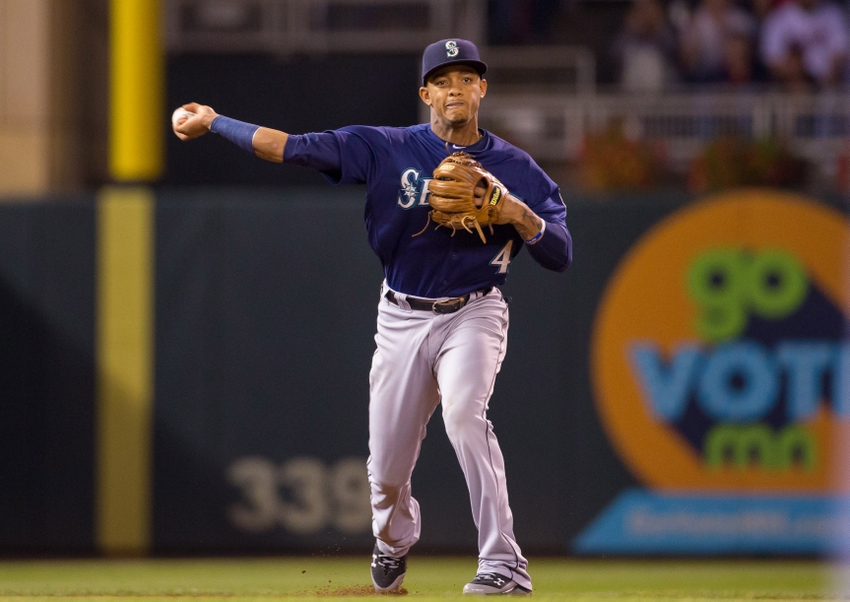 Ketel Marte did not play up to the expectations many had for him going into the 2016 season. After a rookie campaign of 57 games, hitting .283/.351/.402, the hopes were that the shortstop would see improvement over his rookie campaign. Or at least get a full season's worth of what we saw in 2016.
Unfortunately, Marte saw a bit of regression in 2016. He saw his OBP drop from .351 to .287 as well as making many mental errors in the field. Now the question lingers: will Marte be the starting shortstop for the Mariners in 2017?
Jerry Dipoto nearly pulled the trigger on a trade at the deadline last season that would have brought Cincinnati's, Zack Cozart to Seattle. So now in the off-season, there's no surprise we may see a new face to Kyle Seager's left next year.
Let's look at a few shortstops we think could make sense as the Mariner's starting shortstop in 2017.
Ketel Marte
Yes, I know you just read how Marte took a step back in 2016, but at this moment he is our starting shortstop. No moves have been made (yet) and Marte is still very young at 23 years old.
A step back like Marte had last season is not uncommon for a player his age. Perhaps another off-season of seasoning will allow him to make improvements. There is no question that Marte still has potential to be a solid big league shortstop, so who's to say we don't give him another shot?
Maybe no deals get done this winter for a shortstop, then he will be the Mariners guy. It is entirely possible that Ketel Marte is the M's shortstop again in 2017, but I think the goal is to ultimately give him more time in the farm system, much like they did with Mike Zunino last year.
Zack Cozart
At this point in time, Cozart seems most likely to be the Mariner's starting shortstop among outside candidates. It has already been established that Jerry Dipoto and the M's have interest in him after the rumors at the trade deadline.
Now this off-season, those rumors continue to swirl. Not only are the Mariners in the market for a shortstop, the Reds are looking to move him. Cozart tore his ACL and LCL in June of 2015 -an injury that ended his season and lingered into 2016. The Reds also have a pair of middle infield prospects in Dilson Herrera and Jose Peraza who could see time with the club in 2017.
This deal makes a lot of sense for both teams and the fact that they have been talking since July would make it a surprise if Cozart went elsewhere. He put up respectable numbers last year despite working back from his knee injury. Cozart hit .252/.308/.425 with 16 home runs, 50 RBIs and 28 doubles in 121 games in 2016. He also posted a WAR of 2.0 with a defensive WAR of 1.4 compared to Marte's 0.3 WAR and 0.5 dWAR in 119 games.
Andrelton Simmons
If another Cozart deal falls through, Dipoto will have to look elsewhere if he wants to improve the shortstop position. One place he can look is with his former team, the Angels. Andrelton Simmons quietly had an excellent year in his first season with the Angels, posting a WAR of 4.6.
Simmons batted .281/.324/.366 with 2 doubles and 10 stolen bases in 124 games played. He also continued his dominance with the glove posting 18 defensive runs saved with a dWAR of 2.6 according to Baseball-Reference.
The gold glove shortstop would be an immense upgrade to the team, but because the Angels aren't necessarily looking to move him and he's still only 27 years old, he'll likely cost a bit more in return than Cozart would.
If the M's were able to get their hands on Simmons, Marte is a guy who could be involved in the trade as Simmons would become the shortstop of the future.
Erick Aybar
Aybar is an interesting candidate for the Mariners. He doesn't exactly fit the young team Dipoto wants to construct for 2017. But, Aybar is an affordable free agent and could be a last resort option who would add a veteran presence to a young ball club.
The 32 year old shortstop hit .243/.303/.320 with a WAR of 0.2 in 2016. Not great, in fact a slight downgrade from the Marte of last year which does not sound appealing in the slightest. I think most of us can agree that the best option for Marte would be to spend more time in AAA to develop his game more.
If Dipoto can't get anything else done before the 2017 season, it will come to two choices. Marte giving it another shot with the M's or giving the spot to the slightly less productive Aybar, allowing Marte to have more time in AAA. Some will disagree because of the 'win now' mentality, but I'd go with the latter.
Aybar wont make or break this team, the pitching staff will, if we learned anything last year. With an already above average offense, he wont harm it much, if at all. But, if he starts to really struggle, make him a utility man and give Shawn O'Malley another opportunity
The off-season is still in its very early stages and there is much still to unravel. But a need for another shortstop remains for the Mariners. Follow us here at Sodo Mojo for the latest developments as the hot stove heats up heading into the winter.
This article originally appeared on