Why the Colorado Rockies Shouldn't Pursue Aroldis Chapman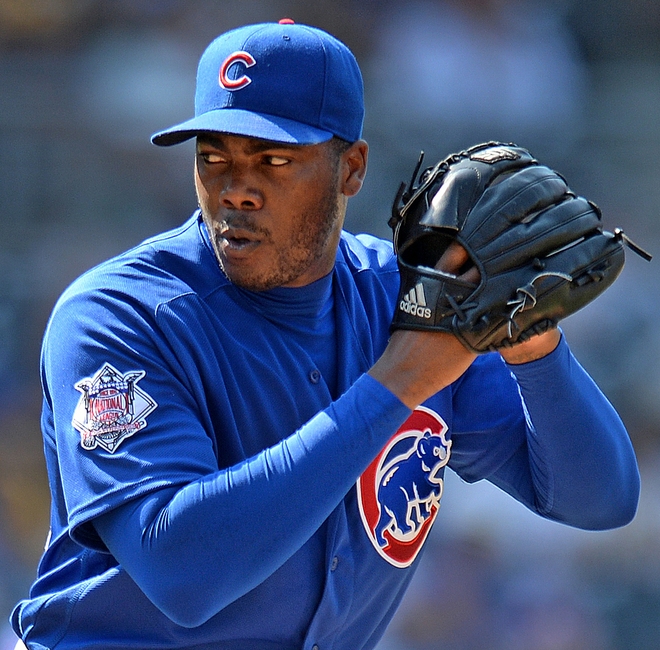 With the regular season nearing its conclusion, fans of the Colorado Rockies are looking ahead to next season and how the squad can be improved. It's obvious the bullpen needs to be addressed, and it just so happens that one of the most dominant relievers in the game is a free agent this offseason.
To clarify: Aroldis Chapman isn't just one of the most dominant relief pitchers in MLB right now. He's among the most dominant in the history of the game. Chapman strikes out people at a rate we've never seen before. That's not hyperbole. His 15.2 K/9 ratio is the highest in MLB history.
Even casual baseball fans can watch Chapman and understand what makes him special. Fangraphs.com lists the average velocity on Chapman's fastball at 100.4 MPH. Any pitcher that can reach triple digit velocity, even if it's just on rare occasions, has elite, rare arm talent. Chapman does it seemingly effortlessly.
As if a historically great fastball wasn't enough, Chapman can also set down hitters with a nasty sweeping slider, or even a change-up on rare occasions. In previous years, struggles with command were a concern for the Cuban left-hander, but Chapman is sporting a career-low 2.7 BB/9 ratio in 2016.
It's hard to imagine a more perfect closer becoming a free agent: Chapman has a track record of dominance but is still young enough (he turns 29 in February) that a team could reasonably expect him to sustain his level of performance for a number of years.
Every team in baseball, Rockies included, would love to have Chapman closing out games for them. But splurging on the man known as "The Cuban Missile" would be an expensive, risky bet for Colorado.
Let's start with the most prohibitive obstacle: cost. Barring some unforeseen injury or incident, Chapman will almost certainly sign the richest contract ever given to a reliever this offseason.
This season, his final year of arbitration, Chapman earned a salary of $11,325,000. He's certainly done nothing to hurt his stock this season. Plus, with a strong postseason, the price could shoot up even higher.
$60 million over four years is a reasonable expectation for Chapman's next contract. If any reliever deserves that kind of money, it's Chapman. But even still, that is a massive investment in a guy who gives you, at most, 60-70 innings a season.
Time for some quick math: 70 innings is roughly 4% of a team's total innings for the season. Rockies starters have pitched about 63% of the teams innings this season.
If you're generous and say that number will improve to 66% next year with better performances from the starters, there's still 30% of the team's innings left unaccounted for. That's almost 50 games worth of innings you have to fill with someone other than the starters and Chapman, and again, that's if everything goes exactly according to plan.
No In-Editor Preview for 120 Sports Videos
Video Details
ID: 202961900
Source: 120 Sports
In a vacuum, there's nothing wrong with spending $15 million a season on Chapman. But signings aren't made in a vacuum. If the Rockies spend 10% of their entire payroll on a relief pitcher, it's reasonable to assume they'll go for relatively cheap options to fill out the rest of the bullpen.
Signing Chapman would be a great solution if the Rockies had a strong bullpen that was just missing one more dominant back-end arm. However, anyone who has watched Colorado this season should know that isn't the case. The list of reliable Rockies relievers signed through 2017 basically starts and ends with Adam Ottavino. Aroldis Chapman, as good as he is, won't fix that on his own.
It's not quite accurate to say Colorado should take a "quantity over quality" approach to fixing their bullpen. Investing in multiple arms doesn't do any good if all of those arms are getting lit up on a regular basis. But right now, the Rockies don't need one great reliever so much as they need several good ones.
Signing Chapman would not only hurt Colorado's ability to sign other relievers in the short-term, it would also restrict their long-term financial flexibility. Working out a potential extension for Carlos Gonzalez, Nolan Arenado or Charlie Blackmon gets significantly more complicated if Chapman is on the books through 2019 or 2020.
Relievers are also a notoriously poor bet to live up to long-term expensive contracts. With a few noteworthy exceptions, closers tend to have short runs of dominance. Sometimes, the end can come quickly and without warning.
For instance, last season, Jonathan Papelbon was the highest-paid closer in baseball and was highly sought after at the trade deadline. Just one season later, Papelbon was released in August and is currently a free agent. Again, that isn't to say Chapman is destined to be a free agent bust. He's a great pitcher, and chances are he will continue to be that for the foreseeable future.
There's more to free agency than just signing the biggest name available. The best teams understand the fit has to be right as well. Chapman, in the right situation, will make some team very happy, but that team isn't going to be Colorado … even if they do sign him.
This article originally appeared on