Who Should The Pittsburgh Pirates Target In A Potential Trade With The Nationals?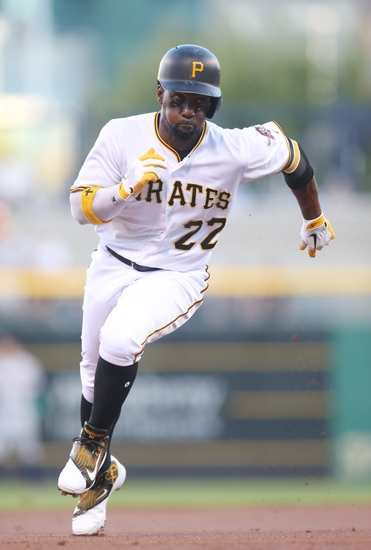 There are a lot of rumors swirling that the Pittsburgh Pirates are in trade talks with the Washington Nationals surrounding Andrew McCutchen. So, who should the Pirates be targeting?
The internet was set ablaze with trade rumors on Thursday. These rumors circled around the Pittsburgh Pirates and the Washington Nationals. The player at the center of these rumors was Andrew McCutchen.
The likelihood of the Pittsburgh Pirates trading the face of their franchise appears to be increasing each and every day. Multiple media outlets have reported that the likeliness of McCutchen being traded keeps going up. And these reports have come from national and local media outlets. In fact, a source has confirmed to Rum Bunter that a trade between the two teams could be announced as early as tomorrow.
It appears that the Washington Nationals are the team the Pirates are having the most discussions with when it comes to McCutchen. Due to this, it is time for Pirate fans to ask a question. That question is, who should the Pittsburgh Pirates target in a potential trade with the Nationals? Well, I am going to answer that question!
Okay, so, I realize people are sick and tired of hearing about prospects. In the eyes of many trading for prospects is a sign of a team punting on the upcoming or current season and only playing for the future. However, that is not always the case. A team can add prospects while playing both for now and the future.
If I am Neal Huntington, any trade talks with the Nationals start and end with Victor Robles. The 19-year old Robles split his 2016 season between the Nationals' Low-A and High-A Minor League affiliates. And Robles put up strong numbers at both levels.
Victor Robles, who is one of the ten best prospects in all of baseball, hot .305 with a .398 wOBA, 153 wRC+, and 19 stolen bases at Low-A. At High-A his numbers dipped some but were still strong, as he posted a .346 wOBA, a 110 wRC+, and 18 stolen bases.
There are few, if any, prospects with as many raw tools as Victor Robles. He is an outstanding athlete with a plus arm in the outfield. He is an extremely patient hitter who is not afraid to draw a walk, he hits for average, and his power will come. Robles is a future star at center field.
Not only is Robles one of the top prospects in Washington's farm system, he is one of the ten best prospects in all of baseball. When trading a bonafide superstar like Andrew McCutchen, this is the type of prospect you expect to get in return. If the Nationals are not willing to part with Robles, I would not be willing to trade them McCutchen.
Right-handed starting pitcher Joe Ross
During the 2015 season one of Washington's top prospects made his Major League debut. I am talking about right-handed starting pitcher Joe Ross. And there are few young starting pitchers in the Major Leagues with higher upside than Ross.
In two Major League seasons Joe Ross has made 32 starts and pitched in 35 games. Ross has pitched 181 2/3 innings averaging 8.03 K/9, 2.48 BB/9, 0.79 HR/9, and he owns a WHIP of 1.22. This has led to him posting a 3.52 ERA, 3.46 FIP, 3.76 xFIP, and a 3.4 WAR through his first two Major League seasons.
Joe Ross has better control than most young pitchers, and he does not allow very man home runs. Both of these qualities are always good ones to have. During his young career Ross owns a 45.5 percent ground ball rate and he has hit just eight batters.
The best pitch that Ross throws is a filthy slider.In his career opposing hitters own just a .157 batting average, .199 wOBA, and a wRC+ of 30 off of it. He also throws a plus change up and features a sinking fastball.
Joe Ross comes with five years of team control. Due to this, he would be a great addition to the Pittsburgh Pirates' starting rotation both now and in the future. He is a player I would be targeting if I were Neal Huntington.
22-year old Reynaldo Lopez made his Major League debut for the Nationals in 2016. He pitched in 11 games, six starts, and hurled 44 innings. In these 44 innings pitched he averaged 8.59 K/9, 4.50 BB/9, and he allowed just four home runs.
The young left-hander entered the season as one of the Nationals' top prospect. Additionally, he is a player the Pirates are interested in. At this past summer's trade deadline Lopez was one of the names discussed when the Pirates traded Mark Melancon to the Nationals.
Reynaldo Lopez has an electric fastball. It routinely sits at 96+ miles per hour. He also throws a plus curve ball. Lopez still needs to work on refining his control, however, Ray Searage is the master at getting pitchers to do that.
Lopez has electric stuff, and would be controlled by the Pirates for the next seven seasons. Like Joe Ross, he is someone who would help both now and in the future. He is another player I would be targeting if I was looking to trade Andrew McCutchen.
Left-handed starting pitcher Gio Gonzalez and right-handed starting pitcher Tanner Roark
The Washington Nationals seem to be content with trading Tanner Roark or Gio Gonzalez this offseason. Gonzalez comes with two years of control while Roark has three years of team control. Gonzalez is 31-years old, while Roark is 30-years old.
Gio Gonzalez is the better of the two pitchers. In 1,442 career innings pitched Gonzalez owns a 3.73 ERA, 3.53 FIP, 3.70 xFIP, and a 24.4 WAR. Tanner Roark has pitched 573 1/3 innings pitched he owns a 3.01 ERA, 3.73 FIP, 3.96 xFIP, and a 7.1 WAR.
Personally, I prefer Gonzalez over Roark. Gonzalez has superior stuff, he is left-handed, and he has been a starting pitcher his entire career. Tanner Roark bounced between the National bullpen in both 2013 and 2015.
Neal Huntington has stated the Pirates would love to add a veteran starting pitcher this offseason. Both Gonzalez and Roark fit this bill. Additionally, both come with years of control.
Former first round pick Lucas Giolito made his Major League debut in 2016. He pitched in six games and made four starts. Even though he struggled in these outings, he still has an extremely bright future.
Giolito throws a good fastball that sits in the mid-90s. His curve ball is a big, hard breaking ball. Additionally, his change up is a plus plus pitch as well.
The 6-foot-5 255 pound Giolito is a true power pitcher. He has the ability to absolutely blow opposing hitters away. And when he is on, he can be un-hittable. Much like Lopez, Giolito was a name that the Pirates were rumored to be interested in at the trade deadline.
Lucas Giolito has all the tools needed to be a front line starting pitcher. Pairing him with Gerrit Cole and Jameson Taillon long term would give the Pirates an excellent starting rotation. This could be one of the best starting pitching trios in the National League.
Will McCutchen be traded?
It certainly seems that Andrew McCutchen has played his final game as a Pittsburgh Pirate. In fact, it looks like he will be traded before the end of the weekend. Possibly as soon as tomorrow afternoon.
Stay tuned with Rum Bunter throughout the day tomorrow for all and any news involving Andrew McCutchen. As always with breaking Pirate news, we will have you covered. Also, follow us on Twitter (@RumBunter) throughout the day as we all continue to partake in #CutchWatch.
This article originally appeared on