Who is pitching in World Series Game 7 for the Cubs?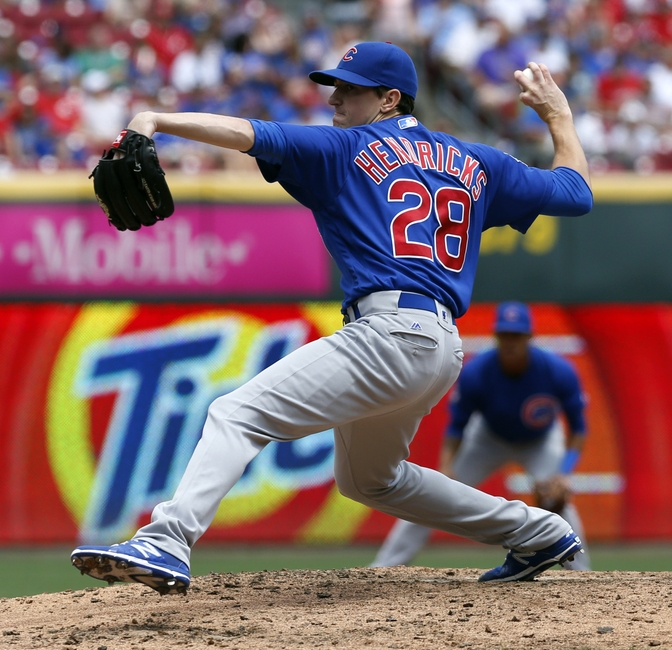 Who is the starting pitcher for the Chicago Cubs in Game 7 of the 2016 World Series? 
The Chicago Cubs have the opportunity to put the Cleveland Indians in meme history as the second team in 2016 to blow a 3-1 lead. Chicago will be sending right-handed pitcher Kyle Hendricks to the mound as their starting pitcher in the deciding Game 7.
Hendricks is coming off an impressive 2016 regular season. During the season, he had a 16-8 record with a 2.13 ERA. Hendricks last pitched in Game 3, going 4 1/3 scoreless innings and getting a no decision in the 1-0 loss. During the 2016 postseason, he has thrown 20 2/3 innings, allowing three earned runs for a 1.31 ERA.
The Cubs got Hendricks from the Texas Rangers in the Ryan Dempster trade back in 2012. 2016 is his third MLB season and his second full season as a starting pitcher. Hendricks has a career regular season ERA of 2.92 in 76 games (75 starts). In five postseason series (two in 2015 and three this year), he has an ERA of 2.45.
Hendricks isn't known for striking guys out, but he has excellent control. He is also very good at forcing weak contact, specifically ground balls. Hendricks struck out 170 batters during the 2016 season in 190 innings, walking 44 batters. He allowed 15 home runs as well. Hendricks' 188 adjusted ERA+ led the National League.
He will be facing a very potent Cleveland Indians lineup. Hendricks will most likely have a short leash considering it's the last game of the season. The Cubs have Jon Lester as an option out of the bullpen. They could also use John Lackey. While Aroldis Chapman pitched in Game Six, one can assume he will be available for Game Seven as well. Hendricks will be squaring off against the Indians' ace, Corey Kluber. It will be Hendricks job to out-pitch Kluber, who has been phenomenal this postseason.
This article originally appeared on