White Sox: Top 5 Moments at U.S. Cellular Field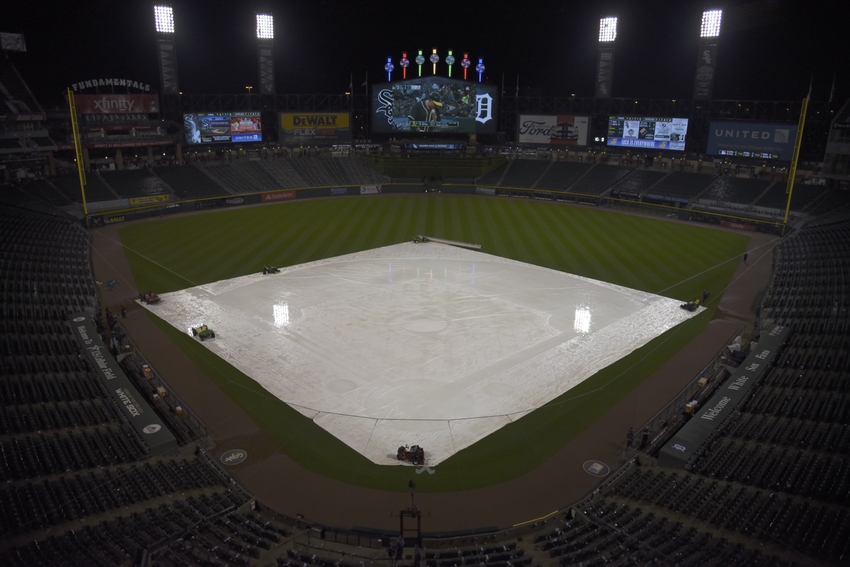 U.S. Cellular Field is no more. Guaranteed Rate Field is now the home of the White Sox. Here is a ranking of the top 5 moments at "The Cell."
The Chicago White Sox will now play their home games at Guaranteed Rate Field. The name change became effective on Nov. 1. U.S. Cellular bought the naming rights in 2003. It may have not been the greatest name but "The Cell" did have some memorable moments. In honor of the old stadium, we're counting down the top five.
The criteria for this very unscientific ranking is pretty simple. All five moments happened at U.S. Cellular Field when it was named that. Plays or games that happened at New Comiskey Park are not eligible. So these games will have spanned from 2003-2016.
Next, the same player cannot appear in multiple spots. That wouldn't be fair. In this top 5, there will not be multiple moments from the same player. It would be too easy to hone in on a few players, which wouldn't make for a fun ranking.
That is really the only criteria I went by. I would welcome White Sox fans to comment and share some of your favorite moments at U.S. Cellular Field. And with that, let's check out the rankings.
#5: Dewayne Wise's Catch – July 23, 2009
"The Catch" as it is called in Sox lure will go down as one of the best defensive plays. Dewayne Wise entered the game as a defensive replacement in the top of 9th. Gabe Kapler of the Tampa Bay Rays got a hold of 2-2 pitch and belted it out to deep center. It was surely a home run but the center fielder came out of nowhere to make a phenomenal catch. He even bobbled the ball as he went to the ground. That catch would help secure a perfect game for Mark Buherle.
Wise was never the greatest player for the Sox, but he played really good defense. And his defense was certainly on display in this game. This play was such an important play that we actually gave it a nickname. It's not the greatest nickname, but "The Catch" was definitely a great moment in U.S. Cellular Field history. And it's number five on our list.
Note: I couldn't find a video of just Wise's catch, so this is a video of the Top 5 Catches to Preserve A Perfect Game or No Hitter. Let us know where you think this catch ranks among these.
#4: Jim Thome's 500th Home Run – September 16, 2007
Jim Thome was the last great left-handed power hitter for the Sox. In the bottom of the 9th in a 7-7 game with the Philadelphia Philles, Thome took a 3-2 pitch yard. Not only was it a walk-off home run, but it was the 500th of his career.
Thome has always been one of the good guys in baseball. He hit a lot of home runs and did it the right way. The Peoria, Ill. native has 612 home runs and 1699 RBIs for his career. His .276 batting average isn't bad either. He will definitely go down as one of the best players in Cleveland Indians history and one of the best left-handed hitters, possibly of all time.
Many questioned why the Sox would bring in a guy who was at the end of his career. But surprisingly, Thome was a very productive player in his four seasons on the south side. He even hit 30+ home runs in three of those four seasons. Since his departure in 2009, this team has been searching for a lefty who can hit.
#3: Chris Sale Sets the Strikeout Record – October 2, 2015
Chris Sale broke Ed Walsh's record for the most strikeouts in a single season in franchise history [274]. This is an important moment in Sox history. Walsh's record [270] stood since 1908. This further establishes Sale as one of the best left handers in baseball. He is also one of the best pitchers in Sox history. And he's only 27.
What makes this moment so impressive is the record was 107 year's old. And this organization has never had a pitcher as dominating as Sale. He is easily one of the best lefties in baseball. It would be sad to see him go.
He has a team friendly contract, which makes him an interesting trade candidate this offseason. Sale's name will definitely come up through the offseason as someone who could be on the trade block. It'll be interesting to see what happens. Even if they were to trade him, there's no denying he'll still go down as one of the best pitchers the organization ever had.
#2: Mark Buehrle's Perfect Game – July 23, 2009
We could make a list of Mark Buehrle's top 5 moments at U.S. Cellular Field. Between his perfect game, no hitter and amazing backhand toss to Paul Konerko, there were no shortage of great moments.
But I decided to with his perfect game against the Tamp Bay Rays. Why? Because pitching a perfect game is more difficult than a no hitter. That was the only reason this made the list and the no hitter did not. Although, if I was adding some honorable mentions, that would definitely be on the list.
Buehrle was a great pitcher in Sox history and definitely a good guy. It was a shame to see him leave the organization for the Miami Marlins after the 2011 season. Let's not also forget he was a part of the World Series team in 2005. He was the reason I decided to not allow players to appear multiple times on the list. Otherwise he would definitely occupy three of the five spots. He will go down as one of the best pitchers the organization had. I'm not sure if he'll make it to the Hall of Fame, but there's no reason why this organization won't honor him sometime in the future.
#1: Paul Konerko Grand Slam and Scott Podsednik's Walk-off home run in Game 2 of the World Series – Oct. 23, 2005
Game 2 of the World Series will go down as one of the greatest moments in Sox history. First, there was Konerk's grand slam off Chad Qualls. And then, there was Scott Podsednik's walk-off home run.
The White Sox were down 4-2 when Konerko connected to give them a 6-4 lead. Then, in the bottom of the 9th Podesednik connected for the game winner. The White Sox went up 2-0 in the series and we know how it ended from there.
This is a key moment in Sox history because both of major moments in their 2005 World Series Championship. This organization has really struggled since then, so hopefully they can get back on track. Konerko's grand slam was the first grand slam in Sox World Series History. Not too shabby for the captain. And Podsednik is best known for that home run. There was even a gold seat where the ball landed. That's pretty cool
That ends our list of the Top 5 Moments at U.S. Cellular Field. As I said earlier, I invite you to post some of your favorite moments at "The Cell." Hopefully the White Sox can usher in a new era at Guaranteed Rate Field and return to their former glory.
More from Southside Showdown
This article originally appeared on