When No One Was looking The Atlanta Braves Quietly Found A Setup Man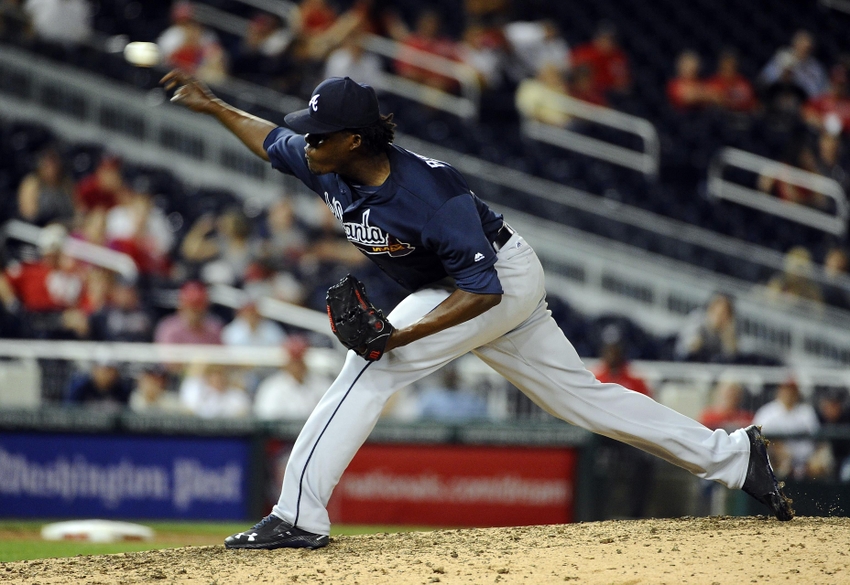 Last December the Atlanta Braves picked up another former prospect who had not lived up to expectations. This season that prospect settled in as a dependable setup man.
On December 4th last year the Atlanta Braves made a trade with the Seattle Mariners for a 25-year-old relief pitcher  No one paid much attention to it at the time and hidden by the Braves offensive and pitching struggles he went unnoticed most of the year.
Since returning from Gwinnett however Jose Ramirez ownership of the seventh inning. While Ian Krol gets the nod now and Shae Simmons is getting a look as well Ramirez doesn't look like relinquishing it to anyone without a fight.
The Journey
In October 10, 2007 the Yankees signed Jose Altagracia Ramirez, a 17-year-old RHP out of Yaguate, Dominican Republic. He played the next summer in the Dominican Summer league as a starter with a 4.15 ERA and in 2009 he moved the Gulf Coast (Rookie) League. There made 10 starts throwing 61 innings with a 1.48 ERA. good enough that Baseball America ($) made him the Yankees #20 prospect going into 2010.
. . .Ramirez emerged as one of the (Yankee) system's more electric arms . . . (and a fastball that)  jumped to 92-95 mph on a consistent basis . . He has a quick arm and room to fill out physically, though his velocity isn't likely to increase. . .)
2012
The 2102 season saw him make 22 appearances – 21 starts – for Charleston (A) throwing 115 innings with a 3.60 ERA and striking out 105 while walking 42.  BA slipped him to #24 on the Yankee prospect list but continued to say good things.
Ramirez keeps the ball down and excels at limiting big innings, giving up just three homers in 115 innings . . .has bouts of wildness (his 20 wild pitches ranked second in the South Atlantic League last year) and may not ever have true command. Scouts like his loose arm and projectable body while lamenting his longer arm action and sloppy delivery. . .He throws strikes to his arm side but hasn't shown he can command his fastball on the other side of the plate. . . needs innings and experience to improve his feel for pitching, as well as strength. . .
The 2011 season didn't go as well; his ERA blew up – 6.62 between A and A+ – and he suddenly gave up a rash of home runs. He lost his top 30 Yankee prospect ranking Yankee prospect list but reclaimed it and moved up to the #16 spot after 2012 finishing with a 2.11 ERA and 73 strikeouts in 73 IP in an injury shortened season.
Moving Up
Ramirez remained a starter as he split 2013 between AA and AAA throwing 73 2/3 innings with a 3.67 ERA striking out 78 along the way. His appearances were limited due to an oblique injury that year. Following that season BA sounded undecided about Ramirez, they moved him up to #13 on the Yankee but suggested he was progressing slowly and might not be a starter.
". . . A rail-thin righty, he brings an explosive fastball in the mid- to upper 90s and . . .a tumbling changeup that often gets mistaken for a splitter. The change easily rates as a 60 pitch . . .(his) slider has its moments, but . . .his command and his breaking ball remain inconsistent, and most scouts project him as a reliever. He also remains slight of build and injury prone. . .
The Yankees agreed with the scouts and moved him to bullpen in 2014 when he split time between AAA and the majors with mixed results.
AAA time
At AAA he made nine appearances throwing 12 1/3 innings with a 1.46 ERA and 16 strikeouts and even though he posted a 1.865 WHIP – pumped up by 10 walks – the Yankees needed bullpen help and called him up.
After arriving in New York made just eight appearances due to a lat injury throwing 10 innings with a 5.40 ERA striking out 10, walking seven and giving up two home runs.  That led to BA dropping him to #26 in a think Yankee system, continued to call him "slight" and hinted that he was injury prone while still liking his stuff.
. . .(Ramirez is) a tease, with a dynamite fastball/ changeup combination and developing slider. . .(whose) fastball still checks in at the mid to upper 90s with good life, and his changeup still features plenty of late fade. . ."
Moving On
Last season Ramirez spent most of the first half of the season in AAA with a couple of call-ups to the big team that amounted to 3 appearances. At the deadline he was traded to Seattle along with Ramon Flores for Dustin Ackley. The trade was a head scratcher at the time and the Yankees might want a do-over as Ackley has been a non-factor for the Yankees since arriving.
Ramirez made nine appearances for AAA Tacoma and got a September call-up to Seattle where he made five appearances throwing just 4 2/3 innings striking out three and walking six. The Mariners were likely surprised when the Braves – presumably on the advice of the former Yankee scouts brought in by John Hart and John Coppolella – ask about him.  The Mariners relinquished him pretty easily for the venerable PTBNL – who later became Ryne Harper.
Braves Beginnings
I paid no attention to Ramirez when he signed or in spring training pictures I tool then showed he was no longer "slight" or "rail-thin." He broke camp with the Braves. but it was a short-lived visit to Atlanta. He made two appearances in April giving up six runs in two innings earning him a trip to Gwinnett.
When the Braves called him back from the hinterlands on July 28 he was a different pitcher. The fastball is still explosive and late life running in hard on RHH, the slider improved and his change will buckle your knees . Here's what Brooks Baseball says bout his pitches.
His four seam fastball has an obvious tail, generates a high number of swings & misses . . .(with) natural sinking action and has well above average (velocity). His slider is an extreme fly ball pitch. . .(with) less than expected depth. His change generates an extremely high number of swings & misses . . . has an obvious arm side fade, is slightly firmer than usual and results in somewhat more fly balls compared to other pitchers' changeups.
In 21 innings over appearances since returning Ramirez posted a 1.71 ERA with 20 strikeouts and 11 walks – three intentional. Opposing hitters post a .192/.307/.329/.636 line against him and have touched him up for one homer.  There isn't a big difference in his R/L splits for the season.
Split
PA
HR
BB
SO
SO/W
BA
OBP
SLG
OPS
BAbip
vs RHB
68
0
9
17
1.89
.236
.353
.382
.735
.325
vs LHB
35
2
6
11
1.83
.207
.343
.448
.791
.250
Provided by  Baseball-Reference.com: View Original Table
Generated 9/7/2016.
What the Numbers Don't Show
Ramirez' numbers are certainly good and when he gets in a jam –often of his own making – he reaches into his backpack and gets another gear . . . in one inning spurts. Asking him to go more than one inning is as we saw last night, an iffy proposition.
In his 16 appearances of one inning (14 IP) he pitched to a 1.071 WHIP, 1.29 ERA with 19 strikeouts and five walks average 16.5 pitches an inning. In five appearances of more than one inning (8 IP) he's struck out seven but walked six. His WHIP jumps  to 1.375 and the ERA follows to 2.25 and he averages just under 17.75 pitches an inning.
He also gave up nearly as many line drives (six) and doubles (two) in the five multi-inning outings as he did in the fourteen single inning appearances; eight and three respectively.
The sample size is small but reliever sample sizes are always small. The eye test tells me that even though he got out of three of those outings run free he was lucky to do so. I understand having to go to multi-inning stints in some situations. However when you have a bullpen full of arms there's really no excuse for doing it. Hopefully the next manager will use him more effectively and that means no multi-inning outings.
That's A Wrap
The Braves bullpen looks pretty well set up for 2017 forward with Ramirez,  Paco Rodriguez, A.J. Minter, Caleb Dirks, Matt Marksberry and others set to join Mauricio Cabrera, Simmons, Krol and Vizcaino. It's a nice mix of power arms, right and left-handed and controllable.
That cluster of arms also provides nice currency for obtaining missing pieces this off-season; like perhaps, a catcher.
Ryne Harper is pitching well for Seattle's AA team but the signing Ramirez turned out to be a steal, much better than anyone could have expected.  It will be interesting to see how this shakes out over the winter and in spring training.  Who will we keep?  What veteran reliever will we sign if any? These answers and more in future editions of the Take.
This article originally appeared on