What you didn't know about the Cards' 18-inning marathon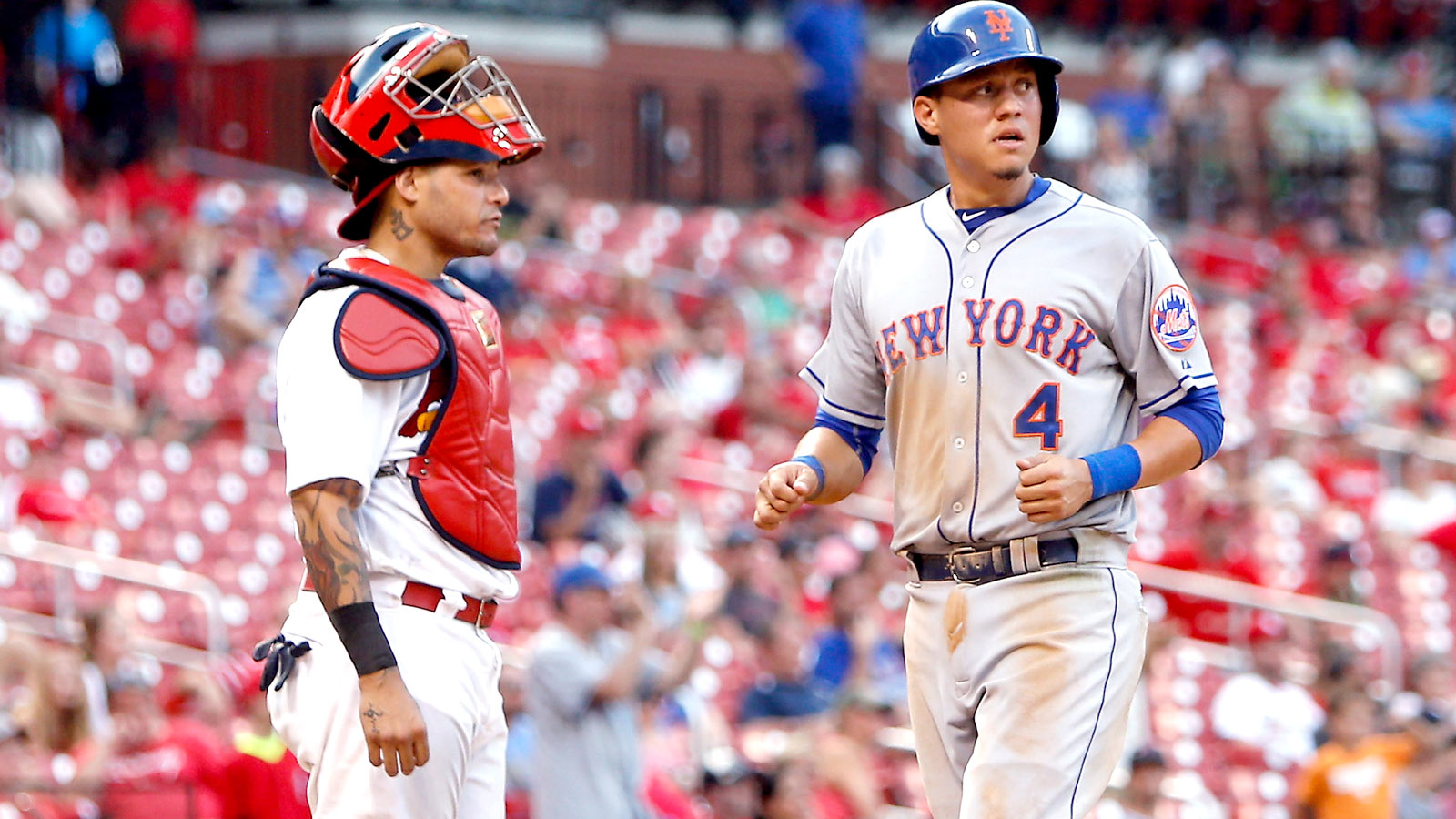 Sunday's game at Busch Stadium officially lasted 5 hours, 56 minutes, finally ending when the St. Louis Cardinals couldn't match the two runs the New York Mets mercifully scored in the top of the 18th inning.
Neither team managed to score until the 13th inning, just one crazy stat among a boatload of them on one crazy day.
MLB.com's Andrew Simon went to work putting together all of the day's quirky and newsworthy notes and stats. Here's a look at what he uncovered:
* The Mets used 21 players, including seven pitchers, with three relievers throwing multiple innings. Pitcher Jacob deGrom was used as a pinch-hitter in the 17th inning. Meanwhile, the Cardinals deployed 19 players, including eight pitchers, with relievers Carlos Villanueva and Carlos Martinez (normally a starter) throwing four innings apiece. St. Louis hadn't used multiple relievers for that many innings since June 1, 1968, also against the Mets.
* At 18 innings, it was the second-longest game in the Majors this season, behind a 19-inning contest between the Yankees and Red Sox on April 10.
* Amazingly, this wasn't the longest game between the Cardinals and Mets in the past six seasons. On April 17, 2010, New York beat St. Louis, 2-1, in 20 innings at Busch Stadium. Three players appeared in both games: Jon Niese and Jenrry Mejia for the Mets, and Yadier Molina for the Cardinals. Niese, Sunday's starter, pinch-hit back in 2010, and Mejia came out of the bullpen both times. Molina caught all 38 combined innings for St. Louis.
* Somehow the Mets won despite going 1-for-26 with runners in scoring position and leaving 25 men on base. Since 1914, only seven other teams left that many on base in a game, and none since the Royals also stranded 25 against the Rangers on June 6, 1991, in Kansas City. Like the Mets on Sunday, the Royals won in 18 innings.
* The 25 left on base ties a franchise record for the Mets, repeating the feat of Sept. 11, 1974. Of course, that game also was against the Cardinals. In that case, New York lost a 4-3 game in 25 innings at Shea Stadium.
* Mets leadoff man Juan Lagares collected 10 official at-bats on Sunday, going 2-for-10 with a pair of singles and a strikeout. That's the most at-bats by a Mets player since July 4, 1985, when Keith Hernandez, Wally Backman and Ray Knight all had 10 during a 16-13 win over the Braves in 19 innings at Atlanta's Fulton County Stadium.
* Since that day, only eight other players notched 10 official at-bats in a game, most recently Adam Eaton for the D-backs against the Phillies on Aug. 24, 2013.
* Mets rookie reliever Sean Gilmartin, who threw three scoreless innings, also hit for himself to lead off the 16th and singled in his first career plate appearance. Gilmartin had had only five hits as a professional, all for the Braves' Double-A Mississippi affiliate in 2012, and he hadn't appeared as a batter since 2013, for Triple-A Gwinnett.
* Both teams struck out 15 batters, the second time that's happened this season. The Pirates struck out 16 and the Tigers 15 in a 5-4 Detroit win in 14 innings on June 30.
(h/t MLB.com)
Photo Credit: Scott Kane/USA TODAY Sports