What Will Be the New York Yankees Next Big Move?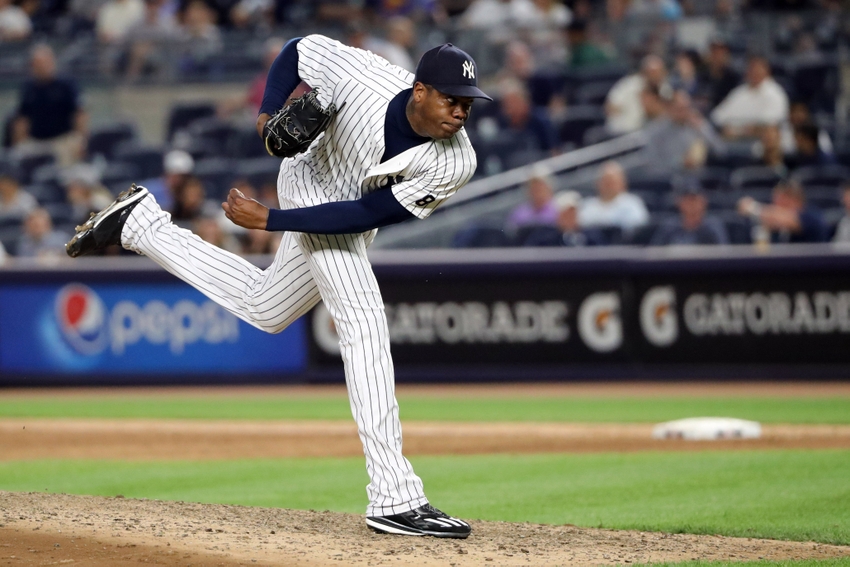 With the new collective bargaining agreement in place, the New York Yankees are reportedly poised to make a big splash on the free agent market. Which player will be first to don the pinstripes?
According to Jon Heyman of Today's Knuckleball, the New York Yankees were waiting to see the finalized details of the new collective bargaining agreement before making any big signings this winter. With a new labor pact in place as of Wednesday night, Heyman calls them a team "worth watching."
Yankees general manager Brian Cashman usually is pretty good at operating under the radar. In the past, many of his biggest signings and trades have come completely out of nowhere, with no real information getting out until sometimes minutes before they are finalized.
This offseason, though, rumors have been flying constantly about the team being connected to various free agents. Whether that's by design or not on Cashman's part is hard to say, but it definitely seems new.
That said, it feels like we have a good idea who the organization has been looking at and the areas of their roster they are looking to upgrade, more so than in previous offseasons. Many reputable sources have confirmed the team is looking to add a closer, a DH, and a starting pitcher by the time the winter is done.
So now that the Yankees know exactly how much money to spend before bumping up against the luxury tax, which player are they going to bring on board first?
The easy favorite here is the same name we've been hearing all winter, former Yankees closer Aroldis Chapman. Recent reports have indicated that both sides are interested in a reunion, with Chapman telling Ray Negron of NY Sports Day, "I would love to be a Yankee again," going on to lavishly praise both the organization and the fanbase.
Last we heard, however, the front office had not made a formal offer to Chapman representatives, although they had reportedly been in touch on multiple occasions. If Jon Heyman's report is accurate, New York presumably wouldn't want to commit to a deal of that magnitude without first seeing what the new CBA had in store for them.
Chapman has long been seen as the Yankees top target this offseason, so it's hard not to see a deal getting done, particularly if the closer is as partial to New York as he says.
On the other hand, the Nationals, Dodgers, and Giants are also said to be serious about pursuing Chapman, however, so there is always the chance the good guys get outbid.
A recent report by George King of the New York Post indicated that the Bombers wouldn't be comfortable signing Chapman to a five-year $100 million deal, although it wasn't clear whether the length of the deal, the annual value, or the total commitment was the issue there. I would assume that leak was just posturing on the part of the team.
All in all, Chapman seems the most likely guy to be the Yankees first big signing of the offseason, possibly even before the Winter Meetings kick off.
A New Designated Hitter
The dominos in the DH/outfielder market are beginning to fall, with Yoenis Cespedes, Matt Joyce, Eric Thames, and Jon Jay all finding new homes recently. The next big name who is rumored to be on the verge of making his decision is former Blue Jays slugger Edwin Encarnacion, whose agent revealed on Tuesday that the top remaining free agent bat will make his choice, "later this week or early next week."
While many sources are declaring the Houston Astros the favorite for EE, Jon Heyman reports that the Blue Jays, Yankees, and at least a few more teams remain in the race.
astros tried for cespedes 2 years running. adds to encarnacion/stros theory. but told nyy, tor & "a couple others" r in

— Jon Heyman (@JonHeyman) December 1, 2016
Because the Yankees have so many young position players on the cusp of forcing their way into the big league lineup, a free agent bat who is willing to accept a shorter-term pact is probably more attractive to them than the four-plus years it will take to land Encarnacion.
Want your voice heard? Join the Yanks Go Yard team!
To that end, the team is rumored to be in the mix for Carlos Beltran (via Bob Nightengale), Mike Napoli (via Heyman), and Matt Holiday (via George King). If any of those guys are willing to accept a one-year deal in the $10-15 million range, I think Brian Cashman would put pen to paper right away.
This may be the least likely signing to happen right away because the Yankees would probably prefer to deal for a younger, controllable starting pitcher that can be a long-term building block for their rotation. At the same time, however, last we heard, New York was one of four MLB clubs described as "in full pursuit" of Hill by ESPN's Jim Bowden.
The Yankees' rotation is the area of their roster that stands out as being most in need of improvement. Hill is the only starting pitcher on the market who reasonably has the potential to be a front-of-the-rotation guy. Unless the team wants to deal from their stocked farm system, Hill is literally the only game in town for them if they want to upgrade.
With so many teams in need of starting pitching this winter, Hill may be best served waiting around to see if anyone gets desperate and offers him a fourth year or something nuts like that. He's definitely in the driver's seat this winter despite all the other question marks surrounding him, so I could see him taking his time and seeing what pops up.
This article originally appeared on