What Was The Mariners Best Offensive Off-Season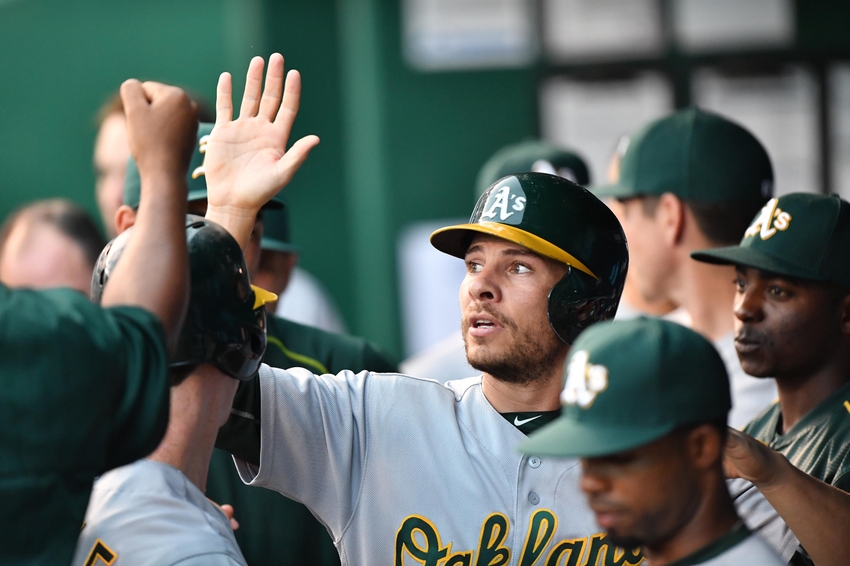 Since the off-season began, the Mariners have added a ship-full of new players to their twenty-five man roster, half of which have been offensive players. Some of those have been very good. Here's who we believe will be the best.
It's better to think about what has been gained this off-season rather than what has been lost. Although it's hard not to think about the mass exodus of players leaving the Mariners.
But, Mariners fans should look on the bright side and be happy with their new additions, especially three of them.
The question is: which one of the three will make the biggest impact on the 2017 Mariners?
Danny Valencia
The Mariners second big move this off-season was acquiring Danny Valencia in a straight up swap with the Oakland Athletics for RHP Paul Blackburn.
The Mariners had just scooped up Blackburn in another deal this past year -the one that sent Mike Montgomery to the Cubs and brought Dan Vogelbach to Seattle- but they felt his stay needed to be short despite the talent his showcased with their minor league affiliate, AA Jackson.
In eight games (seven starts) Blackburn went 3-1 with an ERA of 3.54. He pitched three quality starts in that span highlighted by a one-hit-wonder-to-see over seven frames.
The M's felt it necessary to let the right-hander go because they needed to fill the void and first base. Both Adam Lind and Dae-Ho Lee became free agents all so Dipoto could snag a guy like Valencia.
Alone, Valencia's offensive numbers (except his batting average) pale in comparison to the duo of Lind and Lee, but he's cheaper, and more importantly, he can play more than just first.
Over his seven years in the league, Valencia has played a role at third base, right field, left field, second base, designated hitter and first base, which is where he'll be most of 2017.
The Mariners aren't getting a superstar with Valencia, but they are getting a career .271 hitter and .991% first base fielder that will be able to get the job done on a regular basis while hopefully providing the pop that he brought to Oakland over the past two seasons- he hit thirty-five homers in that time.
But while he is a reliable and productive fielder and hitter, he is not the Mariners best offensive move this off-season.
Carlos Ruiz
Before Valencia graced Seattle with his presence, Dipoto dealt with the big issue of who should play at the catcher's position. He decided that the seasoned veteran, and former World Series champion, Carlos Ruiz would be a good fit.
Last year the Mariners tried Mike Zunino, Chris Iannetta, Steve Clevenger and Jesus Sucre behind the plate. And while some were better than others (and a little less racist) the M's couldn't get consistent productivity out of any of them.
Before signing Ruiz, Dipoto outrighted Clevenger's contract and let Iannetta dive into the free agent pool, leaving the slump-prone Zunino and the inexperienced Sucre as the team's only options.
Ruiz gives the M's a wise, late-thirties athlete that will surely help train the other young catchers on the M's but can also provide a spark in the lineup.
His .261 career batting average isn't immaculate but it is at least thirty points better than any Mariners catcher that played at least twenty games in a single campaign in the past four years.
That and his experience over the past eleven years in the league is why Dipoto feels that Ruiz would be a good fit for the Mariners, not just for this year, but for the years to come as he passes on his wisdom to the other M's catchers on the roster.
However, this does not make him the best offensive move that Dipoto made this off-season.
Jean Segura
It seems appropriate to save the best for last.
It hard to say that Dipoto planned to make such a huge splash by signing Jean Segura, although, under the nose of everyone (including the media), Dipoto had been in talks with the Arizona Diamondbacks to try and bring the National League hits leader to Seattle.
It was no secret that Mariners fans were frustrated by Ketel Marte's constant and costly mistakes at short; but Dipoto would praise Marte on air numerous times, despite all this.
Over the past three seasons, only three men in baseball produced more errors than Marte's twenty-one in 2016. Two of them had more than twenty-one errors twice -Marcus Semien and Ian Desmond.
So the Mariners decided to send Marte to Arizona and upgrade with Segura.
Segura was locked in the plate this past year. Aside from leading the National League with two hundred and three hits, Segura stole thirty-three bases, smashed twenty home runs and legged out forty-one doubles.
He is only one of twelve men in the modern era to reach those types of numbers. He would be just the third man since 1901 to accomplish those gaudy stats more than once if he can have a year like 2016 while he's with the Mariners.
2013 was another standout year in which he made more history.
A few years back, Segura hustled for forty-four stolen bases, knocked twelve home runs, snagged twenty doubles and sped to ten triples. He became the sixteenth man in the modern era to reach those combined numbers, and also earned himself an all-star selection. If he were to repeat these stats he would become only the fifth man ever to do so.
His two outstanding years have come during his short five-season MLB career. Dipoto believes that Segura can create more history on the Mariners. It is because of this belief (backed up by the numbers) which makes Jean Segura the Mariners best offensive off-season move for 2017.
This article originally appeared on