What the Yankees Could Use from the Colorado Rockies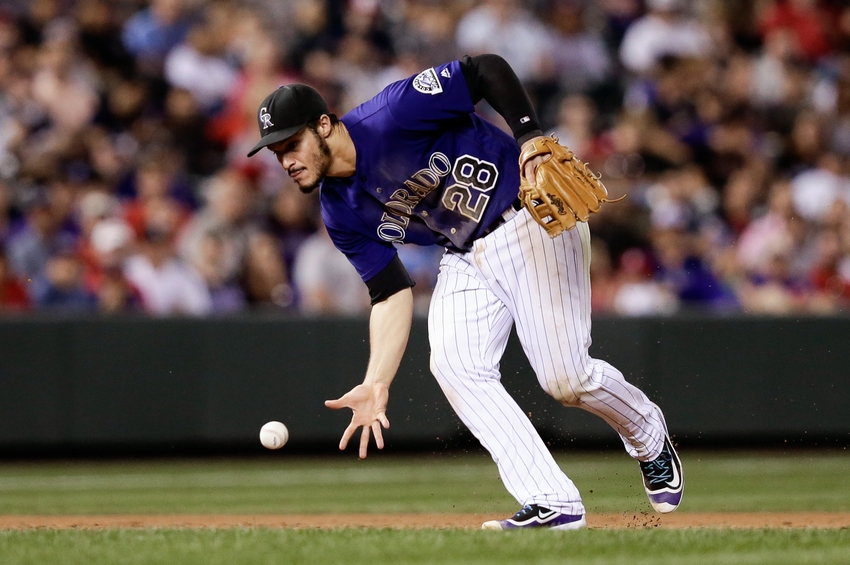 The Colorado Rockies perennially find themselves stuck in the middle of the NL West pack. Ripe with offense and somewhat of a developing pitching staff, could the Yankees entice them to part with a young offensive juggernaut?
Finishing 16 games out of first place is traditionally a sign that something is dreadfully wrong on your ball club. Yet the Rockies' 75-87 record this past season, was seven games better than 2015's 68-94 showing. Had early NL Rookie of the Year favorite Trevor Story been healthy enough to suit up for more than 96 games, who knows, maybe the Rockies would have played at least .500 ball.
Regardless, this is an organization in a continuing cycle of rebuilding for the future. Always flush with offensive talent, Colorado finished '16 in the top 10 in all major offensive categories. That's why it will be interesting to see what type of offers the Rockies field this offseason, if and when some contender comes-a-calling with a legitimate trade proposal of blue chip prospects and/or up and coming cost-controlled arms in return for one of their young sluggers.
Trading for a Rockie
Last offseason, the Rockies went out and signed Gerardo Parra to 3-years, $27M deal, and both Mark Reynolds and Ryan Raburn to single season contracts. From a performance/health standard, it's safe to say that the latter two were a wiser investment that Parra who only managed to bat .253 with 7 HR and 39 RBI.
I bring this up because this Rockies organization needs to make up its mind one way or the other about how it intends to trend upwards for the future. This convoluted roster of journeyman utility players, inexperienced starting pitchers, breakout stars, and one-time MVP candidates trying to hang on to greatness, simply won't get them back to the Postseason anytime soon.
That's why a club like the Yankees should do everything in their power to wrestle away the type of player that would immediately become a cornerstone contributor.
Who are these men you ask? Well, in my estimation there are two. And no, Carlos Gonzalez is not one of them, although I would take him in a heartbeat as the Yankees' everyday DH, if the Rockies were realistic in what they wanted in return for a player who has 1-year, $20M left on his contract.
Let's say, Brett Gardner and Chase Headley (who could slide to first base) get the deal done — I would personally drive them to the airport at 6AM just to get rid of their contracts over the span of the next two seasons.
But let's talk marquee names — players that if they weren't playing in the Mountain Time Zone would have endorsement deals rivaling the Bryce Harper's of the world. I'm talking Nolan Arenado and Charlie Blackmon.
Arenado won't come cheap as he's arguably the best all-around third baseman not named Manny Machado. But acquiring a 25-year-old Gold Glove winner who just hit .294/.362/.570, 41 HR, and 133 RBI, while only striking out 103 times is why you stockpile talent at the Minor League level.
I always say you have to trade something to get something. No, I'm not going to go into particular names about who it would likely cost the Yankees to acquire a dynamite player of Arenado's ilk, but you'd have to think the starting point of talks would revolve around two top 10 prospects, one top 30 pitching prospect, and at least one Major League level player to bridge the gap for the Rockies' 10th ranked farm system.
I get that this is a king's ransom to hand over. But how many opportunities present themselves to potentially acquire a third baseman that should man the hot corner for the next 12-15 seasons?
Miguel Andujar may one day develop into a productive big leaguer, but at 21, he's still got a season or two left down in the minors to refine his swing.
Arenado's time to shine is not only right now in the present, but for years to come into the future.
Then there is Blackmon, who had his coming out party in 2016 — compiling a stat line of .324/.381/.552 with 29 HR, 82 RBI, and 17 SB. Aside from playing a Gold Glove caliber center field, the just turned 30-year-old won't be a free agent until 2019. Arbitration eligible until then, Blackmon is the type of player the Yankees thought they were getting when they signed Jacoby Ellsbury to a small fortune in 2014.
Want your voice heard? Join the Yanks Go Yard team!
Since no one will take Ellsbury and his Brinks truck bank account, the Yankees could slide him to left, which he is better suited for due to his pigeon arm, and let the uber-athletic Blackmon control the deepest parts of Yankee Stadium, making good use of that cannon he has for a throwing arm.
He'd also be a huge upgrade as a No. 2 hitter. With power to all fields, Blackmon would take a ton  of pressure off Gary Sanchez to produce in his sophomore season. Oh, how I'd love for Blackmon to consistently get on base, steal second, and watch Sanchez drive him in.
At 30, Blackmon is coming into his professional prime, so now is the perfect time to take advantage of him. I get that the Yankees just acquired Clint Frazier from the Indians in the Andrew Miller deal, but most scouts are already on the record stating Frazier's natural ability lies as a corner outfielder because of the angles he takes getting to fly balls.
A quick side note to the peanut gallery, I don't want to hear that Arenado or Blackmon put up monstrous numbers in 2016 because they play in Colorado. It wouldn't matter if these two played on the sand in Egypt, hitters rake no matter the location.
Signing a Rockie
Being reunited with former-Yankee Boone Logan would be an absolute stellar move. Since Logan typically only throws 50 or so innings a season — due to the fact he's a situational left-handed specialist — at 32, he's still got a ton left in the tank.
From 2010-13 with the Yankees, Logan went 17-7, while appearing in as many as 80 contests in 2012. Clearly, the Yanks know and trust this guy to get the job done even in the toughest of situations. Think of him as a cheaper alternative to Andrew Miller. 2-years, $10M deal should do the trick.
More from Yanks Go Yard
This article originally appeared on