Washington Nationals: Wilson Ramos' Knee Surgery Is Set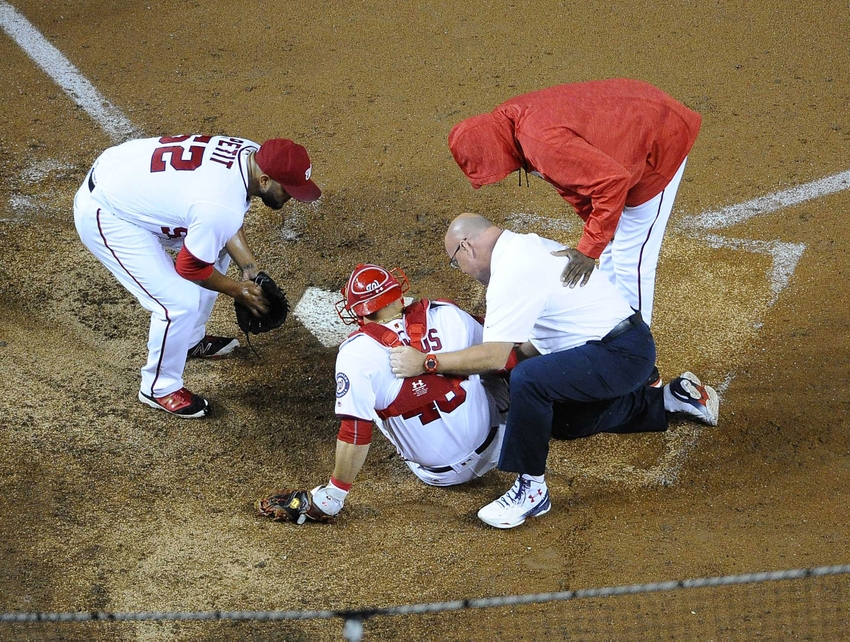 Soon-to-be free agent catcher Wilson Ramos will undergo surgery this week on his knee. The recovery time is expected to take about seven months.
Washington Nationals catcher Wilson Ramos will have surgery on Friday according to MLB.com's Bill Ladson. Ramos needs repairs done in both the ACL and meniscus in his right knee. He also expects a seven month rehabilitation process.
The surgery to repair Ramos' knee was expected. But Bill Ladson's report discloses a bit more information. The meniscus issue likely isn't major compared to the ACL, and it is possible that repairing any and all damage in the knee could be a good thing. It is also important to note that no other more structurally significant ligaments need repair.
As far as rehabilitation goes, seven months is optimistic. Seven months would also place Wilson Ramos back in action by May. This is assuming that all goes well. And Ramos will likely need an additional month or so before catching in a major league park.
More from Call to the Pen
Even though Ramos will begin some "baseball activities" as his knee strengthens, he will need to rebuild his strength and condition even after being cleared to play. Seven months or more is a lot of time off from the game. Ramos will also need work in order to get back to major league game speed. He even proposed the idea of spending time in a designated hitter role in order to shorten the time off the field.
But with the injury Ramos suffered, seven months isn't too bad. Especially considering this is Ramos' second ACL surgery on his right knee. It currently is unknown what kind of market is out there for Ramos this winter. Teams will likely be hesitant to rely on him to be their 2017 catcher. They'll also be hesitant to invest in him and his knee long-term.
Wilson Ramos is coming off a great 2016 season. He was an All-Star slashing .307/.354/.496 with 22 home runs and 80 RBI. He played in 131 games and started 122 of them as a catcher.
The 29-year-old catcher is hitting free agency for the first time in his career. And after his strong 2016 season, many thought he would receive a high-priced, long-term contract. But now with the uncertainty around the health of his knee and his sustainability behind the plate, his value this offseason is difficult to predict.
This article originally appeared on