Washington Nationals: Why They Chase Another Starter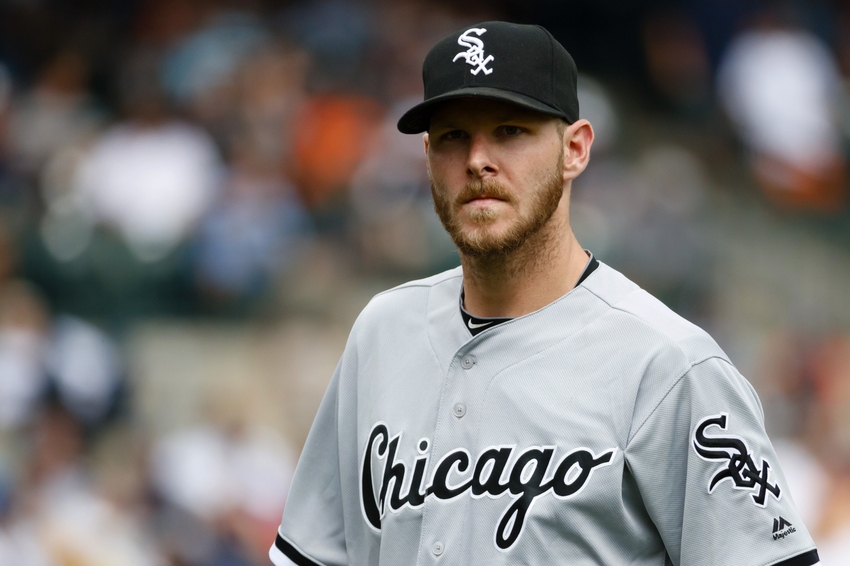 With one of the best starting rotations in baseball, the Washington Nationals want another starting pitcher. Here is why they feel they need one.
The Washington Nationals are in search of starting pitching.
Sure, you can say every team wants another arm or two to go into next season. With the free agent class being slightly better than the factory rejects closeout aisle at T.J. Maxx this winter, chances are Washington will get their needed starter via a trade.
Now, we know from earlier the Nats have around $20 million in salary wiggle room. They sit at $140 million and do not want to exceed, by much, the $160 million mark they had on the books this year. Within that limit, the Nationals want a catcher, centerfielder and a closer.
As rumors run rampant over Chris Sale and Chris Archer, and others not leaked, the tea leaves tell us this is more than just a check to see who might be available. Somehow, even with nine pitchers fighting for five spots already next spring in West Palm Beach, the Nationals are telling baseball they are not complacent.
If you look at who is on the team right now, it is hard to believe they do not have one of the best all-around rotations in the game. Max Scherzer earned his second Cy Young. Stephen Strasburg, when healthy, is an ace. Tanner Roark's 2016 changed his career. Even Gio Gonzalez posted a FIP of 3.76. The whole team posted an Adjusted ERA+ of 119.
Pitching, you would think, is not a major issue heading into 2017. A closer is. Moving Trea Turner back to short is. Who will catch come next June is something general manager Mike Rizzo thinks about getting coffee.
Of all the areas where the Nationals are needing improvement, starters do not come to mind. Yet, the rumor mill says otherwise.
Why? Let's take a closer look.
STRASBURG'S INJURY
Although it made no difference in how the National League East race played out, having Stephen Strasburg miss the end of the season hurt.
Before the flexor mass strain ended his 2016, Strasburg went 15-4 with a WHIP of 1.104. When healthy, he won his first 13 decisions and dominated. Washington, Strasburg and Scott Boras hammered out an unexpected seven-year contract extension, securing his place in D.C. for years to come.
The contract was the largest ever issued to a pitcher who underwent Tommy John surgery.
The Nationals have to be leery on what Strasburg can give them in 2017. Yes, he will skip the World Baseball Classic and focus on returning Washington to the playoffs. In the back of everyone's mind, durability creeps in. Twice in seven seasons has he pitched over 30 starts a year. Once, he topped 200 innings.
The last two years, he missed around 16 starts. You cannot count on Washington winning the division by almost 10 games again. If Rizzo and company are unsure they can get a 30-start season out of Strasburg, then you know why rumors of another good starter are rampant.
Strasburg was missed in the playoffs. As in 2012, you never know what might have happened if he made his scheduled start Yet, the playoff aftermath is bigger than one pitcher.
GETTING PAST THE NLDS
Of the 45 scheduled innings during this year's five-game loss to the Los Angeles Dodgers, the four Washington starters pitched 23.1 innings. Slightly more than half. If it makes you feel better, the Dodgers got 22.1 from their three including Clayton Kershaw.
Yes, all playoff games except in rare occasions are bullpen games now. Outside of Max Scherzer's two starts Roark, Gonzalez and Ross pitched 11 innings in three starts. Somehow, the bullpen pulled two wins out of that mess but burnt by the time Scherzer pitched Game 5.
Sure, Strasburg probably lasts longer and Roark will not be as nervous his next time around. Watching Roark overthrow in Game 2 was painful. That is playoff baseball, all the pressure of a football game in a sport designed to be a marathon.
If the front office thinks getting into the sixth inning by another starter aside from Scherzer gets them into the NL Championship Series, they need to do it. Washington will be competitive for the near future as there is too much talent. They, however, need to win a series.
Although there are no guarantees come October, recognizing their rotation was weak is a huge step moving forward.
WHAT ABOUT TREA?
With $20 million to play with, do the Nationals let Trea Turner have a full season in center and keep Danny Espinosa at short?
It is hard to see Washington filling their three big holes at catcher, closer and center if they are adding a veteran salary to the mix. Unless they opt for Shawn Kelley or Blake Treinen as closer, or the dreaded closer by committee, keeping Turner at center is the next logical move.
Washington needs a catcher, aside from the rookie Pedro Severino. If they are happy with Wilson Ramos' progress coming off his torn ACL, they can bring him back. But, whoever they have will eat into that flexible $20 million.
If they can stomach Espinosa's ability to strike out at will with his outstanding defense, they can defer one more year and see what a full year of Turner at center brings. Given time, Turner's route running will turn instinctual. He may never be a Gold Glove outfielder, but he is not a terrible defender.
Remember, this year's team scored more runs than any other in Nationals or Expos history over a full 162-game season. Espinosa was one of six to slug 20 homers, a feat not seen since the 1965 Milwaukee Braves.
Because fans are frustrated with Espinosa, he can hold his own if Rizzo feels another starter is the answer.
ABOUT THAT CLOSER
If you feel this talk about adding another front-line starter means the Nationals will not keep Mark Melancon or score Aroldis Chapman or Kenley Jansen, the best answer is wait and see.
If the Nationals can land another innings-eater, it will take pressure off the current corps needing to win games pitching ten-plus outs every night. Those arms can throw only so many pitches. Another solid starter gives you anywhere from 99-130 games when every starter can pitch into the seventh, under the right circumstances.
It may be obvious, but chances of success increase when you need six outs from the pen. This can lead to an internal option. Or, they focus mostly on both pitching roles and spend more than $20 million to take a full shot this year.
When talking about adding another front-line starter, we make the dangerous assumption everyone stays healthy all year. History wraps us on the head with a rolled-up newspaper to say is not true.
We should not assume, unless those big closers sign for major money soon, the chase for a starter means they will not keep Melancon or lose out on this year's closer derby. Do not be surprised if the Nats go internal for their ninth-inning guy either.
WHAT DOES THIS MEAN
The good news is whatever internal autopsy the front office did leads them to believe another veteran starter is the missing championship piece.
More from District on Deck
How they do that without paying too high of a prospect price and fill their closer and catcher holes is tricky. As high as the Nationals are on Severino at catcher, Mike Maddux called his pitches in the playoffs.
Unless he has a monster spring, Severino is not leaving Florida as the everyday catcher. The future is his whether that reality is 2017 remains to be seen.
The problem with playing down a name closer is, what if we get into mid-season in a tight race with no one Dusty Baker can trust to lock down games? There is a reason the Nats went out and got Melancon when Jonathan Papelbon's tank hit empty. We saw how important and flexible closer's were in the playoffs.
A long winter means rumors, most being feints or messages to players we will read about in future books. The Washington Nationals have the prospects and payroll to make any reasonable deal they want to happen.
If starting pitching is the big hole, they can fill it. Whatever happens between now and when Spring Training rolls around, be prepared to be stunned. The Nats front office feels they can win now, and will do what they can.
This article originally appeared on