Washington Nationals: Who Wears The "Curly W" First In HOF?
Ron Juckett/FanSided via District on Deck

Fansided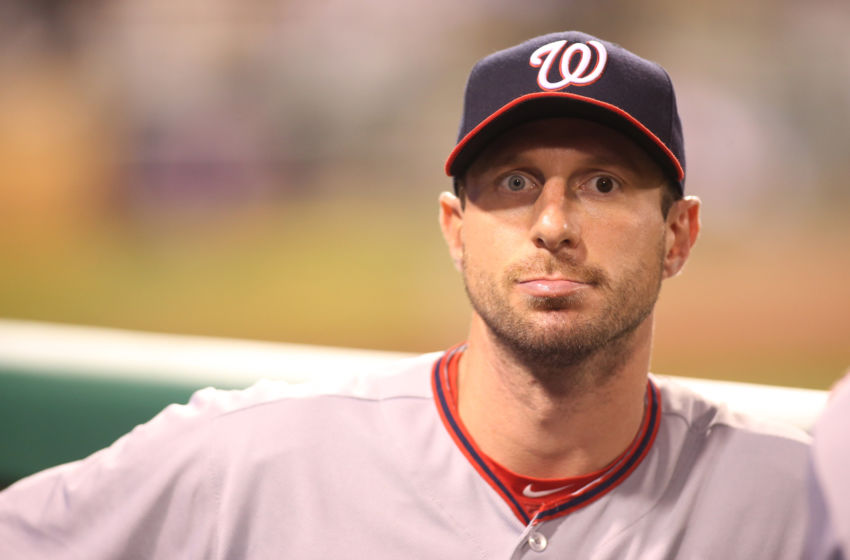 As the Washington Nationals mature, the chances of a player wearing their hat on a Hall of Fame plaque increases. Who will be the first to wear the "Curly W?"
Although it is unlikely to come in 2017, at some point, someone will be enshrined at the National Baseball Hall of Fame with a Washington Nationals hat on their plaque.
Gary Carter and Andre Dawson are the two players in franchise history to wear Montreal Expos hats in Cooperstown. We expect Tim Raines to be the third.
In the 36 years the team played in Quebec, several players spent time in Montreal on their way to enshrinement. When the team moved south to Washington, there are players eventually headed for the Hall to play here. They will have not only the honor of sharing a franchise with Carter, Dawson and Raines but a city where Walter Johnson called home.
Because the Nats are still young, celebrating their 13th season in Washington this year, the team will be mentioned on the plaque, but the hat will be with another team.
In the next generation that will change. As the Nationals become a destination team with a history of making the playoffs, they will have players who will, in time, get their day in the warm New York sun for immortality.
Who will be the first?
Players no longer have a choice of which hat they wear but, as this generation of talent ages, the "Curly W" is coming to baseball's shrine.
Which of these five players will be the first Washington Nationals immortal to go forward to Cooperstown representing you, their passionate fans.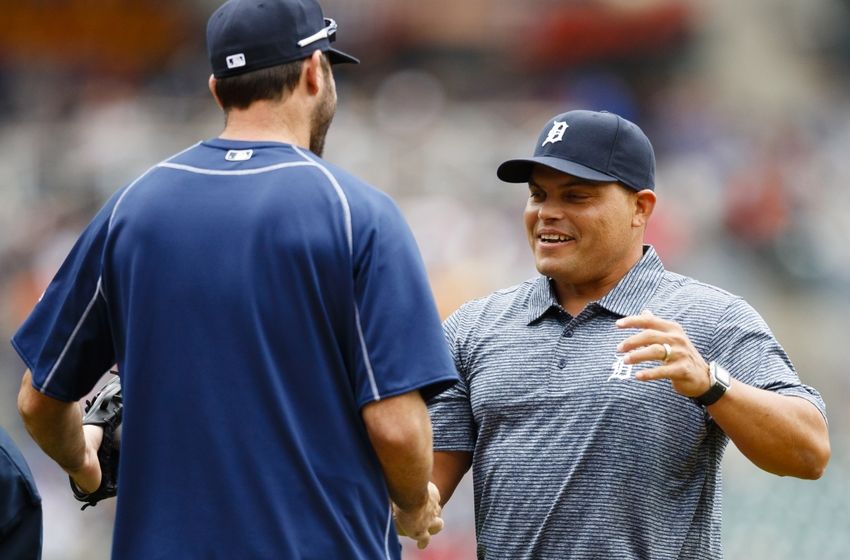 IVAN "PUDGE" RODRIGUEZ
There is no question Ivan Rodriguez will have his Cooperstown moment soon. Also, he will go in the Hall wearing the hat of a Washington-based team. For him though, it will probably be the Texas Rangers.
Although Rodriguez ended his career in Washington, spending two seasons with the Nationals, his catching accomplishments with the Rangers are what he is best known for. In 13 seasons in Arlington, he earned 10 Gold Gloves and All-Star appearances, finished fourth in the 1991 American League Rookie of the Year voting and won the MVP in 1999.
From 1995 to 2002, he hit over .300. An incredible number for a catcher. With an absolute cannon of an arm, Rodriguez threw out 46 percent of would be base stealers in his career, including a whopping 60 percent for the Rangers in 2001.
Coming to Washington in 2010, Rodriguez played in 155 games for the Nats before retiring after the 2011 season. Not the offensive powerhouse he was earlier, he hit .266 in 2010 while catching in 102 games, finishing 96.
In 21 remarkable seasons, he squatted behind the plate 2427 games or 20,348 innings.
One of the best to don a catcher's mask.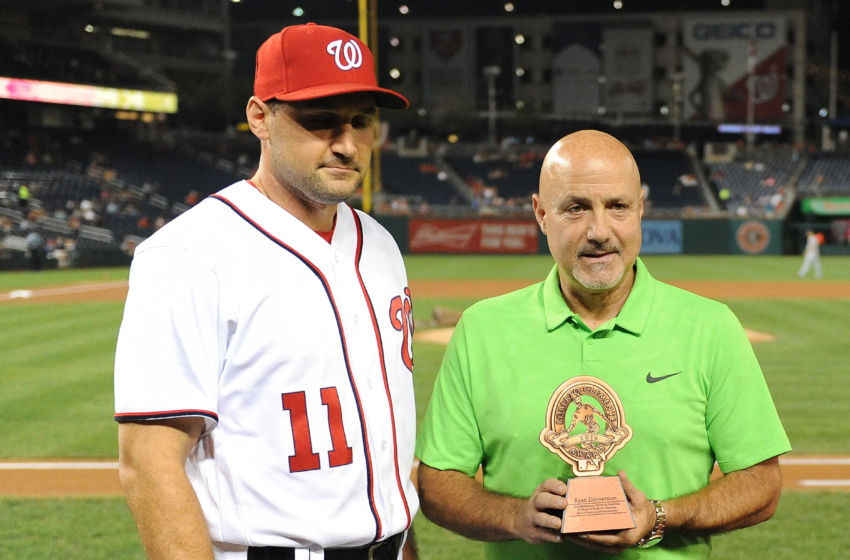 RYAN ZIMMERMAN
The first player drafted by the Washington Nationals in 2005, Ryan Zimmerman has earned a place among the legends of Washington sports.
Although his name will eventually join John Riggins and Elvin Hayes in the ring of honor, Cooperstown is probably not in the cards for him.
Still, the man known as "Mr. Walk-Off" is the first true impact player in Nationals history. When they arrived from Montreal, a ward of Major League Baseball, no one know how the city would adopt their new team. Thanks to Zimmerman, they grew to love the team.
Injuries grabbed away his chance at Cooperstown, but in 1,408 games with Washington, his 1505 hits and 215 home runs are records since the team moved south. A second-place finish in the 2006 NL Rookie of the Year vote gave him and the team national credibility. His 2009 Gold Glove and 33 homers gave fans reasons to hope.
Since then, he played in all three Washington postseason appearances, hitting .357 in 14 games, including a .353 performance last year.
Sure, there are better players now. Zimmerman still is the face of the franchise. His ability to shine when healthy helped ease the awkward transition from the orphaned Expos to your Nationals.
When this version of Washington's baseball history is celebrated, Zimmerman's name will top the list.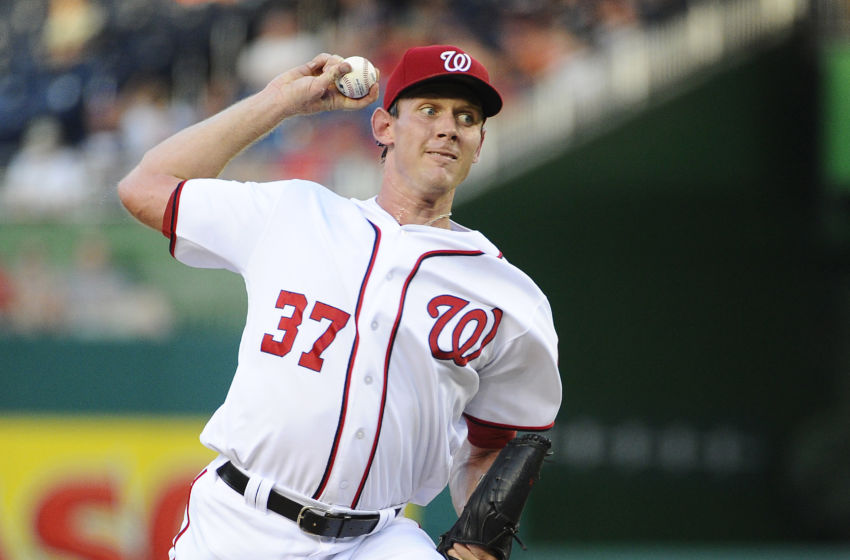 STEPHEN STRASBURG
Stephen Strasburg's arrival in Washington was so heralded, his first start became a national event. The first pick of the 2009 MLB Draft from San Diego State came with the hype of a heavyweight boxing championship and the burden of the baseball world on his shoulders.
Although his eventual Tommy John surgery in 2011 tampered expectations, and further injuries have some questioning his durability, his quest for the Hall is not over.
At 27, Strasburg has 69 wins, a career ERA of 3.17 and 1084 career strikeouts heading into 2017. With a seven-year contract kicking in this year, it is safe to say whatever he does going forward will be in a Nationals uniform.
After a 13-0 start last year, the expectations from his arrival turned into tangible results. As he learns how to be a pitcher and not a thrower, his experience will give him better statistics to build his Cooperstown case. A two-time All-Star, you know he will improve on his lone Cy Young Award Top 10.
With excellent control and the ability to not beat himself, his best days are ahead. Throw in a couple good playoff runs and a 20-win season or two, his possible enshrinement will have merit.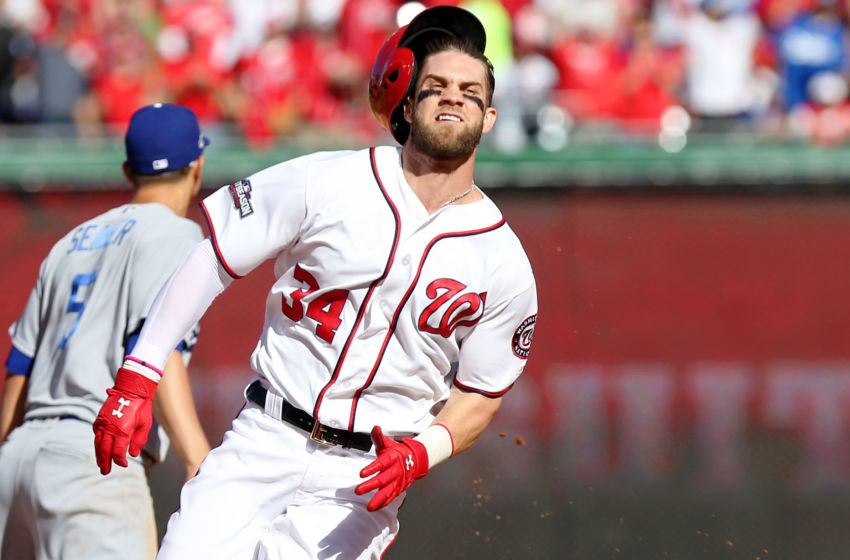 BRYCE HARPER
What Bryce Harper has done in his first five seasons is legendary. An NL Rookie of the Year award and a unanimous MVP in 2015. Add four trips to the All-Star Game and a Silver Slugger to the mix and Cooperstown will call when the time is right.
We know he has two years before the siren song of free agency calls. Even if he goes that way that does not mean he leaves Washington. Still, with the potential of seven amazing years in DC on his resume, the chances of him making the Hall and wear the "Curly W" are high.
His career Wins Above Replacement of 21.5 is 17th-best in his era. When Baseball-Reference compares you favorably to Frank Robinson, Mickey Mantle and Ken Griffey Jr at 23, you must do something right.
For all Harper has done on the field, it is hard to believe he starts this season at 24. His colleagues at that age are mostly still riding the bus in the minors. His prime years are still a few seasons away.
If his health remains good, there is no question Harper will have a resume at the end of his playing days earning him his special day. With charisma, marketability and a flair for the dramatic, he is one of the few players in the sport who a casual fan can recognize.
Imagine if he stays here. What a show.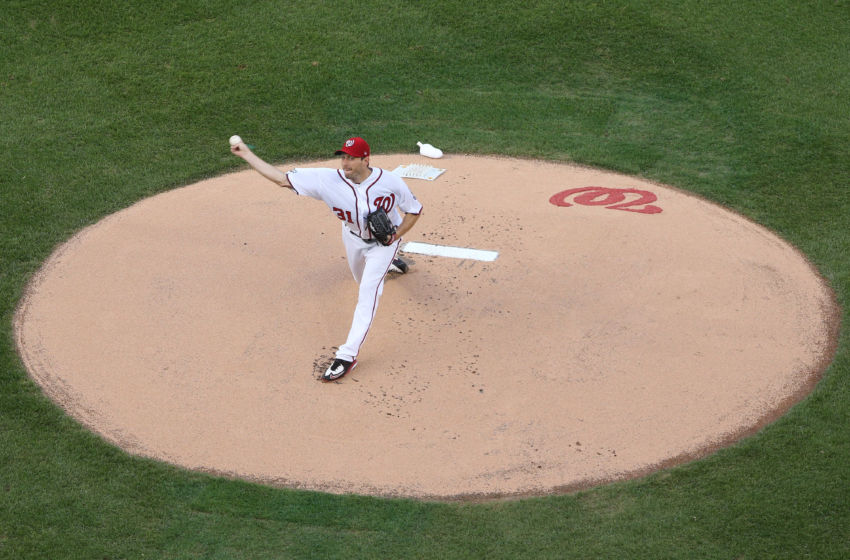 MAX SCHERZER
Over the last five years, Max Scherzer emerged from one of Justin Verlander's backup singers with the Detroit Tigers to one of the most dominant starters in the game today.
More from District on Deck
One of the few to earn Cy Young Awards in both leagues, Scherzer's two seasons in Washington make his starts must watch games. Twice, he struck out 20 with Washington. Toss in a no-hitter and a 20-win campaign in 2016 and you have fans lining up to buy his jersey.
His case for the Hall improves every year. Although he will not see 300 wins, sitting at 125 after nine seasons, he can break 200 and 3,000 strikeouts. He has 1881 now in eight full years. With five straight 200 strikeout years and three topping 250, he will hit the vaunted 3k with ease if healthy.
Under contract to the Nationals for five more seasons, most of his future success will come here. If the Nats can make that playoff breakthrough, Scherzer will lead the cause.
Although his enshrinement is not certain, his career is established enough he will draw considerable votes from the writers. If he can help bring a championship to Washington that not only should lock his case up but guarantee he will be the first to sport the "Curly W" for all to see as long as we treasure baseball.
This article originally appeared on