Washington Nationals: Who Is Catching When It Counts?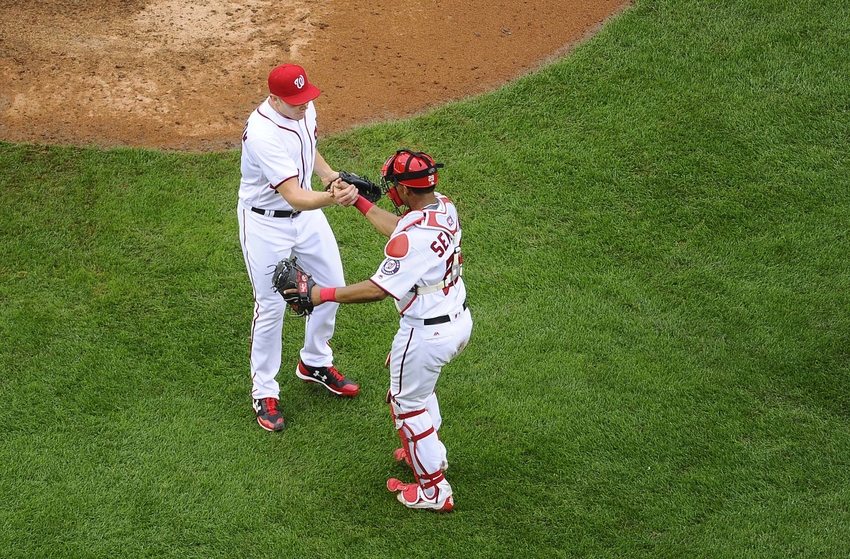 One of the Washington Nationals biggest offseason questions does not have an easy answer. It may not until mid-season.
The Washington Nationals start the second half of the 2017 season at Great American Ballpark against the Cincinnati Reds.
Imagine, if you will, the Nats are in a tight race for the National League East with the New York Mets and a dogfight with the St. Louis Cardinals, San Francisco Giants and others for a Wild Card spot. Unlike 2016, Washington's playoff fate is uncertain, destined to run all the way through a long, hot summer.
Who is catching that first game after the All-Star Break in Cincinnati?
With Brian McCann traded from the New York Yankees to the Houston Astros and Jason Castro spending the next three years with the Minnesota Twins, who is behind the plate next year is a valid question.
There are other options besides McCann and Castro both on the free agent market and internally. Since no names are on the list of hot rumors at the moment, either something is quietly being worked on or the Nationals will spend their $20 million in extra payroll elsewhere.
Why are we looking to July? It is conceivable Washington starts the year with a mix of Pedro Severino and Jose Lobaton like they were forced to use in the playoffs. As what happened this year with Jonathan Papelbon, the powers that be realize it is not working and need to make a move.
Or, they work out a short-term deal with a popular free agent and he starts the crucial second half after recovering from a torn ACL.
Washington can make a move now for a 2017 catcher, or wait. Here are the five candidates most likely to start the second half pennant drive.
PEDRO SEVERINO
All signs point to Severino becoming the catcher of the future.
He handled well the pitchers in Triple-A Syracuse this season and earned playing time when Wilson Ramos injured his knee at the end of the regular season.
Although he will not replace Ramos' offensive ability and arm, Severino caught over half a season with Syracuse and played well. His .271 batting average and 79 hits in 291 at-bats bode well for the future. With 13 doubles and two home runs, his ability to hit singles is crucial.
Striking out 45 times in that span is good. He is not hacking at pitches at the plate. Experience is a good teacher. With his quick rise up the minor league chain, whatever Severino learns this spring will serve him well in the future.
With all the young pitchers making the big club, they are with his ability to call a game. Although Mike Maddux called his pitches during the NL Divisional Series, Severino will work on game management next spring at West Palm Beach.
Best case scenario is the 2017 job is his to lose. Young and confident, he can take his new job by storm and assure the front office the money spent this offseason was better spent elsewhere.
JOSE LOBATON
If Lobaton starts the second half as the primary catcher, the Washington Nationals are in deep trouble.
Just once in his seven seasons has Lobaton been the primary catcher, in 2013 with the Tampa Bay Rays. In three seasons as the backup with the Nats, he played in 149 games and has a batting average of .223. The good news it is 20 pounds above his playing weight. On the other hand, the Adjusted OPS+ for that stretch is 66.
Remember, 100 is average production.
Although a good player to have on the bench who calls a good game, is not an everyday starter. Lobaton does not own a cannon of an arm in seven seasons, he gunned down 22 percent of would be base stealers. The average is 27 percent.
If Washington signed a free agent who ended up hurt or Severino is not ready, those are the only reasons Lobaton should catch the second-half opener. He is not the answer, or a realistic stopgap for a team with championship dreams.
On the flip side, there is no good reason not to have him on the roster. Whether it is mentoring Severino or as a veteran presence who knows his pitching staff, Lobaton is a positive player for Washington to have on the team. Just not an everyday one.
WILSON RAMOS
Although he hopes to be ready by May, July is the more realistic option for Ramos' return following his second torn right ACL.
The 2016 Silver Slugger and All-Star, both Ramos and Washington made clear their mutual interest. Before his injury against the Arizona Diamondbacks, the Nats reportedly low-balled him an offer of three-years and $30 million.
Ramos wanted, and would have received, a contract similar to Brian McCann's five-year/$85 million deal shared now by the Yankees and Astros. With the injury not as bad as feared, he may not need to go to the American League and be a designated hitter and catcher.
If, and this is a big if, Washington and Ramos can agree to terms on an incentive-laden deal, this is the likely timeframe set for his return. Washington grabs a long look at what Severino can and cannot do and they start the stretch with their All-Star catcher in the fold.
With team's such as the Baltimore Orioles—hot after Nick Hundley—and the Atlanta Braves desperate for catchers, Ramos still could get his wanted money elsewhere.
Until he gets further along in his rehab, it is hard to say what is a fair contract to offer Ramos. His value to the Nats is huge, but do they pay top dollar for a twice-injured catcher who is available half a year?
KURT SUZUKI
With two partial seasons in the District on his resume, Kurt Suzuki is familiar with the club and the park.
After three seasons as the primary catcher with the Minnesota Twins, they moved on from the free agent by signing Jason Castro.
Suzuki is affordable, making around $6 million in 2016 and can be had for not much more over a two-year deal. He is also 33. If Washington wants him back, he is a stop-gap measure until Severino is ready.
It is not clear whether Suzuki wants to remain a primary catcher or transition to the veteran backup. As a hitter, he is still productive. He hit .258 this year, slugged eight home runs and rarely strikes out. Unless he is ready to move to a catcher/designated hitter hybrid, whoever lands him will be happy.
Suzuki has not thrown out over 20 percent of base runners in two years. What once was a good arm is tiring. Still, he offers plenty of experience with a good bat. Once the new CBA is hammered out, offers should pour in his direction. If the Nats want him, they will face competition.
Washington may hope for better, but they could do worse than bringing him back.
MATT WIETERS
The second biggest name on this list aside from Ramos, there is considerable interest in bringing Matt Wieters down from Baltimore.
More from District on Deck
On the surface, you can understand. After two injury-shortened seasons, his 20 home run power is back. He is a four-time All-Star that throws out baserunners at a 30 percent clip. Wieters fans under 100 times a year and can hit .300. What is there not to like?
He is now 30, missed chunks of two seasons hurt and the Orioles are making no effort to keep him. Although it is not a surprise Baltimore did not tender a qualifying offer of $17.2 million to keep him—afraid he would accept—they gain nothing now on his departure.
Wieters made under $10 million in 2016, but wants closer to Brian McCann's $15 million per year. Whatever team lands him, he will be the everyday catcher or designated hitter for the length of his contract.
Is that the direction the Nationals want to go? He is not a liability behind the plate and comes close to matching Ramos' production. If Severino is the catcher of the future, is Wieters the guy to bridge the gap?
The answer is no. You cannot expect Wieters to sign as a throwaway player in the NL as there is no DH role to move too.
Having said that, if he is behind the plate against the Reds come July 14, the team will be in decent hands. And Severino will be catching elsewhere.
This article originally appeared on