Washington Nationals: Where Derek Norris Ranks Among NL East Catchers
Chris Lacey/FanSided via District on Deck

Fansided
District on Deck is ranking the NL East to see how the Washington Nationals stack up at each position. The series continues today as we compare the NL East catchers.
The catcher position is critical as they have the responsibility of handling the pitching staff, controlling the running game and contributing in the lineup. As we march on with our National League East 2017 Preview by ranking the best performers at each position, there is a stable group which comprises the division's catchers. Read on to see where Washington Nationals Derek Norris ranks among other catchers in the NL East.
Last season, Travis d' Arnaud was the best in the rankings, but injuries prevented him from having a stellar campaign with the New York Mets during the 2016 season. Tyler Flowers will be back for his second season with the Atlanta Braves, while J.T. Realmuto and Cameron Rupp will look to build on an impressive year for the Miami Marlins and Philadelphia Phillies, respectively.
There are two backstops in Carlos Ruiz and Wilson Ramos that were in the rankings last year, but won't be this time around. Ramos signed a multi-year deal with the Tampa Bay Rays during the offseason and Ruiz was traded to the Seattle Mariners.
The NL East has a strong group of catchers, as there's a mix of veterans and youth. Flowers has the most experience among the quintet considering he'll be entering his ninth season in MLB. Norris isn't too far behind with the upcoming 2017 season marking his sixth year in the Majors.
The young studs in Realmuto, Rupp, and d'Arnaud all have less than six years of experience, but the future is bright for each of them.
So, let's look at how we rank the catchers in the division, starting with number five.
5. Derek Norris (WSH)
2016 Stats: 125 G, .186/.255/.328, .583 OPS, 77 H, 14 HR, 50 R, 42 RBI, 9 SB, 36 BB, 139 SO and 0.3 bWAR.
The Nats were the premier team in the NL East last season and for them to have a player ranked last in a position is surprising. The loss of Ramos is a huge blow for the Nats as he was not only an excellent catcher, but one of better overall hitters on their roster last season.
The Washington Nationals acquired Norris in December by sending minor-league pitcher Pedro Avila to the San Diego Padres. It was a low-risk move for them as they didn't give up much to get Norris. He was originally drafted by the Nats in the fourth round back in 2007.
Norris had a statistically horrible season by compiling career lows in about every category except home runs. I do expect Norris to rebound with the Nats, as he has been a reliable hitter in his career. It will also help that he doesn't have to play half of his games in very spacious Petco Park.
One concern with Norris is that he isn't great at throwing baserunners out. He caught just 21 percent in 2016, and his career mark is only slightly higher at 26 percent. Norris will still provide some added value with his power and should have a respectable season for the Nats.
It will be interesting to see how Norris handles the pitching staff for the Nationals. This was the biggest strength for the club last season, and hopefully, things will remain the same going into the 2017 season.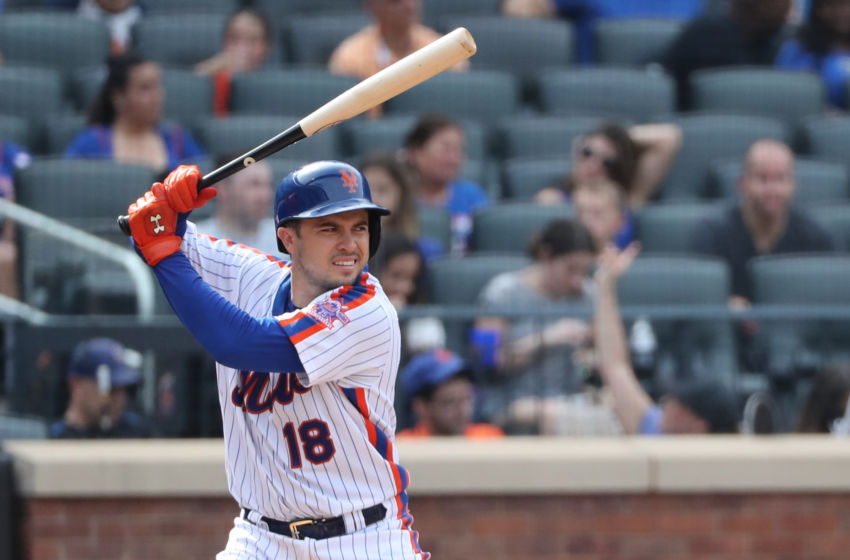 4. Travis d'Arnaud (NYM)
2016 Stats: 75 G, .247/.307/.323, .629 OPS, 62 H, 4 HR, 27 R, 15 RBI, 19 BB, 50 SO and -0.8 bWAR
d'Arnaud had trouble staying on the field once again last year. The young backstop has eclipsed more than 100 games just once in his four seasons in New York. He has the talent to make an impact on the diamond, as he hit .268 and amassed a .825 OPS with 12 home runs the previous season.
While d'Arnaud is a valuable player for the Mets, that value diminishes when he's injured most of the time. It's tough to replace a bat like his in the lineup, given his ability to drive the ball to all fields and come through when opportunities to score runs are presented.
He has spent time on the disabled list in each of the last four seasons with a plethora of injuries occurring. It's nearly impossible to find a comfort zone when you're always trying to get healthy.
The Mets need a healthy version of d'Arnaud for 2017 to have any chance of contending for a playoff spot. He represents another source of power in the lineup for the Mets, and it's imperative that he remains on the diamond and not trying to recuperate from another ailment.
It does make you think that if d'Arnaud has another lengthy stint on the disabled list in 2017, would the Mets consider moving on from him?
3. Tyler Flowers (ATL)
2016 Stats: 83 G, .270/.357/.420, .777 OPS, 76 H, 8 HR, 27 R, 41 RBI, 29 BB, 91 SO and 0.3 bWAR
The Braves had to be impressed with the performance of Flowers in his first season with them. He spent his first seven seasons in the American League with the Chicago White Sox and results was lackluster.
Flowers accumulated a .232 batting average and tallied more than 40 RBI just once with the White Sox. He found new life with the Braves, and his on-field performance reflected that. He looked comfortable in the batter's box and didn't have a problem adjusting to NL pitching.
The change of scenery did wonders for him and some players, moving to a new club can make a difference. Flowers played in just over 80 games with tremendous success, and it's crazy to think what he could have done with more playing time.
It won't be surprising if Flowers has a breakout season next year, as the potential is there for him to continue improving.
One area for improvement is doing a better job when runners are on base. He threw out a staggeringly-low five percent of baserunners that attempted to steal against him.
Flowers has a career caught-stealing percentage of 23 percent, so it was alarming, he was way below his career average.
If Flowers improves in this aspect, it will not only help him become a better catcher but help the Braves as well. The respective pitcher on the mound can focus on the individual in the batter's box and worry less about the runner on base.
The Braves are a team on the rise in the National League, as there is plenty of talent on their roster. They have several young players that will get better over the next several years, and it will help them be a contender in the NL East sooner rather than later.
2. Cameron Rupp (PHI)
2016 Stats: 105 G, .252/.303/.447, .750 OPS, 98 H, 16 HR, 36 R, 54 RBI, 24 BB, 114 SO and 1.3 bWAR
Rupp made enormous strides with the Phillies last year, by showing some pop in his bat. He nearly doubled his home run and RBI total from the previous season and caught 200 more innings. The increase in workload didn't have an adverse impact on his performance, and it's a great sign moving forward for the Phillies.
The Phillies have a dynamic catching prospect in Jorge Alfaro, but they don't have to rush him to the Majors with Rupp holding his own. This is important, as it will provide Alfaro more time to develop his skills in the minors.
Alfaro is already a terrific defensive catcher as he committed just six errors in 95 games with Double-A Reading. However, his plate discipline isn't quite refined. He struck out 105 times and managed just 22 walks, which is a sign of him being a free swinger at the plate.
It's a weakness that pitchers in the Majors will exploit. Alfaro can make this weakness become a strength with more at-bats in the minors.
An interesting aspect of last season for Rupp was his defense behind the plate. He committed just five errors, which was one more than the prior year. However, his caught stealing percentage was 27, a steep drop from 2015 when it was 38 percent.
Rupp played more games in 2016, and the result was that opposing teams had more chances to steal bases against him. I wouldn't be too concerned with the decrease as the league caught stealing percentage was 27, so Rupp was average in this area.
The Phillies are set at the catcher position with Rupp doing a solid job and Alfaro waiting in the wings to take over.
1. J.T. Realmuto (MIA)
2016 Stats: 137 G, .303/.343/.428, .771 OPS, 154 H, 11 HR, 60 R, 48 RBI, 12 SB, 28 BB, 100 SO and 2.6 bWAR
Realmuto established himself as one of the best catchers in the Senior Circuit last season. He joined Ramos and Yadier Molina as the only backstops in the NL to hit over .300 and appear in more than 130 games.
More from District on Deck
The terrific campaign by Realmuto wasn't a surprise considering he did compile a .259 average and .696 OPS with 10 homers and 47 RBI in the prior season for the Marlins.
The shocking aspect regarding the rise of Realmuto ascending to the upper echelon of catchers is the short period it took. The 2017 campaign will mark just his fourth year in MLB and Realmuto is turning just 26 years old in June.
He improved in every statistical category except triples and strikeouts. However, I'm not expecting a catcher to hit leg out triples and striking out 100 times doesn't make him a bad hitter.
The one area which separates Realmuto from his peers in the NL East is his defensive skills.He led all NL catchers in assists (80), finished third in putouts (1,069), and was third-best by throwing out 28 base runners attempting to steal against him.
Realmuto winning both the Gold Glove and Silver Slugger Award are within reach next season as he is phenomenal in the batter's box and behind the plate.
He excels in all facets that you want in a catcher and deserves to be ranked as the top catcher in the NL East.
This article originally appeared on