Washington Nationals: Takeaways From 3-2 Win Over Phillies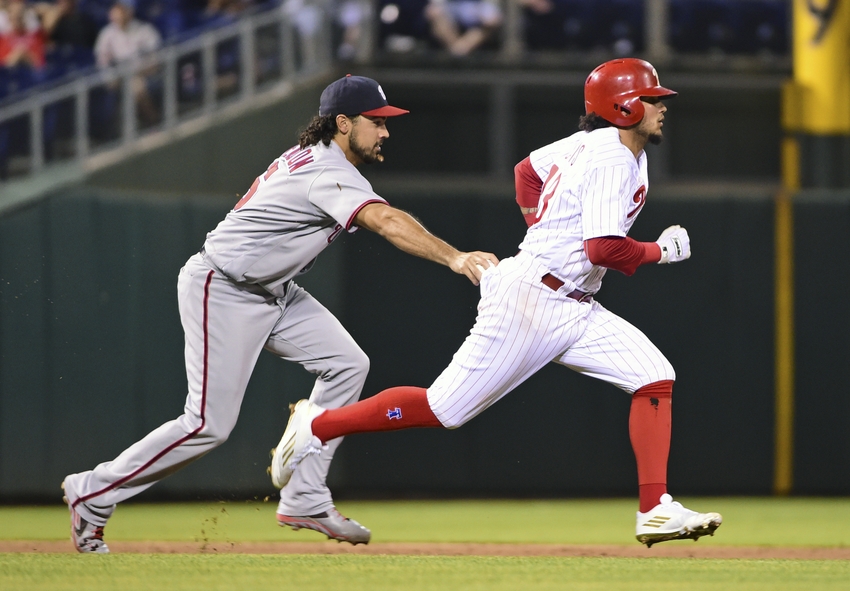 Check out my three takeaways from last night's 3-2 Washington Nationals win over the Phillies
Last night, the Washington Nationals (77-55) continued their domination of the Philadelphia Phillies (60-72) in 2016 as they won their eighth straight game against Philadelphia, 3-2. With the win, the Nats remain nine games ahead of the Mets in the NL East after New York beat Miami for the second straight night.
The story of the night was Max Scherzer. The Washington Nationals right-hander had a no-hitter after five innings and struck out five in a row at one point. While he didn't get the no-hitter, he threw eight great innings and struck out 11 to secure his 15th win of the season.
For the second straight night, the offense got out to an early lead with a pair of runs in the first inning. One of those RBI's came from Bryce Harper, who has eight RBI's in his last six games and who is hitting .325 in the month of August.
This game got interesting late when Ryan Howard hit a two-run home run against Scherzer in the bottom of the seventh to cut the lead to 3-2. Howard, who usually struggles against Scherzer (2-for-21, 13 strikeouts), is hitting .307 with eight home runs and 18 RBI's since the All-Star Break.
In the ninth, Dusty Baker brought in Mark Melancon for the fifth time in six days. While I was surprised about that decision, Melancon got the job done despite walking the leadoff batter. You would think Melancon would not be available tonight so that the closer could get a couple of days off (including the day off tomorrow).
Before Gio Gonzalez goes for the sweep tonight against the Phillies at Citizens Bank Park in the final game of August (7:05 p.m ET, MASN2), here are my takeaways from last night's Washington Nationals 3-2 win:
Scherzer Strikes Out 11
It was another dominant outing last night for Max Scherzer in Philadelphia. He went eight innings, gave up two runs on three hits, struck out 11, and walked one on 102 pitches (69 strikes). He picked up his 15th win, which ties Stephen Strasburg for the team lead this season.
Once again, Scherzer showed last night that history has a chance to happen anytime he takes the mound. He took a no-hitter into the sixth inning, which was broken up by a Freddy Galvis double. Galvis also broke up Scherzer's no-hit bid in June 2015 when he was going for back-to-back no-hitters. Dan Kolko of MASN tweeted last night a great stat about Scherzer's no-hit bids:
Might as well update it: Scherzer has now made 61 starts as a National. In 9 of them, he's taken a no-no into the 6th. That's 15 percent.

— Dan Kolko (@masnKolko) August 31, 2016
Although Scherzer had five of his 11 strikeouts end with a fastball, he had at least one strikeout that ended with either one of his five pitches. The Washington Nationals ace has double-digit strikeouts in four of his last six games and his 51 strikeouts are the most for any pitcher this month.
Scherzer's 51 strikeouts in August are 13 more than the second best total (Robbie Ray of the Diamondbacks with 38). Even though he made the one mistake to Ryan Howard in the seventh, it is only the fourth home run Scherzer has allowed this month.
While the Nats didn't sign Scherzer to solely beat the Phillies, he has dominated them since joining Washington. He has a 6-0 record in eight starts against the Phillies over the last two seasons. Scherzer is finding his form at the right time and that should be a bad sign for the rest of the league.
Nats Continue To Score In 1st Inning
Last night, the Washington Nationals scored a first inning run for the third consecutive game. They were able to string together a two out rally to get an early lead against Jerad Eickhoff. Daniel Murphy started the rally with a double down the left field line, Bryce Harper drove him in on a double off the wall in center field.
After a five-pitch walk by Anthony Rendon, Wilson Ramos singled up the middle to score Harper and put the Nats up 2-0. By getting these early leads, it allows pitchers like Scherzer and Tanner Roark to get into a groove and be more relaxed.
This season, the Washington Nationals are one of the best teams in baseball in the first inning. They lead the National League in runs scored (104), are second in home runs (23), second in walks (66), second in on-base percentage (.372), and fourth in batting average (.297).
After that first inning, Eickhoff was able to settle down and have a good outing. He went six innings, gave up three runs on five hits, struck out three, and walked four in his 13th loss of the season.
Over the last two nights, the Washington Nationals have scored only three runs after the first inning. But, at the same time, the Nats are doing a good job of getting the lead early on the road and making a statement. That holds true especially against a team like the Phillies, who the Washington Nationals have beaten in eight consecutive games.
Turner With Another Multi-Hit Game
Just like Monday night's game, there were only two Washington Nationals who had multi-hit games last night. Those two players were the Nats current shortstop (Danny Espinosa) and their shortstop of the future (Trea Turner).
Turner continued his excellent month of August by going 2-for-4 with a stolen base. In the seventh, Turner was initially called out on a stolen base, but the Nats challenged and it was overturned. It must've felt good for Turner, since he had two stolen bases reversed on replays against the Orioles last week.
The 23-year-old has seven multi-hit games over the course of his eight-game hit streak. This is a streak that includes the two four-hit games that he had against Baltimore.
In the month of August, Turner has 45 hits, which leads all of baseball. Plus, his 11 stolen bases are tied for third in the league. As I mentioned in my article Monday when Turner was our player of the week, he is exactly what the team needed in that leadoff spot.
Last night was probably Turner's last game for the month. After the game, Dusty Baker told the media that the center fielder was probably going to get the night off tonight against Philadelphia:
Dusty said he might give Turner the day off tomorrow. "He doesn't weigh much more than that pen right there, so we have to keep him strong."

— Chelsea Janes (@chelsea_janes) August 31, 2016
With Turner now having an on-base streak of 20 games, he continues to do something great each night he goes onto the field. He was named an International League postseason All-Star yesterday for his performance in triple-A. It makes you wonder if there is a Major League All-Star appearance somewhere in his future.
This article originally appeared on