Washington Nationals: Stephen Strasburg Plans to Change Approach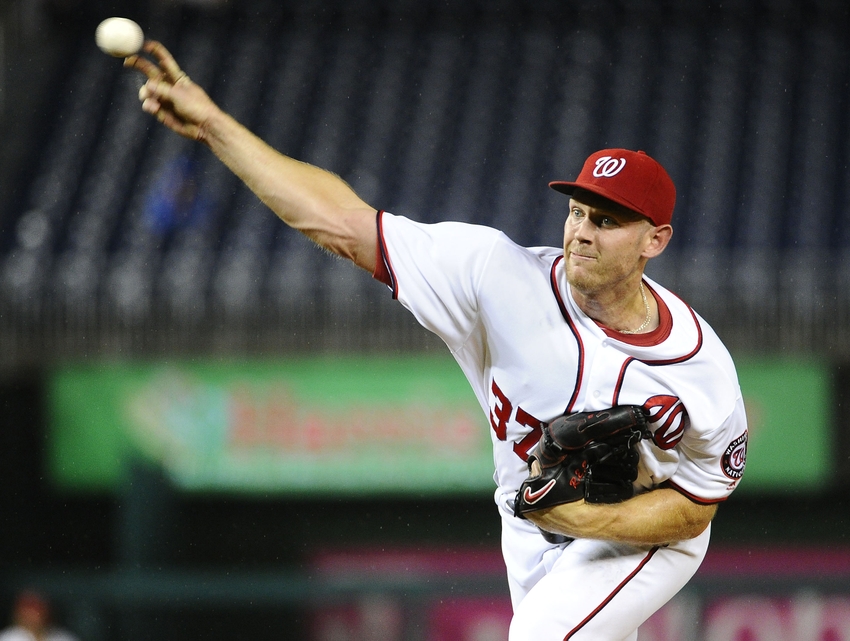 Washington Nationals pitcher Stephen Strasburg believes overusing a certain pitch may have contributed to the injury that ended his season prematurely. He plans to adjust accordingly in 2017.
The 2016 season featured the highs and lows we've grown accustomed to seeing from Stephen Strasburg during his big league career. The Washington Nationals starter began the year on a tear, posting a perfect 13-0 record through his first 17 outings, along with a 2.51 ERA, 0.99 WHIP and 4.18 K/BB ratio. It looked like the young right-hander was finally becoming the dominant ace the team envisioned when it drafted him first overall in 2009.
Then, the wheels abruptly fell off. Strasburg managed a horrid 7.36 ERA and 1.52 WHIP over his final seven starts of the campaign. Aside from the rough finish, a series of injuries also hindered him over the course of the season. An upper back strain landed him on the disabled list in mid-June. Elbow soreness necessitated another DL trip in late August. Finally, a tear in his right pronator tendon and a strained flexor mass ended Strasburg's year for good near the beginning of September.
While he hoped to work his way back in time for the postseason, things never really came together and before long the Nats were bounced from October baseball by the Dodgers in the NLDS.
Strasburg, however, has a theory on what caused the injury that cut his once promising season short. Speaking at the Nationals' WinterFest over the weekend, he said that he believes overreliance on his slider – a pitch he had not thrown frequently before last season – led to the stress on his right arm.
It's hard to blame Strasburg for making his slider a more prominent pitch in his arsenal. It developed into a very potent weapon for him this year. According to Fangraphs PitchF/X, it became his second most used pitch after his fastball. He threw it 399 times in 2016 after tossing it just 40 times total in the previous two seasons. Opponents had a 12 percent swing-and-miss rate against it this year, as per MLB.com's Jamal Collier.
More from Call to the Pen
But while the increased slider usage may have helped Strasburg put away hitters with ease, it came at a price. Strasburg said that he experienced "additional soreness" after outings in which he used his slider a lot, according to Jorge Castillo of the Washington Post. The extra strain of delivering that pitch repeatedly may have culminated in Strasburg's partially torn pronator tendon. At least that's the current hypothesis.
While a potentially avoidable injury is not exactly a cause for celebration, it would provide an easily identifiable culprit for Strasburg's injuries and perhaps his second half struggles as well. Naturally, the 28-year-old righty has a plan for adjusting his approach next season that will hopefully allow him to avoid similar roadblocks. He's not going to eliminate the slider from his repertoire, but he wants to scale back its use so as to alleviate the stress on his arm. He plans to incorporate his changeup more often as a result. Not a bad idea – opponents hit just .110 against it this year (PitchF/X).
For their part, the Nationals want to help in the process, too. As per MLB.com, pitching coach Mike Maddux has suggested that they might change his throwing regimen between starts next year, and GM Mike Rizzo has also said that they will re-examine his offseason workout, strength and conditioning programs.
After signing a seven-year, $175 million extension during the season, Strasburg obviously wants to live up to the massive investment the Nationals made in him. And Washington wants the frontline starting pitcher that they paid for. For much of 2016, Strasburg made a convincing case that he can be that guy. Both sides will hope that a change in approach next year with regard to his slider keeps him healthier without sacrificing effectiveness.
This article originally appeared on