Washington Nationals: Stephen Strasburg Could Return If Team Advances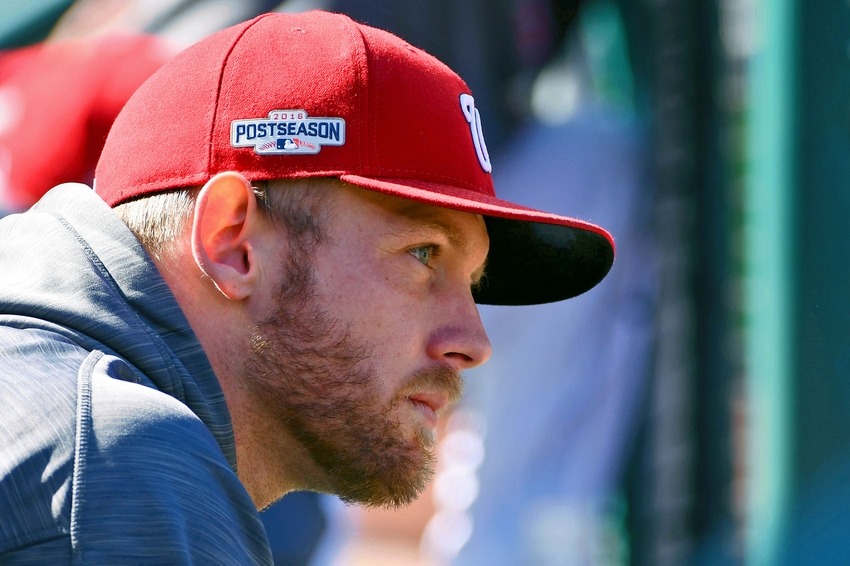 If the Washington Nationals finish off the Dodgers and advance to the NLCS, Stephen Strasburg could be available to play a role. The right-hander tossed another bullpen session before yesterday's Game 3.
While his Washington Nationals teammates clash with the Los Angeles Dodgers for the right to advance to the NLCS, Stephen Strasburg is slowly but surely working his way back to have a chance to join them should they move on to the next round of the MLB postseason.
The right-hander threw his second bullpen session in four days before yesterday's NLDS Game 3 in Los Angeles. Washington came out on top by a score of 8-3, giving them a 2-1 advantage in the series and putting them one more victory away from reaching the NLCS.
Strasburg suffered a partial tear in a tendon in his right forearm early last month, an injury which landed him on the disabled list on September 7. While the tear wasn't described as necessarily season-ending at the time, the 28-year-old hasn't appeared in a game since then. It became clear that if he was going to make a return this year, it would only be in the playoffs and contingent on whether the Nationals advanced far enough.
The righty tossed between 20 and 30 pitches during his session on Monday. As per Chelsea Janes of the Washington Post, Strasburg indicated recently that the tendon was healed and that it was now a matter of working himself back up to game readiness. He threw 25 pitches in a session on Friday, his first on a mound since the injury.
Janes reports that Strasburg focused on his fastball and changeup during his first bullpen outing, while mixing in his curveball yesterday. He didn't speak to the media, but there was apparently no indication of any issues throughout the session. Janes posted a clip of Strasburg throwing on Twitter:
Strasburg got off to a brilliant start this season and looked like a leading Cy Young candidate for much of the year. Through the month of July, he owned a 14-1 record with a 2.68 ERA, 0.99 WHIP and 4.31 K/BB ratio. His wheels fell off in August, however, which could perhaps be attributed to his looming health issue. In his final five outings of the regular season, he posted an ugly 9.45 ERA and 1.85 WHIP over 20 innings.
Even if the Nats can finish off the Dodgers and reach the NLCS, there is no guarantee Strasburg will be part of the equation, or what kind of role he might play if available. While he could certainly be a candidate to start if he feels good and shows enough progress, the team might also use him out of the bullpen instead.
In either case, the possibility of rust should be a concern. In a series where every game means so much, you don't want to put a pitcher out there who is not ready. A performance like any of those Strasburg turned in during mid-to-late August would be a disaster in a potential NLCS.
More from Call to the Pen
However, the Nationals' opponent in the next round would be either the Cubs or Giants, teams that have names like Jake Arrieta and Madison Bumgarner at their disposal. Having Strasburg back to pair alongside Max Scherzer would be a major confidence-booster for Washington in matching up with either team.
This article originally appeared on