Washington Nationals: Mike Rizzo Willing to Move Lucas Giolito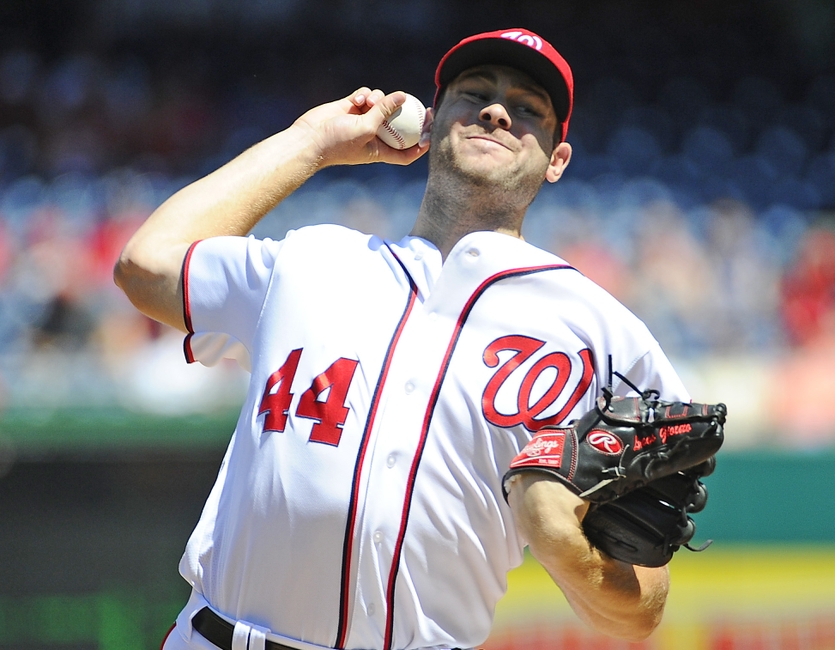 Lucas Giolito is one of the best pitching prospects in all of baseball. The Washington Nationals are willing to part with him in a trade this offseason.
The Washington Nationals have made it incredibly clear that they are going for it in the 2017 season. With Bryce Harper contract extension negotiations reaching a halt, the Nationals window is closing quickly. General Manager Mike Rizzo knows that in order to compete with the Cubs and Dodgers in a strong National League he will need to make key additions to his team that seems just a piece or two away from contending for a championship. Reports in the past couple weeks have linked the Nationals to both Chris Sale and Andrew McCutchen.
With the beginning of winter meetings, the rumors have heated up. Yesterday evening Ken Rosenthal reported that the Nationals were making strong pushes to get Chris Sale. Jon Heyman first reported that the Nationals were willing to give up Giolito in a trade for Chris Sale.
Giolito is a name in the mix in sale/nats talk. As said earlier, Washington is trying.

— Jon Heyman (@JonHeyman) December 5, 2016
Chris Sale would give the Nationals one of the best starting rotations in all of baseball. Any of the three top pitchers could easily contend for the National League Cy Young next season. Because of the distinct advantage this would give them, the Nationals are willing to consider parting with one of their most prized prospects.
At this time last year a trade involving Lucas Giolito would have been ludicrous. The young pitcher had just finished a strong season in which he impressed scouts with the velocity and movement on his pitches. He dwelled in the top five of prospect lists from multiple scouting outlets. His fastball easily reached the upper 90s, his curveball was devastating, and many saw him as a sure-thing future ace.
In the 2016 season, he made his debut in the big leagues. Rather than a storybook ending for one of the league's most impressive prospects, he struggled readily. He lacked control, which may have led to his disturbing drop in velocity. The bottom line is that he was incapable of getting major league hitters out on a consistent basis, and it made his future outlook plummet.
Now uncertainties exist about Giolito's future as a starter. The one time sure-thing ace now may end up in the bullpen long term. The chances of Giolito dropping that far are still slim, but it's something the Nationals have recognized. Instead of an untouchable prospect they saw headlining their rotation along with fellow stars Max Scherzer and Stephen Strasburg, the Nationals now consider him somewhat expendable.
The Washington Nationals and Mike Rizzo certainly won't part with such a great prospect for just any player, however. It appears as though the only scenario in which they are willing to part with Giolito is in a trade for Chris Sale. Chris Sale would provide the top of the rotation starter that the Nationals previously believed Giolito was sure to become. In return, the White Sox would receive a great pitching prospect that could turn out to be an ace similar to Sale. They have a history of getting the best out of pitching prospects as well. A trade involving Sale and Giolito makes sense for both sides.
Mike Rizzo has realized that in order to win while the Nationals window remains open, he will have to part with some of his prized prospects. While Giolito may have been untouchable a year, or even six months, ago the Nationals situation has changed. Jayson Werth, Daniel Murphy, and Anthony Rendon are all aging. Bryce Harper seems likely to leave when his contract expires after 2018. Willingness to part ways with Lucas Giolito may be the way the Nationals step forward into true Championship contention for the next two seasons. With Chris Sale, and perhaps Andrew McCutchen, they will be able to put up a fight against strong teams like the Cubs and Dodgers in the National League.
More from Call to the Pen
This article originally appeared on