Washington Nationals: Grading Oliver Perez's 2016 Season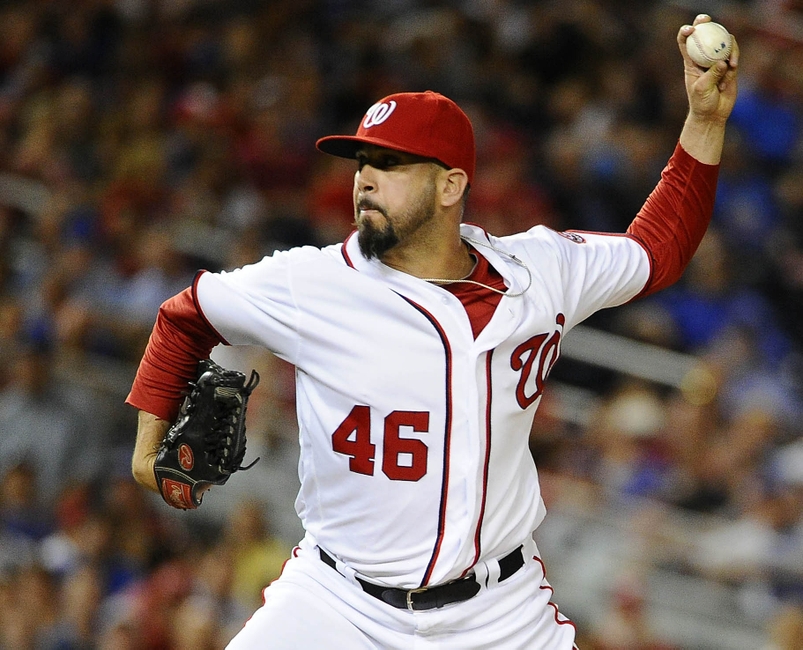 Our Washington Nationals player reviews continue today with left-handed reliever Oliver Perez
Last December, the Washington Nationals signed Oliver Perez to a two-year deal for $7 million as part of their bullpen makeover to be their lefty specialist. Perez had good moments at the plate, including a two-hit game against the Mets on July 7. However, he had a high ERA and was not even the team's best left-handed reliever down the stretch.
In 64 games this season, Perez had a 4.95 ERA and had 46 strikeouts to 20 walks in 40 innings of work. His ten strikeouts per nine innings was the sixth highest of his career, but a full strikeout down from last season (11.2). As for his walk rate, it was 4.5, which was over a walk higher than 2015 (3.3).
Perez's main value to the Washington Nationals was facing left-handed hitters. This year, lefties hit .233 against the 35-year-old with two home runs and eight RBI's. In 2015 with the Astros and Diamondbacks, lefties hit .182 with one home run and nine RBI's to go with a .517 OPS (.720 OPS this past season).
More from District on Deck
As I mentioned before, Perez had some big at-bats for the Nats this season. On April 24 against the Twins, Perez laid down a bunt in the bottom of the 15th that John Ryan Murphy threw away, which allowed the tying run to score. The Washingotn Nationals went on to win that game in the 16th and it was one of Perez's two wins he had in 2016.
During the month of August, Perez had his worst month of the season. He had a 12.71 ERA in nine appearances with opponents hitting .360. However, after September 1, he did not give up a run in his final nine games of the regular season. In the postseason, Perez pitched in four of the five games of the NLDS against the Dodgers. He struck out three, walked one, and gave up one hit in those games.
At this stage in his career, Perez only uses two pitches. He has an average velocity of 91.7 miles per hour on his fastball (according to Fangraphs) to go with a slider. Against the slider this season, teams hit .167 with one home run (courtesy of Brooks Baseball).
Oliver
Perez
LHP,
Washington Nationals
D
Heading into 2017, Perez is one of the two left-handers on the 25-man roster right now along with Sammy Solis. Down the stretch, Dusty Baker used Solis in more high-leverage situations because of his ability to get right-handers out. This wasn't a bad contract for the Nats, but Perez didn't perform like people would have hoped in 2016.
This article originally appeared on