Washington Nationals: Five Potential NLDS Game 5 Heroes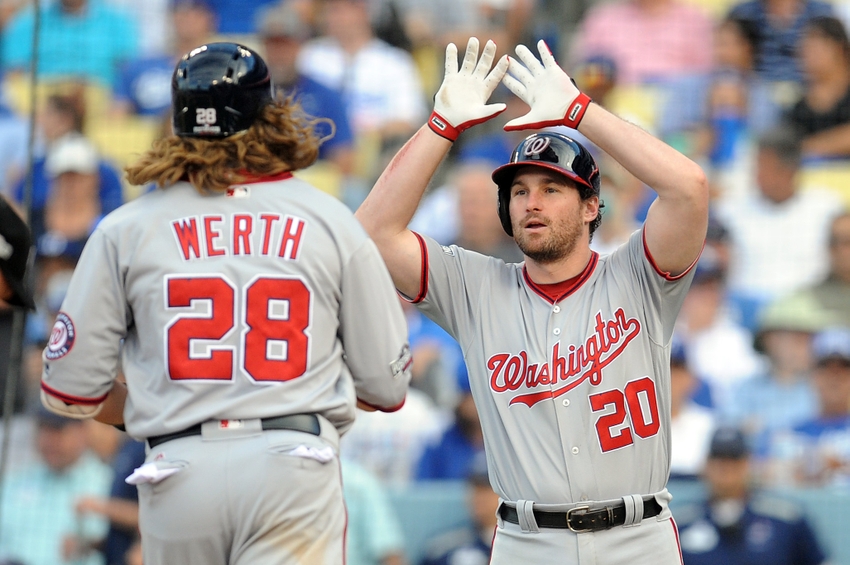 In the biggest game in Washington Nationals history, who will be the one player called a hero? Here are five potential ones.
The Washington Nationals have reached the limit of their National League Divisional Series against the Los Angeles Dodgers.
There is nothing more nerve-wracking in sports as a do-or-die game. A win sends the Nationals to their first NL Championship Series ever and the first for the franchise since the Montreal Expos did it in 1981.
In any series, somehow, some way, there is a player that becomes a new hero. Who would have thought Jose Lobaton's dramatic home run in Game 2 would be a game-winner? Or Danny Espinosa breaking out of his slump in Game 4 that shoved Clayton Kershaw out of the game. (Yes, they lost.)
Any of the 25 players on the roster can be that difference in Game 5, even Joe Ross if the game goes well into extra innings. When the season is on the line, anything can happen.
A few years ago, Major League Baseball ran playoff promotions with the tag line, "You can't script October." Corny, for sure, but correct. Although we think of Max Scherzer or Bryce Harper as the most likely player to lead the positive headlines with a win, it could be Pedro Severino  or Stephen Drew just as easily. You never know.
With all the added pressure of trying to advance at home in Game 5, you hope for a game devoid of drama. Not going to happen, but one can hope.
As you try to enjoy Game 5 tonight, here are five players we think can become heroes, outside the enormous stars, and etch their name forever into Washington Nationals lore.
ANTHONY RENDON
After a solid season, the first four games of the playoffs have not been great for Anthony Rendon.
Hitting .188, or 3-for-16, during the NLDS, Rendon is well off his .270 clip from the regular season. Although he has a home run, a big one in their Game 3 win, he also has struck out four times.
A solid part of the middle of the lineup, with one of the best gloves on the team, Rendon is itching to do something. As with most of the Nationals this series, sometimes the nerves and the butterflies have gotten the best of him.
With his versatility on both sides of the ball, he can save a run in the field or extend a rally off of what will be an endless parade of Dodger pitchers. He can slug one out, but it may be a play that seems small at the time that sets the table.
Make no mistake, if the Dodgers give him something fat to hit, he will crush it. Yet, he swiped 12 bases and scored 91 runs in the regular season. If you need a player who can scratch out a run, you like his chances.
SAMMY SOLIS
There are two things we know for certain about the pitching on both sides in this series. Shutdown innings are a big myth and the bullpens will be well used.
With all the left-handed hitters the Dodgers have, the emergence of Sammy Solis to shut them down is worthy of a story on its own. After missing a chunk of the second-half of the season with an injury, Solis has pitched in all four games so far.
In 4.1 innings, he scattered two walks, two hits and no runs. His effort in Game 3 earned him a win out of the bullpen behind Gio Gonzalez. Limited to 37 games this year because of that injury, the performance of Solis is a delightful surprise to the Nationals.
Not because of his performance, with a 2.41 ERA in 41 innings, but his durability. Twice this series, Dusty Baker asked for multiple innings. Solis delivered.
If Scherzer falters, or the Nationals need someone to get multiple lefties out late, Solis is the guy to do it. Strike out the right batter with runners in scoring position and be a hero forever.
TREA TURNER
After shaky start to the series, Trea Turner has pulled together a nice NLDS.
Now 6-for-17, a sweet .353 clip, with five runs and a stolen base, Turner has become someone Dodger pitchers fear at the plate. Yes, he struck out 10 times including three in Game 1. Once he gets on base, he is a threat to score. Unlike the rest of the series, Turner will not have to worry about the never-ending shadows crossing home plate. With the game completely at night, it is with a normal batter's eye in his home park.
Because the Dodgers have cleaned their bullpen out so often, Turner has either faced everyone or watched video on how to get on. The nerves that rattled him in Game 1 are gone. Those new butterflies shared by everybody in both dugouts.
With one mistake, a walk even, Turner can manufacture a run nearly on his own. Dusty Baker placed him leadoff when Turner came from Syracuse for good and the rookie delivers in spade almost every game.
In a half-season that borders on legendary, Turner can cement his status with a big play in Game 5. His potential is endless. He would trade not winning Rookie of the Year for a championship in a heartbeat.
JAYSON WERTH
He knows his best days are behind him. Yet, Jayson Werth has approached this postseason relaxed and happy.
With one huge "Werthquake" in Los Angeles under his belt, he provides the bridge between Turner and Harper in the lineup to Daniel Murphy and Rendon. Hitting 7-for-15 in the series, his three extra-base hits helped Washington get to this point.
Werth's bat is on fire. His 1.356 OPS leads the team. So do his seven hits. At the plate, he must think the Dodgers are tossing beach balls at him.
A grizzled veteran, Werth knows he carries an extra role now as a team leader. Along with the rest of the top of the lineup, his primary job today is getting Rich Hill out of the game as fast as possible and make the Dodger bullpen beat you. The best lead by example. An early double or home run may set Hill back on his heels and provide all the momentum Washington needs to advance.
After a .244 average this regular season, it sure is nice to see Werth on top of his game one more time. Given the right situation that can continue into next week at Wrigley Field against the Cubs.
RYAN ZIMMERMAN
Maybe this is a sentimental pick, but Ryan Zimmerman is primed to be a playoff hero.
When he makes contact, Zimmerman stings the ball hard. The good news is he is 5-for-15 in the NLDS with only three strikeouts. He is seeing the ball as well as he has the last couple years.
If we get the expected eternal battle of the bullpens, his experience at Nationals Park will help against an uncertain Dodgers' pitcher.
As an original National—their first player drafted after the move from Montreal—his dugout presence can be an inspiration. Although not a great defender, he will not be battling the shadows on hard throws from other infielders.
With patience, he can either a pitcher to make a mistake or create an opportunity on his own. He has a double in the series already and is due for a home run or another extra-base hit. This is his third playoff; he knows you have to make your own luck now.
Because of his long history with the Washington Nationals, would it be great if his play pushed them into the NLCS? The first true franchise star, his legacy is assured. The Game 5 hero today, he becomes a legend.
This article originally appeared on