'Come on, man!' Nats' Span not too happy with Lee's inside pitch
Friday night's Nationals-Phillies game almost turned into a Capitals-Flyers bash.
In the fifth inning things grew a little chippy at Citizens Bank Park in Philadelphia.
Philly was up two runs and Washington had runners on second and third when Denard Span stepped into the box to face Philly's Cliff Lee. Before the first pitch, Span tried to call time, which pitchers aren't very fond off, especially a veteran like Lee. The lefty then uncorked a pitch just a bit inside.
A little surprised and not appreciating the inside love, Span gave a long stare to Lee, who at some point seemed to laugh.
Two pitches later, Span grounded out to second, scoring the runner from third. But before Span returned to the Nationals dugout, he and Lee traded a few more remarks, bringing out the cavalry.
No punches were thrown — just dancin' in hockey terms — and no one was tossed.
There is this great GIF of Span, who appears to say, "Come on, man," to Lee.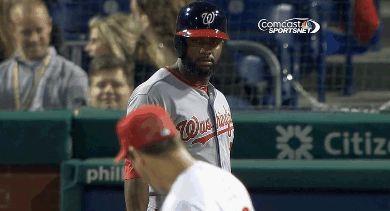 (H/T: NotGraphs)
As for the final result, the Nationals scored three in the eighth, after Lee was removed, and won 5-3. Lee pitched seven innings, yielding two runs (one earned) on four hits and two walks and struck out five.
Span, who went 1 for 5 with a run and an RBI, sparked the eighth-inning rally. He led off with a broken-bat double down the right-field line on an 0-2 pitch, stole third base and scored the tying run on Anthony Rendon's ensuing single.