Washington Nationals: Bryce Harper Will Be Back Strong in 2017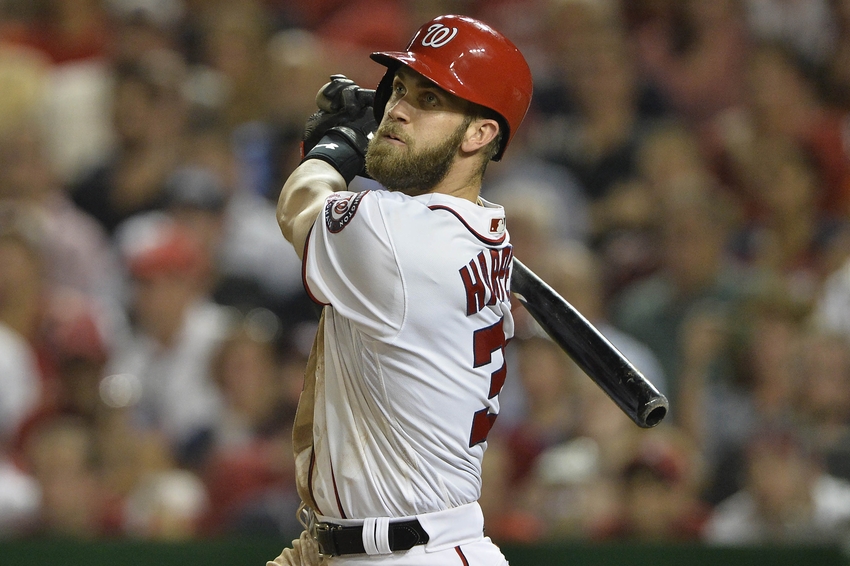 Washington Nationals young superstar outfielder Bryce Harper had a "down" season in 2016, but will return to dominating form in the 2017 season.
Washington Nationals right fielder Bryce Harper was the National League Most Valuable Player in 2015 at just 22 years of age.
In that 2015 season, Harper hit for a .330/.460/.649 slash line with 42 home runs, 99 RBI, 118 runs scored and a 189 OPS+ mark. He made his third NL All-Star appearance and was also honored with a Silver Slugger Award.
It was always going to be hard for Harper to equal that performance in this past season, and that indeed turned out to be the case. This year, Harper declined to a .243/.373/.441 slash line with just 24 homers, 86 RBI, and 84 runs scored. He did improve on the base paths this year, stealing a career-high 21 bags.
Aside from the batting average, those are not bad numbers for almost any player in Major League Baseball. Harper still ranked as the 65th best player in the game by CBS Sports based purely on statistics this season, the 16th-highest rated outfielder.
But so much more was expected of Harper based not only on that 2015 performance, but also on his individual talent. Harper was a finalist for a 2015 NL Gold Glove Award, but was not recognized as such this season. However, while his hitting slipped slightly, his defense did not. Harper was fourth in UZR/150 this year among qualified big league right fielders.
More from Call to the Pen
Nationals general manager Mike Rizzo defended his young star in a Washington Post article by Chelsea Janes:
"He had a really solid season for a lot of players. He was an integral part of our lineup. He was a guy that was identified by every team that comes in here as a guy that, 'This guy's not going to beat us"."
Harper got off to a blazing start, hitting for a .328/.430/.844 slash line over the 2016 season's first three weeks. But he significantly cooled down the rest of the way.
It was reported that Harper was playing much of the season with a shoulder injury, and he missed five games in August with a neck issue.
His agent, Scott Boras, was quoted by Jon Morosi as the season came to an end that Harper is "doing fine physically" and will simply rest this offseason before resuming normal workouts in preparation for 2017.
Bryce Harper is doing fine physically and is on track to begin normal offseason strength and conditioning soon, Scott Boras told me. @MLB

— Jon Morosi (@jonmorosi) October 20, 2016
In that 2017 season, Harper will play all year at age 24. He remains one of the youngest stars in the game, with his prime still a few years off in the future.
I look for Bryce Harper to "bounce back" in 2017, and come closer to his 2015 numbers than those 2016 numbers. A healthy Harper is an easy 30-homer, 100 RBI, 100 runs Harper.
The Washington Nationals will enter that 2017 season as the favorites again in the National League East Division. Harper returning completely to form will make a division crown repeat that much easier for the Nats.
This article originally appeared on