Washington Nationals: Bronson Arroyo Shut Down, Still Planning Comeback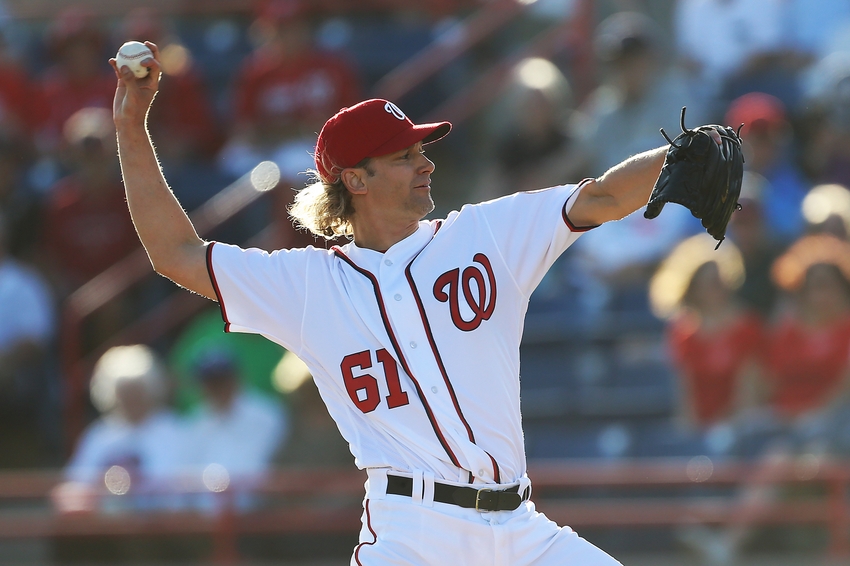 The Washington Nationals have pulled the plug on Bronson Arroyo in 2016, but the rehabbing right-hander still wants to pitch next year.
You all knew Bronson Arroyo was still rehabbing his injured shoulder and hoping to come back this year, right? The veteran right-hander's quest to return to a major league field has become one of the unheralded sagas in the baseball over the past couple years. It's going to have to wait, however.
The 39-year-old was shut down by the Washington Nationals several weeks ago, according to Chelsea Janes of the Washington Post. Arroyo signed a minor league deal with the Nats back in January, hoping to prove himself after missing all of 2015 while recovering from Tommy John surgery. He suffered a partial tear in a tendon in his right rotator cuff during the spring, however, spoiling his attempt to make the team. The righty continued working at the team's Florida facility.
Janes says that Arroyo's surgically repaired elbow is the culprit for his latest setback. According to her sources, it "was not responding well between outings, not bouncing back the way he would have hoped." Rather than unnecessarily risk his health this late in the season, the Nationals decided to shelve him until November.
Which means that Arroyo will once again be a free agent when the offseason rolls around. You would think he might seriously consider finally calling it quits. Apparently that is not the case. Zach Buchanan of the Cincinnati Enquirer reports that Arroyo is still planning to continue his comeback attempt in 2017:
Arroyo is shut down until November, but plans to give a comeback another go in the spring. He'll be a free agent this offseason. (2/2)

— Zach Buchanan (@ZachENQ) September 9, 2016
More from Call to the Pen
Arroyo has played 15 seasons in Major League Baseball, and none since 2014. He will turn 40 years old next February. No team is going to beat his door down when evaluating its starting pitching options for next year. But as a total no-risk lottery ticket, he is likely to draw at least a couple suitors.
During the 2012 and 2013 campaigns, Arroyo's last two seasons with at least 30 starts, he posted surprisingly good numbers for the Reds, managing a combined 3.76 ERA, 1.18 WHIP and 3.67 K/BB ratio. Even his injury-shortened 2014 season with the Diamondbacks wasn't too bad: 4.08 ERA, 1.29 WHIP and 2.47 K/BB in 14 outings.
His ability to limit walks helped Arroyo produce good results well into his 30s; he put up a 2.0 BB/9 or lower in each of his last four seasons. He was also an absolute workhorse until his recent Tommy John surgery, averaging 211 innings per season from 2005 to 2013.
Given his age and persistent health issues of late, we likely won't see that pitcher again. But name recognition tends to get chances in this league, and Arroyo doesn't need to be his prime self to be useful. With Stephen Strasburg's recent injury, the Nats may have been interested in seeing what he could have offered them.
The fact that this winter's starting pitching free agent market is rather dreadful should also work in Arroyo's favor as he searches for another gig. He'll almost certainly need to wait for a late-offseason minors deal again, but he will probably be a bit more appealing than he would in any other year.
This article originally appeared on