Washington Nationals: Breaking Down Wilson Ramos' Injury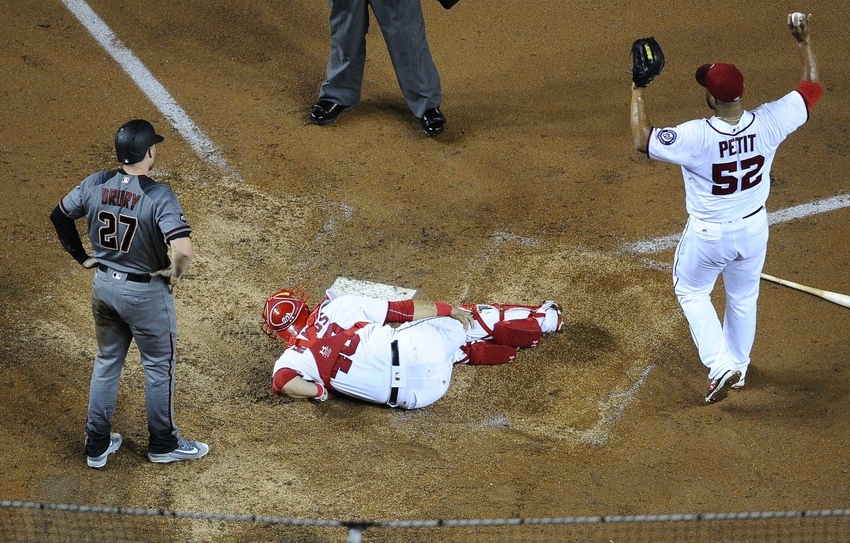 The effects of Washington Nationals catcher Wilson Ramos' torn right ACL go well beyond the upcoming playoffs.
Washington Nationals catcher Wilson Ramos' 2016 season ended Monday night when his surgically repaired anterior cruciate ligament tore again inside his right knee.
This injury, bad enough as it is, could not have come at a worse time for the Nationals or Ramos. The effects of which will stretch well into next summer.
Ramos was in the middle of a career year. From games played to batting average and home runs, this was his best season. One so good, it earned him a trip to San Diego for the All-Star Game.
For the Nationals, this is more than a mere injury to a good hitter, but a body blow going into the playoffs they can ill afford. Outside of Bryce Harper or Max Scherzer, losing your catcher at this point changes everything.
At this point, the Nationals are certain Harper will return soon. They are hopeful Daniel Murphy will return from a glute strain for the playoffs. Washington is doubtful Stephen Strasburg will be ready for the National League Divisional Series.
With all that on the table, losing Ramos on top of everything casts more doubt for what lies ahead.
The answers to all the questions buzzing around the Anacostia River are complex. With a mid-summer 2017 return, they go well beyond wherever this season ends and into next.
From his future to the Nationals, here are the three biggest issues following Ramos' injury.
PLAYOFF CATCHING
Tuesday, Washington called up Spencer Kieboom to replace Ramos' spot on the active roster, the last player on the permanent 40-man squad not to be active with the big club.
If anything happens to either Jose Lobaton or Pedro Severino now, this 25-year-old minor league catcher who played for Double-A Harrisburg this year will play in the playoffs. Welcome to the Majors, Spencer. No pressure or anything.
Lobaton and Severino will likely split the duty for the NLDS against the Los Angeles Dodgers. Lobaton, 31, has playoff experience with the Tampa Bay Rays from their 2013 ALDS loss to the Boston Red Sox. In four games, he hit a game-winning home run in Tampa. He has been in the spotlight and was good enough that year to play in 100 games.
This year, he caught 36 and has a bad ankle. He does not hit for average (.220) or own a strong arm. In 20 steal attempts, runners were successful 14 times or 70 percent. In his third season with Washington, what he has is experience with all the starting pitchers and can call a good game behind the plate.
Game calling and comfort is crucial if the Nationals hope to advance.
Severino is familiar with the younger pitchers as he was their catcher in the minor leagues. Although they will be comfortable pitching to him, he has eight games of Major League experience catching. Talk about a baptism by fire. At 22, he will grow into the position, but will be under tremendous pressure in the NLDS.
THE PLAYOFF OFFENSE
Ramos' contributions in the lineup played a big part in the Washington Nationals winning the NL East.
With Harper struggling, Ramos' slash line of .307/.354.496 filled the void. His 25 doubles and 22 home runs drove in 80. Although Lobaton and Severino are not expected to contribute at that level, someone will need to.
Manager Dusty Baker batted Ramos fifth or sixth 78 times in his 131 games. Now Anthony Rendon will try to protect Harper in the lineup, but who steps up to protect Rendon?
Danny Espinosa has power with 23 home runs, but is hitting .210. Stephen Drew is hitting .280 with seven home runs and 19 RBI in 66 games. But, do you bench Ryan Zimmerman and move Murphy to first to get Drew in the lineup? What happens if Murphy's injury is more serious than we have been led to believe?
How Baker handles this the last week of the regular season will go a long way towards the NLDS. Instead of resting players, he has to mix and match to get the correct offense on the field.
The tough, but correct call, is using Zimmerman off the bench and using Drew as a bridge between the middle of the order to Espinosa and Lobaton/Severino.
RAMOS' FUTURE
A free agent once the season ends, Ramos was about to cash in on a huge payday.
With his amazing year and weak overall free agent class, there were to be no shortage of offers for his service. Starting with the Atlanta Braves, Ramos was about to induce a bidding war. Contract negotiations with Washington started, but the Nats initial offer of three-years and $30 million, according to FanRag's Jon Heyman.
Heyman assumes, correctly, Ramos wanted a deal closer to the five-years and $85 million the New York Yankees gave Brian McCann. He predicted the final bid would be in the neighborhood of four-years and $68 million.
That is long gone.
With a minimum of half of next year lost to rehab and training, no team will offer anything close to that. Remember, this is his second ACL injury to his right knee, and the LCL tore four years ago.
Despite an amazing season, this was the second time in his career he played over 100 games. Ramos either stays in Washington on a smaller multi-year deal or hopes some other team gives him the proverbial one-year "pillow" contract in hopes to turn a small deal into a larger one.
A fan favorite, expect him to take less money to stay and be assured of a role with the Nationals in next year's stretch drive.
CONCLUSION
As you can see, there are no winners here.
The Washington Nationals are left scrambling to fill in a major hole in their lineup while keeping their tired pitching staff content for the playoffs. Ramos called a good game and that level of comfort is gone.
More from District on Deck
For Lobaton and Severino, the pressure now is immense, especially Lobaton nursing a bad ankle. Because of his lack of playing time, he will establish a better relationship with his pitchers at a time of year where everyone is going on instinct.
Dusty Baker is a gifted players manager, but must use all his wits to settle down a team racked by injuries both minor and punishing. The Nats are limping into the playoffs and he has to provide the stability needed to win.
For Ramos, the double whammy of not being there when your team needs you to signing that life-changing big-money contract is a huge blow. Not a greedy player, the sting of losing possibly $50 million in a new deal hurts. Almost as much as not providing Washington with his bat and catching abilities.
You could not have asked for worse timing on this, yet here we are.
No In-Editor Preview for 120 Sports Videos
Video Details
ID: 203700630
Source: 120 Sports
Sometimes, reality really does bite.
This article originally appeared on