Washington Nationals: Breaking Down The Winter Meetings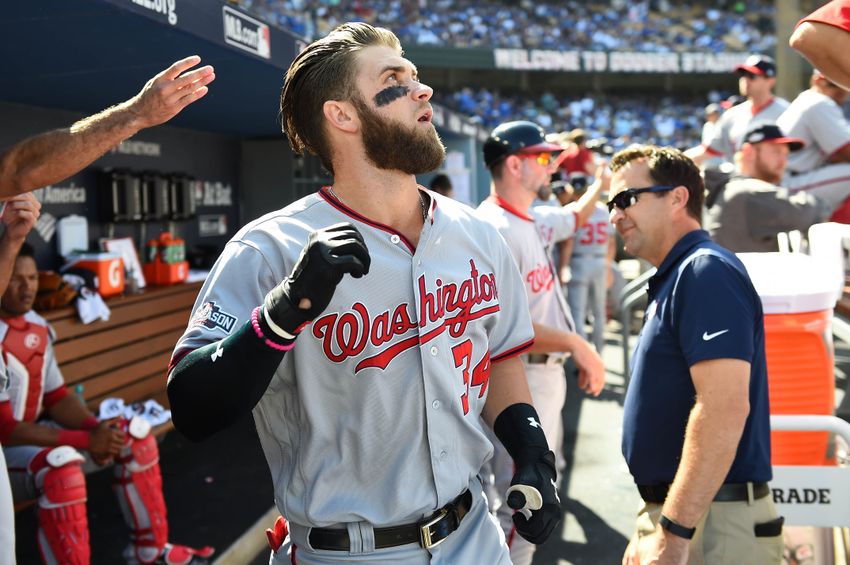 As with most things Washington Nationals, everyone has an opinion on everything. Regarding the Winter Meetings, here are ours.
The first half of the MLB Winter Meetings for the Washington Nationals has been a series of frustrations.
From losing Chris Sale to the Boston Red Sox when the Chicago White Sox slept on Washington's trade offer to Mark Melancon ditching the club for the San Francisco Giants, none of the team's objectives have been met.
It is clear GM Mike Rizzo and the rest of the Washington Nationals front office is under pressure to build a team that can win a championship. Three division titles in five years is impressive. Not advancing past the National League Divisional is not.
As the team fails to clear the NLDS hurdle, patience from fans starts to wane.
With continued success comes expectations and, to everyone's agreement, those have yet to be met. For perhaps the first time since the 1980s, the Expos/Nationals feel the need to perform. In this social media age, these meetings are equally important as a mid-June series against the Miami Marlins.
Pressure, indeed
Recently, we asked the staff here on District on Deck to share their thoughts on what happened the first two days. As with you, they share a mix of dread and guarded optimism over how the rest of the offseason plays out and what the Nats will look like come next April.
Although the expectations were high coming in, the one thing you cannot say is this has been a boring week.
Co-Expert Ricky Keeler:
Heading into the Winter Meetings, everyone expected the Washington Nationals to make that splash as their window to win continues to close by the day. It was a stinging blow to not win the Chris Sale sweepstakes, but at the same time, Mike Rizzo did the right thing in not giving up Trea Turner.
The Washington Nationals still have a lot of options and ways they can improve a team that is coming off a 95-win season. The only thing you worry about is whether or not they will overpay in a trade for
Andrew McCutchen
just to make a move.
With Mike Rizzo bringing up
Bryce Harper
's versatility in his
Monday
press conferences with the media, it still leaves many outfield options for the Washington Nationals wide open because they could also add a corner outfielder, move Harper to right, and Turner to shortstop.
While the Nats have been runners up before, let's remember their second option in
Daniel Murphy
ended up working well for them. Just because you lose the Winter Meetings doesn't mean your season ends up being a failure. Sometimes, it can be just the opposite.
Staff Contributor Robbie Stratakos:
With Day 2 of the Winter Meetings coming to a close, the Washington Nationals have gone silent yet again, mostly due to losing out on the Chris Sale sweepstakes. Despite offering two of their top prospects, the Nationals weren't able to land Sale; however, they weren't necessarily in desperate need of a top tier starter, and really need to regroup by focusing on what they are actually in need of- an outfielder and a closer.
The Nationals are reportedly yet again, engaging in talks with the Pirates for All-Star outfielder Andrew McCutchen, but is it really in their best interest? The Pirates could potentially make the Nationals give up more than they were originally asking for a few days ago, due to the Nationals current desperation. The potential for trade robbery should lead the Nationals to pursue other options in terms of outfielders, such as White Sox outfielder Adam Eaton.
While the White Sox and Nationals couldn't come to an agreement on a Chris Sale deal, both sides could still agree on a different deal. With the White Sox signaling that they're heading towards a rebuild, nearly anyone is available via trade, and Eaton is one of their more available players; he could be the Nationals everyday center fielder, and he would require a much smaller trade package  than McCutchen.
In terms of their bullpen, the Nationals don't need to go all out for an Aroldis Chapman or a Kenley Jansen. While it may not be the sexiest of moves, the Nationals should keep it simple in terms of late inning relief, and target former Royals closer Greg Holland and Red Sox setup man Brad Ziegler. Both relievers would help add to what already is a deep and very versatile bullpen.
Staff Contributor Chris Lacey:
The Washington Nationals struck out not once, but twice during the Winter Meetings in their attempt to sign reliever Mark Melancon and trade for starting pitcher Chris Sale.
It does look bad they whiffed, but there are still moves to be made. It's highly unlikely they will sign either Aroldis Chapman or Kenley Jansen as both relievers will command a high salary.
The second-tier market for bullpen arms is flush with candidates the Nationals can go after such as Wade Davis, Brad Ziegler, Neftali Feliz, and Greg Holland.
The club may still have one big move left considering that OF Andrew McCutchen is still available from the Pittsburgh Pirates.
If the cost for McCutchen is still too high, they can turn to the free agent market to get an outfielder.
The idea of adding Sale would have bolstered the rotation, but it would have been hard to top the offer that was presented by the Boston Red Sox.
One positive going forward is the Nats still have their prospects and moves can be made with other clubs.
The team didn't feel confident in giving up too much for Sale, and you can't fault them for being hesitant.
Nationals general manager Mike Rizzo and his staff will be working hard throughout this week as they look for ways to improve the team.
Staff Contributor Frank Ellis:
You can look at this one of two ways, "Yay, we still have our future," or, "one big piece would've really put us over the top." I personally am disappointed, this trade would've left a solid farm in the aftermath and given us an even better starting rotation.
Also would've easily given us the flexibility to shop Gio Gonzalez and refill the farm or bullpen. Now we are left to look at the free agents and hope we make the smart acquisitions we need to improve upon a wonderful 2016.
Ideally we get a defined closer, a strong outfield bat and some bench help. I really think the Nats are just as strong as their were in 2016 entering 2017, but they have the chance to be a next-level team if they pull the trigger and make the right moves.
Staff Contributor Matt Weyrich:
Okay, I know what you're thinking. The Nats went big and came up empty handed. Yes, Chris Sale looked like an awfully nice addition to the team's rotation. But considering what the White Sox got for him, Mike Rizzo made the right choice to steer clear.
Yoan Moncada is arguably the top prospect in baseball, while Michael Kopech has hit 105 mph on the radar gun. The Nats' equivalent package would have had to include Trea Turner, something Rizzo (rightfully) refused to do.
Wade Davis likely going to the Cubs hurts as well, but once again, it's tough to blame Rizzo for losing out to a team that found Jorge Soler expendable. There are still plenty of closers available, leaving Washington with plenty of options.
The Nats are still on the lookout for outfield help, and now that they still have their farm system intact, they could make moves for several different names. They've reportedly reengaged with Pittsburgh for Andrew McCutchen, while kicking the tires on Kevin Kiermaier. Dexter Fowler still remains a free agent and names like J.D. Martinez and Adam Eaton loom as other outfielders who have been made available via trade.
It's not time to panic yet Nats fans. This is a 95-win team in a weak division. There's a long winter ahead.
Co-Expert Ron Juckett:
Watching the last two days has been an interesting experience.
The Nats started the week with a rather unusual case of bravado. Have all the pieces to score Sale and McCutchen? Of course, do not be silly, my friend.
More from District on Deck
Sale held his introductory press conference with the Red Sox and McCutchen probably holds his autograph session at the Pittsburgh Pirates Fan Fest on Saturday.
The whole setup reeked of Rex Ryan promising victories over the New England Patriots before getting pummeled 24-0. Anyone who works inside a sports team knows there is no such thing as a guaranteed victory.
Yet, you cannot say Mike Rizzo and the Nats did not try.
They thought they had a deal for Sale. The Nats and Pirates were close last week for McCutchen until Pittsburgh asked for a bit more.
With the longest pennant drought now in baseball, other team's sense a bit of desperation for Washington to win now. Both Sale and McCutchen were not free-agents-in-waiting. The Bucs and ChiSox are within reason asking for a king's ransom.
Still, what plays out most of the year in private now us as much of a spectator sport as the actual game. For any team, this level of distraction causes mistakes. With Washington, it causes disappointments.
No one wants to watch sausage made, but everyone eats it.
For everyone involved, they need to remember this week is about sausage making. The results are unknown until next November.
This article originally appeared on