Washington Nationals 2016 Player Review: Trea Turner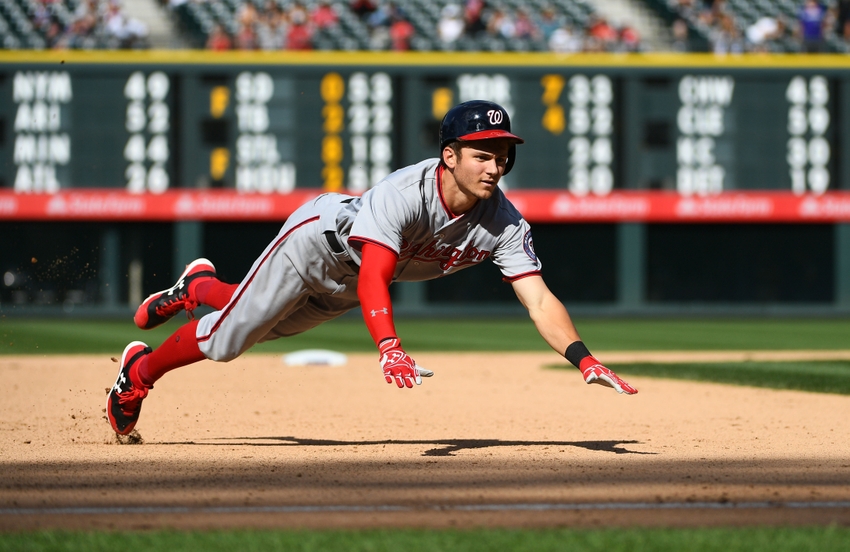 After being recalled by the Washington Nationals on July 9, Trea Turner cemented himself at the top of the lineup as one of the most effective hitters on the team down the stretch.
Daniel Murphy may have been the Washington Nationals' MVP for a majority of the 2016 season, but no one provided a bigger spark than rookie phenom Trea Turner once he made his way into the everyday lineup. Turner's electric speed and sneaky power made him an instant presence out of the leadoff spot and transformed Washington into a dangerous offensive team.
Turner made his season debut on June 3, going 3-for-3 with a double and a walk against the Reds, but it wasn't enough to keep him on the 25-man roster as the Nats sent him back down to AAA two days later. In early June, a Ryan Zimmerman injury cleared a spot on the bench and gave Turner another crack at staying in the big leagues.
It didn't take long for Turner to make it clear he was in the majors to stay. He finished out the season hitting .342/.370/.567 with 13 home runs, 33 stolen bases and an OPS+ of 144 in only 73 games. If it weren't for the MVP-caliber season the Dodgers' Corey Seager put together, Turner would've walked away with Rookie of the Year honors in a landslide.
More from District on Deck
The biggest game-changing aspect for Turner is his speed. He's in the conversation for one of the fastest players in baseball, but that's only scraping the surface of what he brings to the table on the basepaths. Tuner's stolen base percentage of 84.6% ranked fifth among hitters with at least 300 plate appearances and 30 attempts. Not only is he fast, but Turner is also one of the smartest baserunners in the game.
Turner also provided significant value with his glove, making the switch from his natural position of shortstop to center field despite not playing the outfield position since high school. The 2014 No. 13 overall pick picked up center field surprisingly well, making several highlight reel plays throughout the season.
Trea
Turner
SS/CF,
Washington Nationals
A
Turner, whom the Washington Nationals acquired from the Padres alongside starter Joe Ross in a lopsided three-team trade, established himself among the most promising young stars in the game today. While that trade did not appear to be very significant at the time (the Nats only gave up backup outfield Steven Souza, Jr. and AA prospect Travis Ott), the team would not be where it is now without him. Whether he plays at center or shortstop next season, he will certainly be starting every day in a Washington uniform.
This article originally appeared on