Vincent Velasquez's Future With the Phillies Carries Questions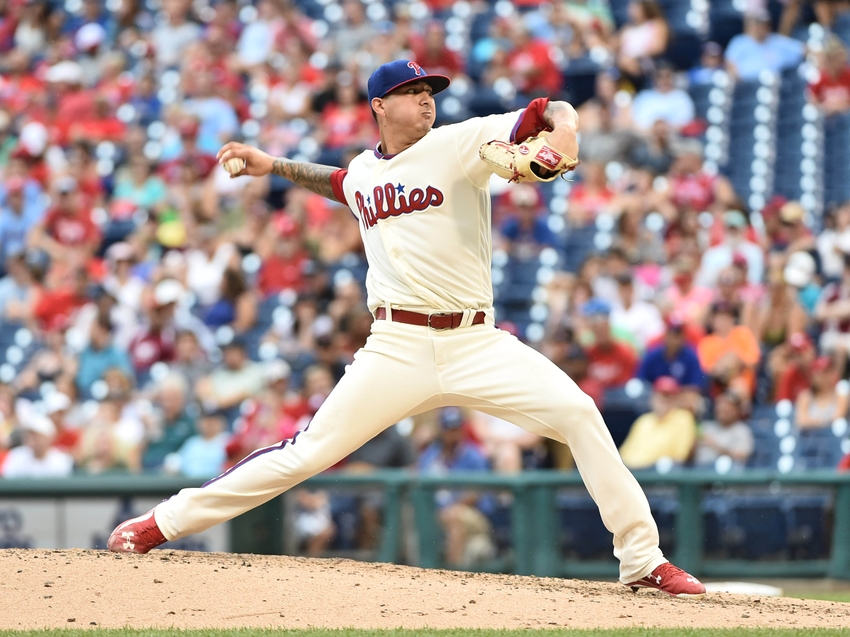 Vincent Velasquez's 2016 season is over after his start Saturday against the Braves. As we look towards 2017 and beyond, we should ponder where Velasquez fits in the Phillies plans. Is he the top-tier starter we're hoping for?
When the Phillies traded Ken Giles after the 2015 season, many considered Vincent Velasquez the headliner of the deal. Fangraphs ranked Velasquez as the third-best prospect in the Astros system before 2015 began. Kiley McDaniel said, "There's mid-rotation potential if Velasquez's arm can handle the workload."
When 2016 started, it wasn't a guarantee Velasquez would make the rotation. He beat out lefty Adam Morgan for the fifth spot in the rotation during spring training.
Any doubts about Velasquez went away after his 16-strikeout complete game shutout of the Padres in April with a season-high 113 pitches.
After that game, Velasquez continued to dominate opposing hitters. In 24 starts, he struck out 27.6% of opposing hitters. As he continued to rack up the strikeouts, fans started to feel Velasquez could lead a championship rotation.
Velasquez's best month strikeout-wise came in August, where he struck out 12.3 batters per nine innings. His arsenal was firing on all cylinders, as his four-seam fastball, sinker, and curveball all generated whiffs on about 30% of swings.
While Velasquez continued to rack up the strikeouts, his pitch count continued to rise. One of the drawbacks of being a strikeout-first pitcher is that they often will tally high pitch counts.
Velasquez is 39th in all of baseball in three-pitch strikeouts.
Velasquez threw 2213 pitches in 131 innings this year. He averaged 16.9 pitches per inning, the 18th-most in the MLB among pitchers with 120 innings or more. His 92 pitches per start comes in at 91st in all of baseball.
With such a high pitch count, Velasquez often left games before he could reach the later innings. He managed to reach the seventh inning just four times, while leaving prior to the sixth ten times.
Even though Velasquez would be pitching well, manager Pete Mackanin would be forced to pull Velasquez from the game early.
This brings us to the question about Velasquez's future with the Phillies; can he remain in the rotation if he struggles to go deep into games?

More from That Balls Outta Here
With a fastball that averages 95 miles per hour and a dominant secondary arsenal, Velasquez could be a top-tier reliever. Fangraphs gave Velasquez a future value of 60 while he was still a prospect, which translates to a No. 3 starter or a high-end closer. If Velasquez can't find the ability to pitch to contact and last deep into games, he can easily become an effective reliever.
In addition, Velasquez has an extensive injury history dating back to the beginning of his minor-league career. Prior to the 2011 season, Velasquez underwent Tommy John surgery, missing all of that season along with the first two months of the 2012 season. This season was the first time Velasquez threw more than 100 innings for the first time since 2013.
Velasquez's injury history casts doubt on whether or not he can sustain a starter's workload.
However, the Phillies may end up regretting using one of their most talented pitchers in the bullpen. Mackanin and the front office believe that Velasquez can win 100 games for the Phillies in his career.
If the club believes Velasquez has that kind of talent, they would be foolish to ever use him as a reliever. He brings more potential than someone like Brett Myers, who bounced between the pen and rotation. However, their numbers are eerily similar, as both throw a lot of pitches in a low amount of innings.
At some point, Velasquez's inefficiency on the mound will become a pressing issue. If the Phillies continue to kick this can down the road, it may hurt them when they're actually in a playoff race.
If the Phillies intend for Velasquez to be an ace-caliber pitcher, he will have to last deeper into games and remain healthy for a full season.
This article originally appeared on