Vin Scully's final call with Dodgers a walkoff home run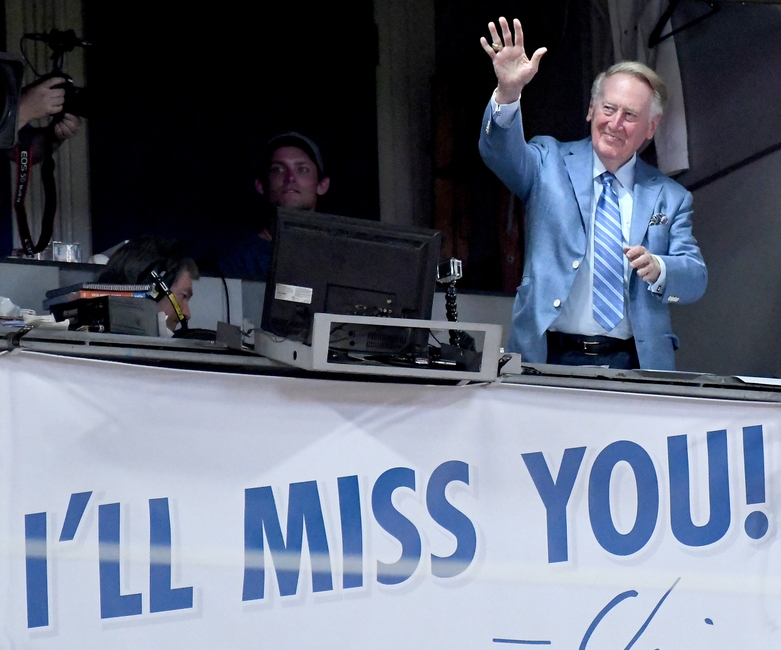 Thanks to Charlie Culberson's division-clinching walkoff home run, the Los Angeles Dodgers gave Vin Scully a proper sendoff to his legendary broadcasting career.
After nearly 60 years of service as the voice of the Los Angeles Dodgers, legendary broadcaster Vin Scully deserved a final call worth remembering. Charlie Culberson gave him one.
In the bottom of the 10th inning in the Dodgers' Sunday game against the Colorado Rockies, Culberson's solo shot into the stands gave L.A. a 4-3 victory that also just so happened to clinch the NL West.
The rest is just classic Vin Scully:
Here is Vin Scully's final call as the voice of the Dodgers, a walk off HR by Charlie Culberson to clinch division

— Rob Perez (@World_Wide_Wob) September 25, 2016
"The Dodgers have clinched the division and will celebrate on schedule," he said, also adding, "Leave it to the Dodgers…a game-winning home run."
After 67 years of broadcasting, the 2016 season was Scully's last. It was only fitting that in the final game of his illustrious career, the Dodgers were able to provide him with another vintage call as they won their fourth straight division title.
More on FanSided:
"Now they don't care about the Padres and the Giants," Scully said. "Care not at all. And boy did it work out perfectly for the final home game of the regular season."
At 88 years old, Scully called some unforgettable moments in baseball history, including Sandy Koufax's perfect game in 1965, Kirk Gibson's walkoff home run in the 1988 World Series and the 715th home run of Hank Aaron's career.
Sunday's division-clinching walkoff home run obviously won't rival any of those legendary moments in MLB history, but it was a perfectly fitting end to the legendary broadcasting career of the voice of the Dodgers.
This article originally appeared on