Veteran's Day: MLB Has a Long History of Service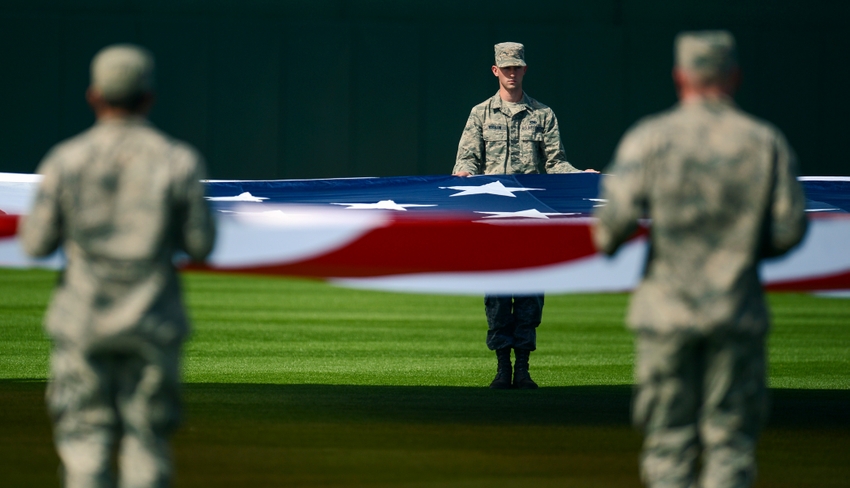 There is a long history of MLB players serving their country in the U.S. military, and we remember, honor, and thank them on Veteran's Day.
There is a long history of service in the United States military by MLB players. Today is Veteran's Day, and it is appropriate to remember, honor, and thank them and all those who have served honorably.
Perhaps the earliest well-known individual with ties to baseball who served in the American military was Abner Doubleday.
The mythical founder of the game, Doubleday was a West Point graduate. He served in the Mexican and Seminole Indian Wars, and was at Fort Sumter when it was attacked at the start of the Civil War.
John Grimes was much more veteran than ballplayer. He served for 30 years in the U.S. Army, retiring at the rank of Captain. His military service spanned from the Sioux Indian Campaign through the Spanish-American War and into World War I.
More from Call to the Pen
Grimes appeared in the big leagues for one 1897 season with the St. Louis Browns when he went 0-2 while pitching in three games.
Doug Allison, a Philadelphia native, played for a decade in the big leagues from 1871-79 and then in 1883. It was noted that he became at least partially deaf during his service in the Civil War.
Hall of Famer Grover Cleveland Pete Alexander is quoted that John Titus "had one of the best batting eyes I ever saw." Titus played 11 seasons, including a decade from 1903-12 with the Philadelphia Phillies. He served in the U.S. Army during the Spanish-American War.
Dave Altizer is the only known big leaguer to have fought in the Boxer Rebellion. He served in the U.S. Army in both the Philippines and China during that conflict. Altizer played six seasons, stealing 37 and 38 bases during his first two with the Washington Senators in 1906 and 1907.
Many big leaguers fought with the American military during each World War, including the aforementioned Alexander during WWI.
Also among those serving during WWI were Hall of Famers Ty Cobb, Tris Speaker, Eddie Collins, Sam Thompson, Rabbit Maranville, Eppa Rixey, Herb Pennock, Burleigh Grimes, Waite Hoyt, George Sisler, Joe Sewell, and hundreds more.
Hall of Fame pitcher Christy Mathewson served in WWI after his baseball career had ended. Serving as a Captain in the "Chemical Service", Mathewson would become involved in an accident that would ultimately lead to his death in 1925 at just age 45.
During World War II, those serving included Ted Williams, who also would serve in Korea. Other stars to serve during WWII included Jackie Robinson, Bob Feller, Joe DiMaggio, Stan Musial, Hank Greenberg, and Warren Spahn, who was awarded a Purple Heart and Bronze Star.
Joining Williams as serving during the Korean War were Willie Mays, Whitey Ford, Ernie Banks, Billy Martin, and even George Steinbrenner.
The Phillies great defensive center fielder Garry Maddox served in Vietnam along with his 1983 World Series rival and the MVP of that Fall Classic, catcher Rick Dempsey of the Baltimore Orioles.
Also serving in Vietnam were the famed baseball statistical writer Bill James and longtime umpire Jerry Crawford.
Players serving in Vietnam included Thurman Munson, Stan Bahnsen, Bobby Murcer, Al Bumbry and Wayne Garrett, the only player to appear with both the New York Mets' 1969 and 1973 World Series teams.
Most recently, three minor leaguers have served in Iraq. Schuyler Williamson was a West Point grad who played Low A ball in the Detroit Tigers organization in 2005.
Jonathan Johnston graduated from the U.S. Naval Academy and appeared in the Oakland A's organization in 2008 and 2011, reaching High A. Jeff Stockton played in the Anaheim Angels organization in both 2000 and 2001.
This article originally appeared on