Tyler Glasnow To Start On Sunday Afternoon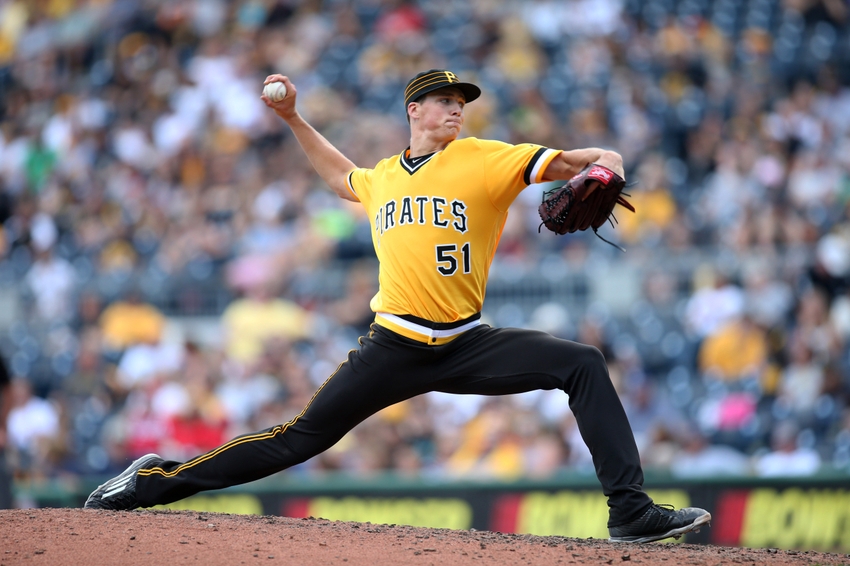 On Sunday afternoon right-handed pitcher Tyler Glasnow will make his third career Major League start for the Pittsburgh Pirates.
Tyler Glasnow is one of the best prospects in all of baseball. Due to pitchers such as Glasnow, Gerrit Cole, Jameson Taillon, and Chad Kuhl the future of the Pittsburgh Pirates' rotation is very bright. On Sunday afternoon, Glasnow will make his third career Major League start.
Tyler Glasnow made his Major League debut against the St. Louis Cardinals on July 7th. Since then he has been up and down between the Major Leagues and Triple-A. However, Glasnow might now be in the Major Leagues to stay.
So far this season Tyler Glasnow has pitched in five games for the Pittsburgh Pirates. His five appearances include two starts. His last start, however, came all the way back on July 23rd against the Philadelphia Phillies.
In the five games he has pitched in Tyler Glasnow has pitched in 15 1/3 innings. In those 15 1/3 innings pitched he has a 46.5 percent ground ball rate, 4.11 ERA, 3.98 FIP, 15 strikeouts, and he has allowed one home run.
In his work in the Major Leagues Tyler Glasnow has thrown a fastball, curveball, and a change up. His curveball has had incredible break on it and opposing hitters have a 11.3 percent swing a miss rate against it. Opposing batters are hitting just .233 off of his curveball with a .304 wOBA.
Glasnow's fastball has been a strong pitch too, though. Opposing batters are hitting just .259 off of his fastball. Also, his fastball has a 10.2 percent swing and miss rate. Personally, I am very excited to see what Glasnow can do on Sunday.
Originally Steven Brault was supposed to start for the Pirates on Sunday. Luckily, this is not the case now though. Brault has made seven career Major League starts, and these seven starts have not been good.
Brault has pitched 31 2/3 innings in these seven starts. In these 31 2/3 innings he has allowed 39 hits, four home runs, he has walked 14 batters, and he owns a 4.65 FIP and a 4.70 xFIP. Steven Brault only throws two pitches with any type of quality at all. Due to this, in my opinion, he will never make it as a starting pitcher in the Major Leagues.
I am very excited to see what Tyler Glasnow does in his start on Sunday. Due to his success and the struggles of others, in my opinion, he should have been in the Pirates' rotation a few weeks ago. While Glasnow has yet to experience extended success in the Major Leagues he has the talent to do so.
Since Steven Brault has been bad as a starting pitcher, I am glad that Glasnow is starting over him on Sunday. This will be another chance for Glasnow to impress the Pirates' brass and prove he should be in the Opening Day rotation in 2017. Due to this, I expect Glasnow to pitch a strong game on Sunday.
This article originally appeared on