Trevor Bauer Named ALDS Game One Starter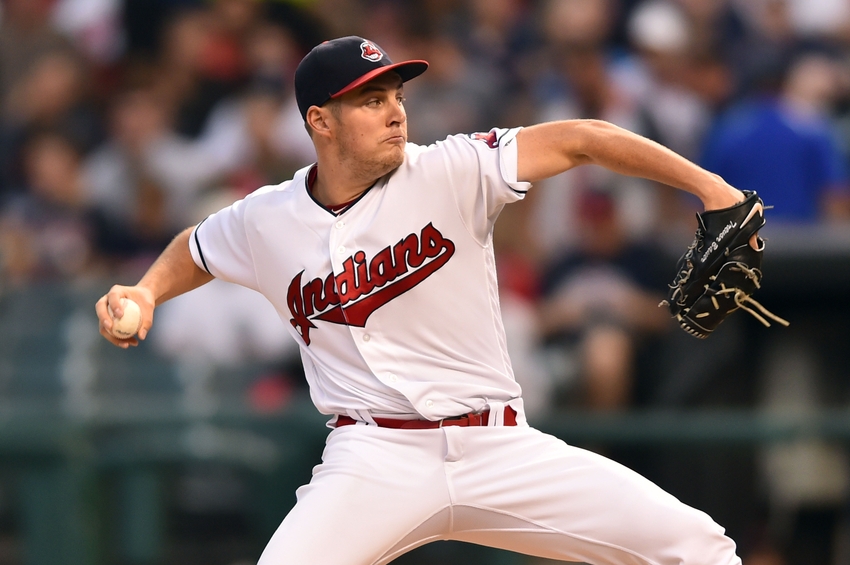 Cleveland Indians manager Terry Francona named his starter for game one of the playoffs after Saturday's win over the Kansas City Royals.
Trevor Bauer's intensity appears to know no bounds, and after Saturday you can include sentimentality. Bauer, who was lifted from his start against the Kansas City Royals after six innings, was informed by manager Terry Francona that he would be the game one starter when Cleveland faces Boston in the American League Division Series.
The reaction of Bauer was perhaps not what one would expect from a guy who was just told he'd be making the biggest start of his career to date, according to MLB.com's Jordan Bastian.
Francona, on informing Bauer he was the Game 1 starter… right after the pitcher gave up two runs in the 6th today: pic.twitter.com/LCYp6K1M7w

— Jordan Bastian (@MLBastian) October 2, 2016
Bauer had given up three runs on five hits in his outing against the Royals, with the final two runs allowed crossing the plate in his final inning of work.
The news comes as somewhat of a surprise, but not a shock. Indians' ace Corey Kluber was diagnosed with a mild strain of his right quadriceps muscle on Tuesday after leaving his Monday night start against the Detroit Tigers after just four innings and 60 pitches. It's believed that Kluber will be ready for the ALDS, but Francona is opting to give him one extra day of recuperation.
Given the injuries sustained by Carlos Carrasco (fractured finger) and Danny Salazar (forearm strain), the Tribe is expected to go into the playoffs with a three-man starting rotation consisting of Bauer, Kluber, and Josh Tomlin. With the off days built into the postseason schedule, it is possible to do so, though the three will pitch on shorter than usual rest.
Cleveland also has one of the most dominant bullpens in all of Major League Baseball, and they will be leaned on heavily. The Indians' relief corps, headlined by the quartet of Cody Allen, Andrew Miller, Bryan Shaw, and Dan Otero, has a collective 3.38 earned run average since August 1st, and averages more than a strikeout per inning.
Throughout the season, Bauer has shown flashes of his potential to be a frontline-type of starter, but has yet to put it all together consistently. But he's not one to shy away from a challenge, and on Thursday he'll face one he's never experienced before as a pro.
More from Wahoo's on First
This article originally appeared on