Toronto Blue Jays Ramping Up Interest in Jay Bruce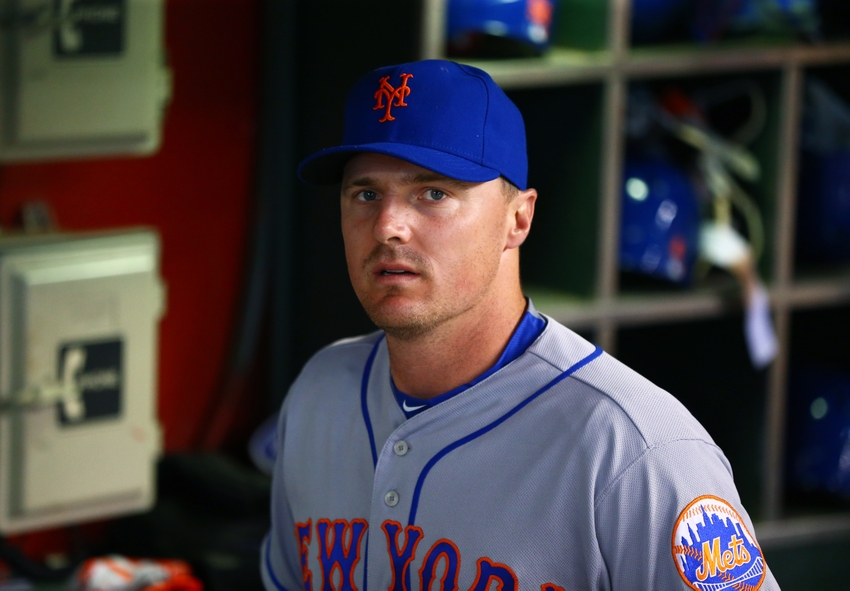 The Toronto Blue Jays are reportedly focused on swinging a trade for New York Mets outfielder Jay Bruce. The re-signing of Yoenis Cespedes and uncertainty around free agents Edwin Encarnacion and Jose Bautista could lead to a deal.
The first big domino of the offseason outfield market fell yesterday, as Yoenis Cespedes agreed to a four-year deal to remain with the New York Mets. CBA drama notwithstanding, we should begin to see more movement in the coming weeks, involving free agents and trade candidates alike. The Toronto Blue Jays are one team figured to be very much involved.
According to ESPN's Jerry Crasnick, the Jays are attempting to work out a deal for Mets outfielder Jay Bruce:
The #Blue Jays are among the teams making a push for Jay Bruce, sources say. They're in serious need of corner OF help.

— Jerry Crasnick (@jcrasnick) November 29, 2016
With Cespedes back in the fold, Bruce becomes somewhat more expendable for New York. He was acquired from the Reds last season in part to serve as power-hitting insurance in case Cespedes left in free agency. While extra power is certainly not a bad thing to have in your lineup, the Mets evidently feel more comfortable now exploring a trade of Bruce to fill other needs.
Meanwhile, Toronto is preparing for life with or without Edwin Encarnacion and Jose Bautista. While the Jays appear to have made Encarnacion their current priority, there are no guarantees there, and with Cespedes now off the market, other clubs might be willing to offer more to the DH/1B slugger. Recent buzz suggests the Astros are in serious pursuit as well.
Not only will the Blue Jays have to replace some of the power in their batting order, but they will need to address their outfield as well. Bautista is a free agent, along with Michael Saunders after Toronto chose not to extend him a qualifying offer. Both come with significant concerns – Bautista's age (36) and Saunders' awful second half (.178/.282/.357) in 2016.
More from Call to the Pen
Bruce gives the Jays another possible avenue to consider. He struggled after his move to the Mets (.685 OPS and eight homers in 50 games), but he has a proven track record as a power hitter in this league, belting at least 30 home runs in four of the last six seasons. He's not a long-term commitment either, as he is under contract for one more year at $13 million after the Mets picked up his 2017 option.
If Toronto loses out on Encarnacion and is unsure about investing in Bautista or Saunders, Bruce could be a solid alternative. The last major exchange between the Jays and Mets didn't go so well for Toronto (thanks to a guy named Noah Syndergaard), but acquiring Bruce shouldn't require quite that level of talent.
From the Mets' perspective, re-signing Cespedes gives them a lot of flexibility in their outfield. Bruce isn't the only outfielder they could shop, as trade rumors have cropped up around Curtis Granderson and youngster Michael Conforto, too. Ken Rosenthal of FOX Sports reports that the club has a configuration in mind for each possibility:
#Mets' plan is Cespedes in LF. If they trade Bruce, Granderson/Lagares in CF, Conforto also. If they trade Grandy, Lagares/Conforto in CF.

— Ken Rosenthal (@Ken_Rosenthal) November 29, 2016
Bruce still seems like the most likely to go. Granderson is also only under contract for one more year, hit 30 homers this season, and has been a durable player for the Mets the past three campaigns. And though the 23-year-old Conforto has had an up-and-down experience in the major leagues so far, the organization would presumably prefer to keep him as part of its future plans.
The Blue Jays have apparently been eyeing free agent Dexter Fowler as another outfield option. In any case, this situation likely won't play itself out until it becomes clear what will happen with Encarnacion.
This article originally appeared on