Toronto Blue Jays: Keeping Brett Cecil Would Be Right Move for Bullpen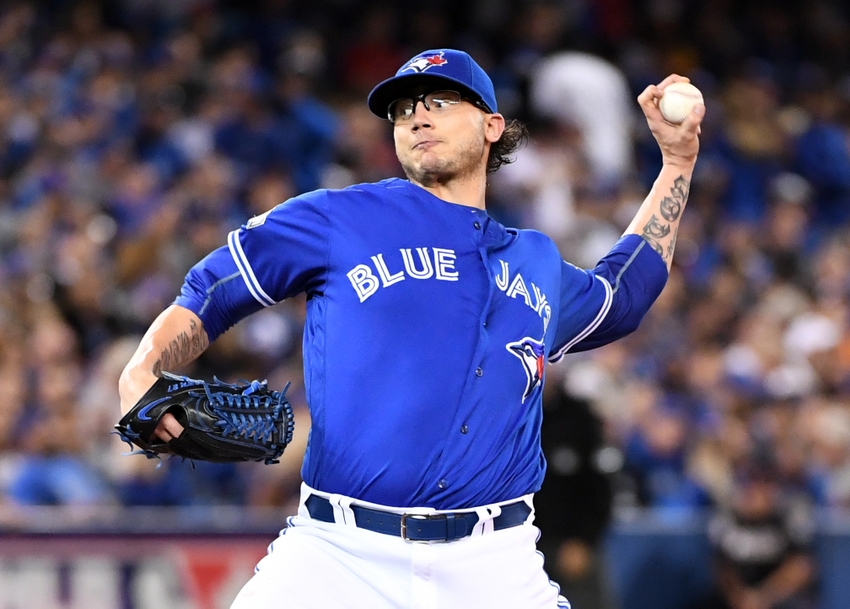 The Toronto Blue Jays have reportedly made a bid to re-sign lefty reliever Brett Cecil. It's the correct course of action for the Jays bullpen.
While the Toronto Blue Jays bullpen has gone through its fair share of changes in recent years, Brett Cecil has been a veritable mainstay. And the club would apparently like to keep it that way, as they have offered him a three-year deal to stay in Toronto, according to Jamie Campbell of Sportsnet:
Sources tell me the #BlueJays have offered a 3-year contract to free agent pitcher Brett Cecil.

— Jamie Campbell (@SNETCampbell) November 14, 2016
After making his big league debut as a starter in 2009 (and collecting a surprising 15 wins the following season), the left-hander moved to a relief role full-time in 2013, the same year the earned his first and only All-Star appearance.
From 2013 to 2015, Cecil was one of the better lefty relievers in the game, posting a 2.67 ERA, 1.14 WHIP and 11.5 K/9 while averaging 56 innings per season. This year wasn't quite up to par, however. Cecil managed a 3.93 ERA and 1.28 WHIP over a modest 36.2 frames, as he spent some time on the disabled list with a strained left triceps injury.
Now 30 years of age and coming off a down year, you might think the Jays would be somewhat hesitant to re-up with Cecil. But there are reasons to believe that retaining him is not only a logical move, but a necessary one.
Toronto struggled at times this year in determining its bullpen formula leading up to closer Roberto Osuna. They traded for veteran Jason Grilli, on whom they picked up a very agreeable $3 million option for next season, but he's only part of the puzzle. Letting Cecil go would mean the Jays would still need to address their bullpen elsewhere.
More from Call to the Pen
Cecil also brings a valuable left-handed relief option to the table, on a team that currently doesn't have any in the pen outside of Aaron Loup and rookie Chad Girodo. Cecil has held lefties to a .226/.281/.344 slash line during his career, and the .258/.310/.364 line they put up against him this year was only a marginal increase. If the Jays want to consider free agent alternatives, Boone Logan is coming off a nice year for the Rockies, but with the Yankees and Mets already sniffing around, he could end up pricier than Cecil.
Cecil also improved significantly as the 2016 campaign wore on. From the beginning of August through the end of the regular season, he posted a 2.08 ERA, 0.81 WHIP and 13.5 K/9 over 17.1 innings. He also tossed 3.2 hitless, scoreless frames in the postseason. Despite some of his more mediocre numbers on the season as a whole, his 11.0 K/9 was pretty much in line with recent years and his 2.0 BB/9 was the lowest mark of his career. Home runs were more of a problem for Cecil than usual this season, as his 1.5 HR/9 was his highest rate since 2012.
Although there is always a degree of risk in signing a player who just had a rather middling year, it's not too hard to chalk up Cecil's early struggles this season as the product of injury, including the torn left calf muscle he suffered in October 2015. Considering the Blue Jays' need for a solid lefty in the bullpen bridge to Osuna, trying to keep Cecil makes sense. Toronto certainly hasn't been sitting on its hands waiting for Edwin Encarnacion and Jose Bautista, reportedly coming to terms with Kendrys Morales and Cuban prospect Lourdes Gurriel Jr.
That seems to be the case here with the bullpen as well. Moving on Cecil early could mean that the Jays will save some money on what similar free agents would likely cost them, and they'll keep a player they drafted and are familiar with.
This article originally appeared on