Toronto Blue Jays: Jose Bautista to Boston?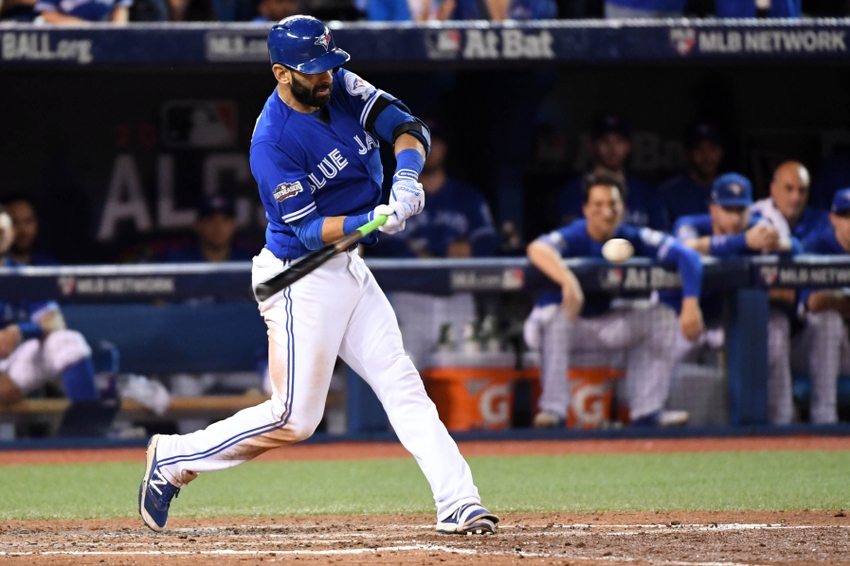 Does Jose Bautista want to leave the Toronto Blue Jays for the division rival Red Sox?
The Boston Red Sox are going to have an opening offensively this coming year with David Ortiz retiring. Jose Bautista is going to be a free agent this off-season. Could he leave the Jays and head down to the division rival Red Sox? Apparently, he just might if the Sox want him.
3. Jose Bautista, RF, Blue Jays — Even after an injury-filled season, don't expect Bautista to accept a $17.2 million qualifying offer from the Jays, according to a major league source. The feeling is Bautista, 36, will get multiyear offers in free agency. Boston could be a preferred destination, with Bautista having played for John Farrell and Brian Butterfield in Toronto. Bautista also loves Fenway Park.
In 66 games at Fenway Park, Bautista has hit .276 with 24 homers. For his career, Bautista has pulled the ball 47% of the time per Fangraphs. With the Green Monster in left, Bautista could do quite a lot of damage hitting the ball towards that wall.
More from Call to the Pen
For the Blue Jays, this is probably a worst case scenario. Not only do they lose Bautista, but he goes to a division rival that finished ahead of them in the standings last year. The Jays have a big chunk of their offense hitting free agency in Bautista, Edwin Encarnacion and Michael Saunders. Yes, they survived without Bautista for a good chunk of the year, but they had Encarnacion and Saunders. If they lose two of the three or even all of them, their offense could take a huge hit.
For the Red Sox, it's an interesting fit. Bautista would more than likely DH, but it could open the door for some possibilities. They could put Bautista in left, move Andrew Benintendi to center and use Jackie Bradley Jr as a trade chip to upgrade their rotation. Right field is big in Fenway, so it would make more sense to have Mookie Betts there defensively than the slower footed Bautista.
Bautista could also play a little bit of first.
Bautista, I would think, will not take that qualifying offer and instead find himself on the free agent market. Any number of clubs could come calling for his services. He is one of the bigger bats on the free agent market and shouldn't have a problem finding himself a home for 2017 and beyond.
Boston could be just that place.
This article originally appeared on