Toronto Blue Jays Interested in Signing Steve Pearce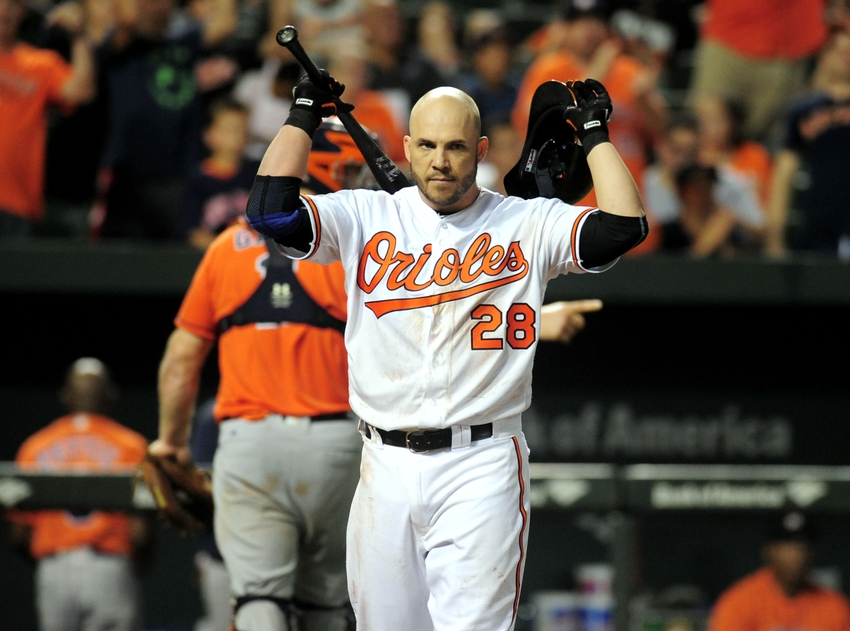 There may be some serious turnover on the Toronto Blue Jays roster with the team possibly losing three key players this offseason. After signing Kendrys Morales a few days ago, the club is rumored to be in on another free agent bat.
It's already been a busy offseason for the Toronto Blue Jays. Days after bringing in former Kansas City Royal Kendrys Morales and extending qualifying offers to Edwin Encarnacion and Jose Bautista, the Jays are rumored to be interested in another free agent bat, granted he's not as big of a name as Morales.
According to a report from Fox Sports' Ken Rosenthal, Toronto is interested in signing Steve Pearce this offseason. By signing Morales, the Blue Jays have seemingly filled their hole at designated hitter. Pearce is somewhat of a utility player, but Rosenthal mentions that he would serve a platoon role at first base with incumbent Justin Smoak.
Toronto Blue Jays Aren't Sitting Around Either
Pearce was primarily a second baseman during the first half of the 2016 season when he was playing for the Tampa Bay Rays. However, when he was traded to the Baltimore Orioles just prior to the trade deadline, he was expected to platoon in the outfield and in the designated hitter spot. The 33 year-old utilityman has played first base, second base, third base and both corner outfield spots since making his major league debut in 2007.
On the offensive side, Pearce was in the midst of one of his stronger campaigns until he underwent forearm surgery this past September. Up to that point, he was hitting for a .288 batting average with an impressive .374 on-base percentage. He had also hit 13 homers in the 85 games he appeared in. Pearce has done a little better against lefties than righties throughout his career (.269 vs. LHP vs. .245 vs. RHP).
His production has been on a bit of a roller coaster as he struggled mightily in 2015 after having a career year in Baltimore in 2014. Pearce is one of the more underrated hitters on the free agent market and he could be a solid alternative if the Blue Jays can't re-sign Bautista, Encarnacion or left fielder Michael Saunders.
It's certainly starting to look that way as the team has now invested $33 million in Kendrys Morales and is rumored to be interested in free agent bats such as Pearce. It's been no secret that the Blue Jays would have trouble re-signing their sluggers because of the breadth of competition that they would face on the open market.
Toronto has many holes to fill as they enter an extremely important offseason for the franchise. Pearce could fill a multitude of holes in the lineup because of his versatility, which makes him a good fit on the Blue Jays roster.
But make no mistake, Pearce does not have the level of talent or production that the likes of Encarnacion and Bautista do, but he is a good option for the Blue Jays to turn to if they decide they can't compete in their key free agents' markets.
What do you think about the prospect of the Blue Jays bringing in Pearce? Share your thoughts in the comments below.
More from Call to the Pen
This article originally appeared on