Toronto Blue Jays: How Will the Loss of Devon Travis Impact the Club?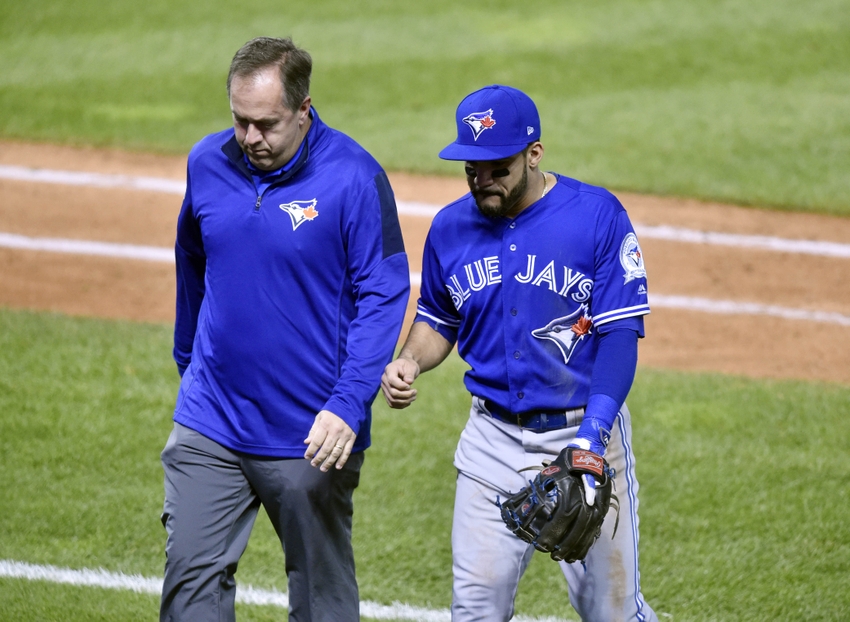 The Toronto Blue Jays will be without second baseman Devon Travis for the remainder of the postseason. How will that impact the club the rest of the way?
Devon Travis has battled injuries all season, including getting injured during the ridiculous brawl with the New York Yankees in the final weeks of the season that saw Joaquin Benoit go down with a leg injury.
Travis suffered a knee injury and is now off the postseason roster. He's being replaced by first baseman Justin Smoak, who hit just .217 this season (and got a contract extension).
Travis is off the Jays' roster, per an MLB release. Justin Smoak has replaced him. Travis is now also ineligible for the World Series.

— Brendan Kennedy (@BKennedyStar) October 15, 2016
Atkins: Travis suffered "separate" knee injury "independent" but in same area as previous one, which sounds crazy. But that's what he said.

— Brendan Kennedy (@BKennedyStar) October 15, 2016
It sounded like he was trying to stress that this was a distinct injury, which is required in order for MLB to approve roster replacement.

— Brendan Kennedy (@BKennedyStar) October 15, 2016
The Travis for Anthony Gose trade has certainly paid some dividends for the Jays. This year, Travis hit .300 with a .785 OPS, including hitting .321 in the second half of the season.
Travis will now be replaced by Darwin Barney and Ryan Goins, who are not the same caliber of offensive threat that Travis is.
Barney is an excellent fielder; however, his OPS is almost 100 points less than that of Travis. Goins hit just .186 with a .534 OPS in 196 plate appearances this season.
More from Call to the Pen
Travis gave the Blue Jays an option at lead off and someone who can get on base at the bottom of the order to help turn the lineup over and set up for guys like Josh Donaldson and Edwin Encarnacion.
Travis being available may not have made a difference the past couple of days against the Indians, but as the scene shifts to Toronto, being at full strength offensively would have helped as the team gets set to face Trevor Bauer on Monday.
This article originally appeared on