Toronto Blue Jays: Edwin Encarnacion Looking for 5-Year Deal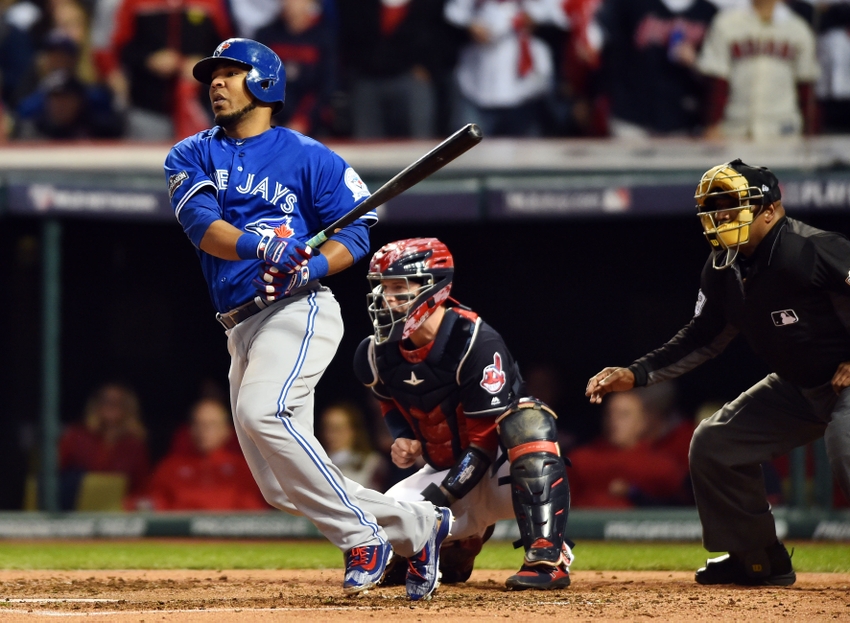 The Toronto Blue Jays and other interested clubs might have a better idea of the kind of contract Edwin Encarnacion is seeking.
Edwin Encarnacion, who has played for the Toronto Blue Jays since 2009, is easily one of the biggest names on the free agent market. On Monday, teams got a little more information on what it would take to acquire the slugger. According to Rick Westhead of TSN, Encarnacion is looking for a five-year deal worth $125 million.
Over the past five seasons Encarnacion has emerged as one of the best power hitters in baseball. Since 2012 he's hit at least 34 HR in each season, and in four of those five seasons he's accumulated at least 100 RBI. The 127 RBI he totaled in 2016 led the American League.
One of the concerns teams might have about giving Encarnacion a five-year contract is the fact that he's already 33 years old. However, Encarnacion has been an incredibly durable player over the past six seasons. He hasn't played in fewer than 128 games since 2011, and last season he appeared in a career high 160 games.
More from Call to the Pen
Another issue that will come into play with Encarnacion's free agency is whether or not he could regularly play first base. Last season he played in the field for 75 games for Toronto. By FanGraphs DRS and UZR he was an average defender during his opportunities at the position. A full-time return to first would make it possible for an NL team to show interest, but it still remains an unlikely scenario.
There have already been rumors that Toronto and Encarnacion are making progress on a deal. Sportsnet's Shi Davidi reported that both sides have had "fruitful talks." Encarnacion has stated that he wants to stay in Toronto if possible.
Encarnacion joins Jose Bautista as key components of Toronto's lineup who are free agents. Both players were extended qualifying offers, and both are expected to turn them down. Mike Axisa of CBS Sports suggested that it is unlikely Toronto would be able to bring both players back.
MLB Trade Rumors currently ranks Edwin Encarnacion as the #2 free agent on their Top 50 list. Andrew Simon of MLB.com and Cliff Corcoran of Sports on Earth both rank him #3 behind Yoenis Cespedes and Justin Turner.
This article originally appeared on