Top 10 moments of David Ortiz's career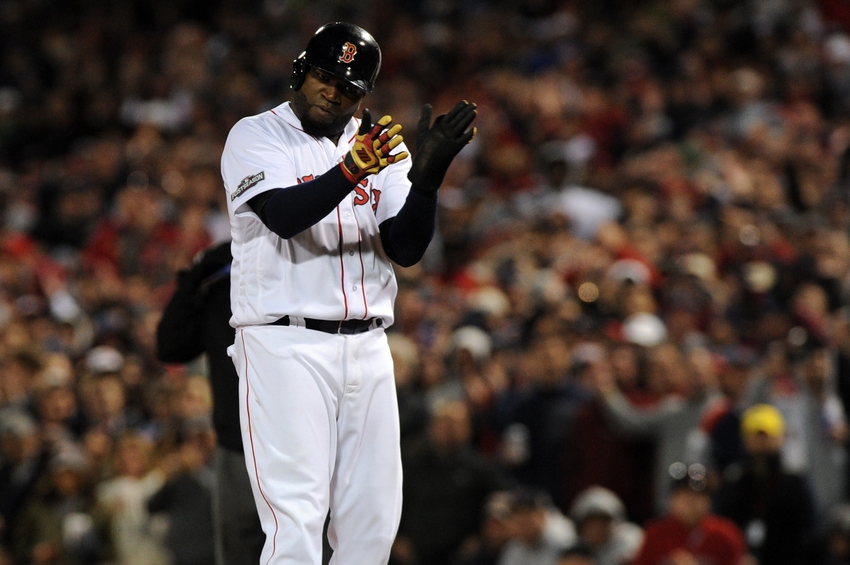 Ranking the 10 defining moments of David Ortiz's career.
Boston Red Sox designated hitter David Ortiz is officially retired following the Cleveland Indians' sweep of the Red Sox in the ALDS. Ortiz is a polarizing player, but everyone has to respect Big Papi and his accomplishments. He is one of the most universally respected players, even getting applause in New York and Baltimore during his farewell tour.
Ortiz will go down in history as arguably the second best designated hitter of all-time. His career will likely take him to Cooperstown. Thanks to his countless clutch hits, he will go down as this generation's Mr. October. With three World Series rings, he'll retire as one of Boston's greatest champions of all-time. Ortiz will be forever known as the man who broke the Red Sox curse in 2004.
Here are the 10 defining moments from the career of David Ortiz.
10. The Legend Begins
Ortiz came to the Red Sox during the 2002 offseason, following a six-year tenure with the Minnesota Twins. He arrived in Boston as a platoon hitter, mainly facing right-handed pitchers. Ortiz quickly became the everyday designated hitter in June of 2003. He had a career season (to that point), hitting 31 home runs, 39 doubles, 101 RBIs, and a .961 OPS.
Ortiz officially became "Big Papi" on Sunday Oct. 5, 2003. On that date, Ortiz gave the Red Sox the lead with a go ahead double in Game 4 of the ALDS. Ortiz hit the double when the Red Sox needed him the most. It was a sign of things to come. The double put the Red Sox in the ALCS and helped them beat the Oakland Athletics in five games.
He had some of his best years in Boston. It all started back in 2003. Nobody knows why Ortiz became so good so quickly. Whatever it was, Ortiz became a monster. And he became that monster on Oct. 5, 2003.
9. One Last Clutch Moment
David Ortiz had one heck of a retirement tour. Ortiz had so many great moments in his last season, so it's hard to pick out the most wonderful moments from his last season. However, one of the most defining moment from his last season occurred on May 14, 2016. It was one of the last times Ortiz got to be the most clutch hitter of his generation.
After tying the game with a triple, he hit a walk-off double in the 11th inning.
The double was extremely special for Ortiz, as it gave him 600 career doubles. He is one of the 16 players in MLB history with at least 600 doubles. He hit 32 more after May 14, giving him 632 doubles, which is 10th all-time. Of the 16 players with at least 600 doubles, only Ortiz and Paul Molitor are known as designated hitters.
His triple was his first since the 2013 season and the 19th of his career. Triples are hard to hit and Ortiz is certainly not a speed demon on the base paths. But he averaged nearly a triple per season over his career, with 19 triples in 20 seasons. Ortiz's final season was a never-ending curtain call for one of the league's best hitters of all-time. And he gave one heck of an encore on May 14.
8. Mr. Opening Day
OK, so the nickname "Mr. October" has already been given out to Reggie Jackson. Heck, Derek Jeter is known as "Mr. November". David Ortiz deserves to be known as Mr. something. How about Mr. Opening Day? Ortiz often played very well on Opening Day. His last Opening Day against the Cleveland Indians in 2016 was no different. With a two-run home run off Trevor Bauer in the ninth inning, Ortiz has five home runs on Opening Day.
Not only did the home run put an exclamation point on his Opening Day career, it also got his retirement tour started right. There's no better way to start the retirement tour for one of the most clutch hitters of all-time than with a ninth inning home run. The Red Sox beat the Indians 6-2 on Ortiz's last first game of the season.
It started a magical season, both for Ortiz and the Red Sox. While the Red Sox couldn't win one last title for Big Papi, Ortiz went out very close to the top. His 2016 season was one of his most productive. Sadly, Derek Jeter's last season wasn't great. He didn't retire at the top of his game. Ortiz, however, can say he retired at the top. Or at least very close to it.
7. Ortiz's First Walk Off Home Run With Red Sox
David Ortiz is well known for being a clutch hitter with the Red Sox. Of his 483 regular season home runs he hit with the Red Sox, 10 of them were walk off homers. His first one came against the Baltimore Orioles in September of 2003. In the 10th inning, Ortiz hit a walk-off home run against Orioles pitcher Kurt Ainsworth to give the Sox a 6-5 win.
Ortiz hit many magical home runs and game winning hits with the Red Sox. However, this one's special because it was his first walk off home run with the Red Sox and just the second of his career. In Minnesota, Ortiz had just one walk off home run in six years. But in Boston, Ortiz got far more chances to be a clutch hitter, and he delivered more often than not. It seems like any time the Red Sox needed a clutch hit from Ortiz, he gave it to them.
This is also special because it shows his dominance against the Orioles. Perhaps no team except for the Toronto Blue Jays is happier to see Ortiz go than the Orioles. Ortiz hit 55 home runs and had 177 RBIs against them in 247 games. The only team he has more home runs and RBIs against is the Blue Jays.
6. 500 Home Runs
David Ortiz is one of the best power hitters of all-time. He cemented his name into an impressive club when he hit his 500th career home run against the Tampa Bay Rays on Sept. 12, 2015. With his 500th home run, Ortiz became the 27th player in MLB history with 500 home runs. He is also the only player to spent over half his career games as a designated hitter with 500 home runs.
While Ortiz wasn't as great of an overall hitter as Edgar Martinez, Ortiz does have a distinct advantage in home runs. Martinez might have been a better overall hitter (147 OPS+ compared to Ortiz's 141 OPS+), but Ortiz undeniably was the better power hitter. 500 home runs all but guarantees Ortiz a spot in Cooperstown. Martinez deserves one too, but he didn't get to 3,000 hits or 500 home runs, so his spot isn't set in stone like David Ortiz's spot.
His 500th home run was also an absolute bomb. Ortiz hit some long home runs, but his 500th was one of his longest. It was hit against the Tampa Bay Rays, another team that Ortiz picked on throughout his career. He hit 53 home runs against them in his career with 178 RBIs. Yet another team grateful he's retiring.
5. 2007 World Series
David Ortiz won his second World Series in 2007 when the Boston Red Sox swept the Colorado Rockies. It was the second World Series of Ortiz's career. While it might be the one World Series out of his three which didn't include a ton of heroics from Ortiz, it's still impressive. Ortiz hit very well throughout the series, finishing with four RBIs (tied for second on the team). He had a .333 batting average with a .412 OBP and a .533 slugging percentage.
The World Series capped off another impressive year for Big Papi. He finished the regular season with 52 doubles, 35 home runs, and 117 RBIs. Ortiz finished with a .332 batting average, the fifth-best in the American League. He led the majors with a .445 OBP. Moreover, Ortiz won his fourth straight Silver Slugger as the best designated hitter in baseball.
Ortiz helped lead another comeback in the ALCS. Down 3-1 to the Cleveland Indians, the Red Sox stormed to win the next three games by outscoring the Indians 30-6. Ortiz played a large role in it, though this time the Red Sox were able to come back without Ortiz carrying his team on his back.
With his 2007 World Series win, Ortiz's legacy in Boston approached legendary status.
4. Breaking The Curse
David Ortiz's legacy truly began in Game 4 of the ALCS against the New York Yankees in 2004. That is the day Ortiz became known as one of baseball's most feared hitter in any clutch situation. With the Red Sox down 3-0 in the ALCS, Ortiz put his team on his back and saved their season with a walk-off home run in the bottom of the 12th inning.
That wasn't all either. Ortiz went on a tear in Game 5 as well, notching his second straight walk-off hit against the Yankees. The Red Sox desperately needed a spark and Ortiz gave it to them. That's a nice summary of Ortiz's tenure with the Red Sox. He delivered so many big hits for them and is easily one of their best players of all-time.
Ortiz put a nice bow on his 2004 ALCS performance by getting things started in Game 7 with a two-run home run. The Red Sox won Game 7 10-3 and became the first MLB team to come back from a 3-0 series deficit. They wouldn't have done so without their hero David Ortiz.
After this, Ortiz's legacy started to take form. To this day, many in Boston remember Ortiz as the man who single handedly shattered the Curse of the Bambino and won them their first World Series in 86 years.
3. 2013 World Series
The last of David Ortiz's three World Series might be his most impressive of his three titles. Considering the circumstances and what happened earlier in April, Ortiz gave quite possibly his most impressive performance ever in the 2013 World Series.
Ortiz won the World Series MVP after leading the Red Sox over the St. Louis Cardinals in six games. He led his team in home runs (two), RBIs (six), hits (six), batting average (.688), on base percentage (.760), and slugging percentage (1.188). For the entire 2013 postseason, it seemed like nobody could get Big Papi out.
His World Series swan song was in Game 6. Ortiz finished Game 6 with only one plate appearance (a strikeout) but he also walked four times. The Cardinals quit pitching to him because he was simply killing them. His teammates made the Cardinals pay for walking Ortiz by driving him in twice. Ortiz hit home runs in the first two games of the series, so you can't really blame the Cardinals for giving up trying to get him out.
This wound up being David Ortiz's last World Series. And he made sure to go out with a bang. His third World Series officially made him a legend in the city of Boston.
2. The Grand Slam
David Ortiz hit countless huge home runs for the Red Sox. None of them were as big as his grand slam in Game 2 of the 2013 ALCS against the Detroit Tigers. Down four runs in the eighth inning, the Red Sox were on the verge of facing a 2-0 series deficit. Ortiz tied the game with his most memorable home run of all-time. It also created one of the most memorable images in Boston's history with a police officer celebrating as the ball went over the fence.
Ortiz struggled throughout the 2013 ALCS. He finished the series with a very uncharacteristic .091 batting average. Ortiz only had two hits in the series. But he made sure to save one of his two for when his team needed him the most.
His grand slam gave the Red Sox the momentum they needed to beat the Tigers in six games. Considering the circumstances, Ortiz's 2013 ALCS grand slam is the most important home run of his career. The city of Boston needed something to rally around. Ortiz gave the city of Boston something to love and rally around after the Boston Marathon bombings in April of 2013. Why does Boston love Ortiz so much? Because he loved them first.
1. This Is Our ****ing City!
The most defining moment of David Ortiz's career didn't even happen during a game. It happened on April 20, 2013, the first Red Sox home game since the Boston Marathon bombings. Boston was a broken city who desperately needed someone to rally around. Ortiz gave them that with one of the most inspiring speeches of all-time. The Red Sox typically have "Red Sox" on the front of their jerseys. Ortiz pushed for the Red Sox to have "Boston" on the front.
This speech began one of the most impressive seasons of Ortiz's career. After that speech, it seemed like Ortiz played like a man determined to give Boston a championship. Ortiz's speech inspired everyone around the country, not just in Boston. It must have been extremely tough for Ortiz to speak after such an emotional few days for the city of Boston. But with that speech, Ortiz became so much more than just a baseball player in Boston. He became a hero.
Following the speech, the Red Sox won the AL East, rallying behind the city of Boston and their support. They won their third World Series, with Ortiz playing a very large role in it once again.
This article originally appeared on