Three Yankees Prospects Shine In Arizona Fall League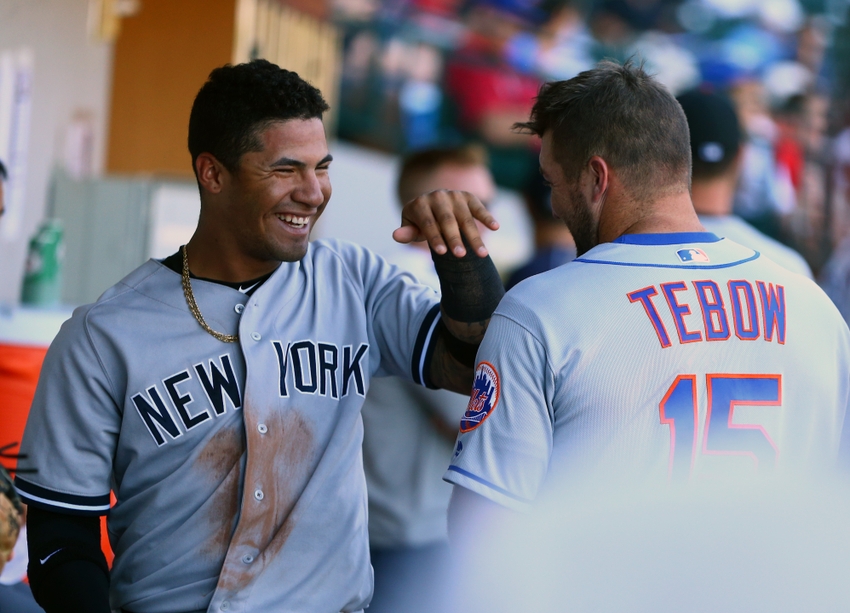 The Arizona Fall league is traditionally home to some of the best young talents in all of baseball. Three of the brightest might just one day suit up for the New York Yankees.
Yankees farmhands Gleyber Torres and Dillon Tate were officially named to the East Division All-Star squad of the Arizona Fall League. There's a chance a third member of the Scottsdale Scorpions could join them for the game on Nov. 5, as Yankees third-base prospect Miguel Andujar has been chosen as a write-in candidate for the contest as well. You can vote for him by clicking here.
Torres was the crown jewel acquired from the Chicago Cubs in the highly acclaimed Aroldis Champman deal — and for good reason. Picking right up where he left off as the No. 1 prospect of each respective organization, Torres is batting .306 with three home runs, seven RBI, a 1.016 OPS and a .405 OBP in just 10 games.
The 19-year-old Torres was recently ranked as baseball's 17th best prospect by MLB Pipeline. Scouts feel that if Torres can continue to grow his game at this rapid pace, and build off a rather impressive 2016 season which was split in the Carolina and Florida State Leagues (.270 BA, 11 HR, and 66 RBI in 125 games), he will soon become the Yankees' shortstop of the future.
If this holds true, it will be interesting to see what the Yankees do with the likes of Didi Gregorius, Starlin Castro, and the organization's current No. 3 prospect Jorge Mateo.
One thing is for sure, it's nice to see the Yankees' farm system stocked with potential for once. You can never have enough talent at your disposal.
As far as right-handed pitcher Tate is concerned — the much maligned 2015 first-round pick of the Texas Rangers, appears to have finally found his niche as a reliever, striking out 11 batters and only walking one, while allowing nine hits in 9.1 innings pitched.
Then there is Andujar, who continues to climb the Yankees' Minor League rankings. Currently sitting at No.7, Andujar is hitting .368 with a .915 OPS and .468 OBP in 12 games. As of today, the future looks bright for these three young studs.
This article originally appeared on