Three Undervalued Free Agents the Yankees Should Consider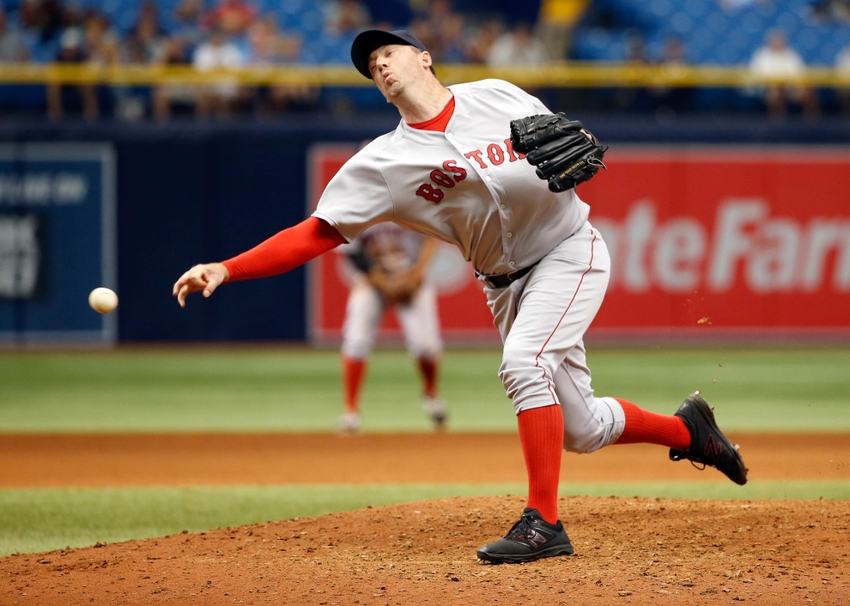 The 2016-2017 free agent class may be lacking in big name superstars, but there are plenty of undervalued options for the New York Yankees to consider this winter to fill the holes on their roster.
While many analysts are expecting the New York Yankees to go hard after the biggest names on the free-agent market this offseason now that they've freed up considerable money by trading catcher Brian McCann, I have a hard time envisioning this frugal ownership group being the high-bidder on guys like Yoenis Cespedes, Edwin Encarnacion, and Rich Hill in the coming months, especially if they are already going to be shelling out $90-100 million to bring back closer Aroldis Chapman as everyone expects.
Christian Red of The New York Daily News recently reported that the Yankees top three priorities this winter are re-signing Chapman, bringing in a starting pitcher, and finding a DH to replace McCann. If money was no object, signing Chapman, Encarnacion, and Hill would be the optimal way to fill those needs, but that seems extremely unlikely given the club's desire to get under the luxury tax threshold.
Instead, fans should expect Yankees general manager Brian Cashman to continue his recent strategy of making incremental upgrades to the roster, avoiding long-term financial commitments, and looking for players who may be undervalued by other clubs for whatever reason. Here are three free agents who fit that mold the team could consider.
While the 37-year-old Ziegler is not often mentioned alongside Aroldis Chapman, Kenley Jansen, and Mark Melancon when discussing the elite relievers available on the free agent market this winter, he has been every bit as good the last two years as those more famous closers.
From 2015-2016, Ziegler has a 2.05 ERA and 3.27 FIP, striking out 17% of the batters he's faced and walking 7.8% in 136 innings of work. The real eye-popping number though is the 68.1% groundball rate in that span, second only to Baltimore's Zach Britton among qualified relievers.
Despite his excellent results, Ziegler is expected to have to settle for a modest two-year deal this winter because of two factors: his age and the fact that he throws sidearm. Teams should always be wary about signing a 37-year-old reliever, but because he relies primarily on deception and not velocity, (his "heater" averaged 83.9 mph in 2016), Ziegler seems like a good bet to avoid decline for at least another couple of seasons.
Pitching sidearm may make him more vulnerable to lefty batters (he allowed a .267/.380/.343 line against LHB in 2016), but with rumors that a 26th roster spot will be added in the new CBA, carrying a pure specialist reliever becomes even easier than it was previously.
I've seen the case made that the Yankees should spread the money they would spend on Chapman this winter around to a few different relievers like Ziegler, Joe Blanton, Sergio Romo, etc. and I can definitely see the merit in the suggestion, but my preference would be to get at least one elite, shutdown arm in place for next year before supplementing with guys like Ziegler.
The one-year $10 million contract that MLB Trade Rumors predicts for Holliday this offseason would be an absolute steal for a guy who has been one of the most consistently productive middle-of-the-order bats in the National League for the last 13 years.
A move to the Junior Circuit may be just what the doctor ordered for Holliday, who has struggled to stay on the field the last two seasons with a variety of injuries, most notably a quadriceps strain in 2015 and a fractured thumb in the second half of 2016.
Even while dealing with those issues, Holliday put up a solid .246/.322/.461 (107 OPS+) batting line in 426 plate appearances while reaching the 20 home run mark for the 10th time in the last 11 seasons. It's probably reasonable to expect those numbers to come up with the stress of playing the field removed from his soon-to-be 37-year-old body.
It's probably reasonable to expect those numbers to come up with the stress of playing the field removed from his soon-to-be 37-year-old body. The seven-time All-Star has a career slash line of .303./.382/.515 over 13 MLB seasons and has been an OPB machine for years before seeing his walks plummet in 2016.
If Holliday can get back to his patient approach at the plate, he could approximate the production of the big name DH options available this winter without being locked into a three or four-year deal. The Steamer projection system expects him to hit .275/.358/.465 (121 wRC+) with 20 homers in 528 plate appearances, which would look excellent in the cleanup spot behind Gary Sanchez next year.
Bringing in 30-year-old lefty Travis Wood wouldn't have the same impact of signing a potential front-of-the-rotation option like Rich Hill, but Wood has been a useful pitcher in his own right for the Chicago Cubs the last three seasons.
For a team with as many question marks as the Yankees, Wood's durability, youth, and versatility could make him very appealing, especially at the modest three-year $21 million price tag that MLBTR projects.
Wood worked exclusively as a reliever in 2016, pitching to a 2.95 ERA in 61 IP, although his 4.54 FIP suggests he may have benefitted from a few lucky breaks along the way. The most appealing thing about Wood is his extensive resume as a starter. He has a career 4.19 ERA in 776 IP while striking out 18.5% of opposing batters and walking 8.3%.
The best way for the Yankees to use Wood would be as a left-handed Adam Warren. Both guys are capable back-of-the-rotation starters who can very easily slide into a set-up role if one or more of the Baby Bombers prove capable of holding down a rotation spot either out of spring training or later in the year.
This article originally appeared on