The Pessimist's Viewpoint On the 2017 Yankees
Mike Calendrillo/FanSided via Yanks Go Yard

Fansided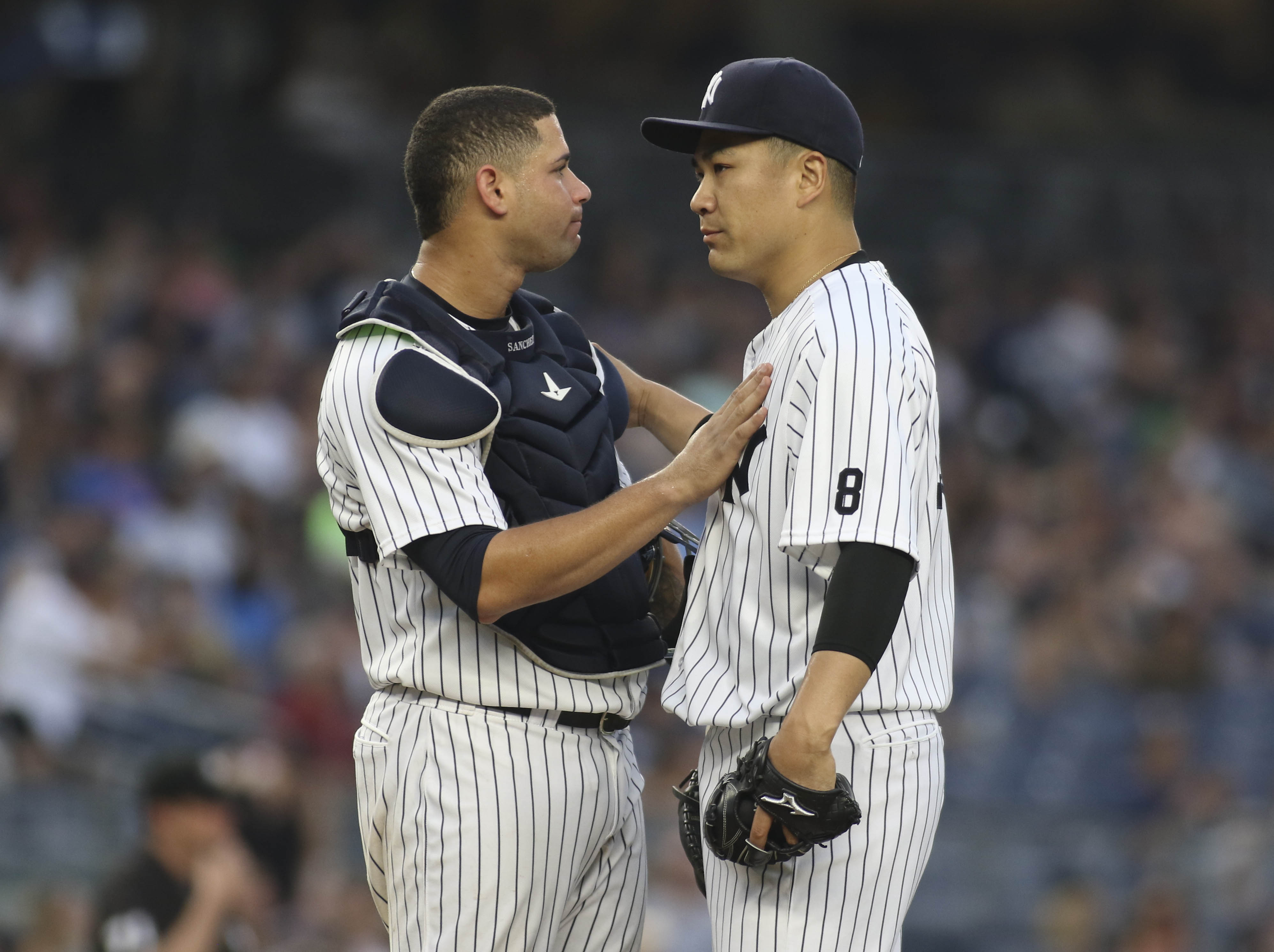 Depending on the faction of Yankees fans you speak to on any given day, you'll get one of three different conclusions as to how the 2017 season will play out.
As Spring Training gets underway, there's an air of real excitement around the Yankees that has been missing for the past few seasons. For once, the narrative isn't based on the free agents that were brought in or a crisis-level emphasis on the veterans that are weighing down the team's chances of winning.
Instead, general manager Brian Cashman remade the farm system in his own image. An image that has potentially set the Yankees up for a long fruitful run of success. I say "potentially" because you never really know what you're going to get out of a prospect until they produce at the Major League level.
Take Gary Sanchez for instance. Cashman recently said that Sanchez was "bored" at Triple-A Scranton and was in need of a new challenge. Obviously, he was right, as Sanchez hit a Major League record 20 home runs in just 53 big league contests.
Will Sanchez follow-up his stellar rookie season and cement his claim as one of the brightest young stars in all of the game? Or will he fall prey to the dreaded Sophomore slump?
Follow me as I take on the persona of a Negative Nancy and the thoughts that come with it. Don't freak out that this piece is all negative — the positive spin will debut soon enough.
The Pitching Staff
Masahiro Tanaka and four other guys don't exactly make for a formidable starting rotation. And that's before Tanaka's elbow finally gives out — then we're on the hook for his remaining 3-years/$67M.
Michael Pineda is really going to be the No. 2? I'm sick of relying on this guys "potential." He was 6-12 with a 4.82 ERA last season. Just because he's in a contract year, people all of a sudden expect him to turn it around. He's a sub .500 pitcher with a career 3.99 ERA.
There's no way CC Sabathia throws another 179.1 innings in back-to-back seasons. Not on those balky 36-year-old knees. And he's slated to pitch out of the No. 3 slot!
If Luis Severino fails again, and the Yankees send him to the bullpen, or worse, Triple-A, we're going to have a Joba Chamberlain situation on our hands.
Luis Cessa gives up more home runs than a batting practice pitcher.
Chad Green's injury scare last season could be the precursor to something much worse.
Has Dellin Betances recovered from the debacle that was his ascension to the team's closer role? Manager Joe Girardi may have overworked him to the point of exhaustion, but Betances crumbled like a deck of playing cards. Add in the fact that the Yankees did not match his $5M salary demands this offseason, resulting in the two sides heading for arbitration, and the groundwork has been laid for a contentious relationship.
Aroldis Chapman is back, and after publically stating that he felt he was overworked by Cubs manager Joe Maddon in the Postseason, the Yankees better not ask him to work anything more than 1.1 innings at a time. You don't want to upset the highest paid closer in MLB history — otherwise, he might just exercise that contact opt-out following the 2019 season.
After trading Chapman and Andrew Miller last season, the bullpen stunk — hence the pressure placed on Betances. So aside from signing Chapman, the Yankees are going with the same group from '16 that includes inexperienced shooters like Bryan Mitchell, Jonathan Holder, Ben Heller, Johnny Barbato, Domingo German, Dietrich Enns, Richard Bleier, and Yefrey Ramirez. Not all will make the 25-man roster, so the brunt of the work will once again fall on the shoulders of Adam Warren, Tyler Clippard, Tommy Layne, and Chasen Shreve.
Cashman says top-rated pitching prospect James Kaprielian could pitch in the big leagues "right now," but won't because he only made six starts last season, no higher than Single-A before being shut down with a strained flexor tendon. So the Yankees won't rush him because he's inexperienced and is coming off an injury, but he's ready because he throws hard and has a Major League body. What? Talk about mixed signals.
How much more does Chance Adams need to prove in the Minor Leagues to finally get his shot in the Bronx? I don't care the kid is 22 and hasn't pitched past Double-A — he went 13-1 with a 2.33 ERA while striking out 144 batters in 127.1 innings pitched last year. If Kaprielian "could" pitch in the big leagues now, why can't Adams?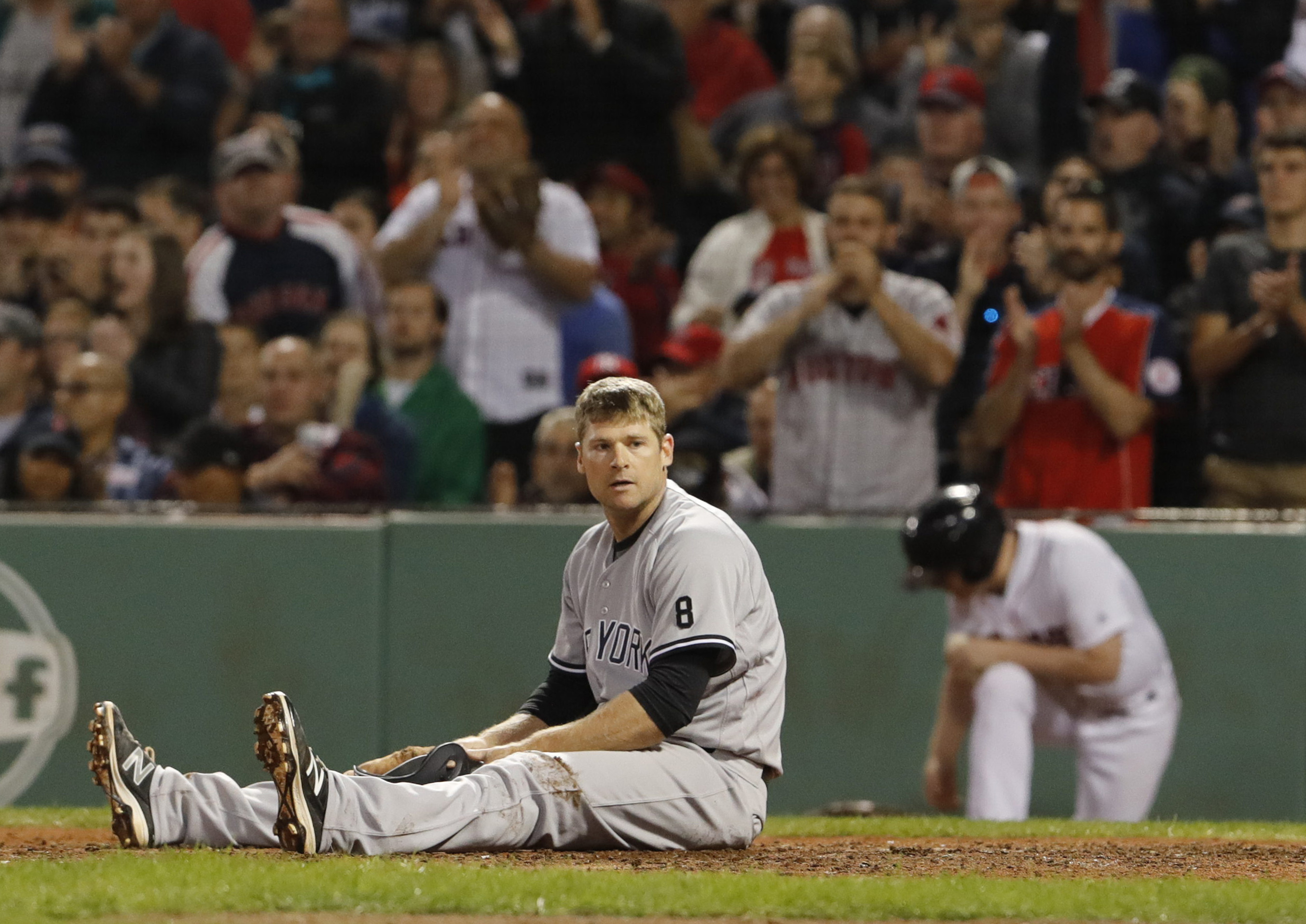 The Infield
Believe it or not, this is actually one of the current strengths of the club. Don't get me wrong, this group comes with its own set of question marks, but it doesn't have nearly as many as the outfield.
Behind the plate, the Yankees should be set for the next 10 years. Unless of course, the offseason emphasis the organization put on Sanchez to become the new face of the franchise has put him behind the eight ball.
Sanchez's public relations team capitalized on his meteoric rise to fame when they made him a social media darling in 2016 with #IAMGARY. Soon there were T-shirts, bumper stickers, and Cashman branding him The Kraken. Didn't Cashman give Chamberlain a cute nickname once upon a time? Oh yeah, Joba Rules. While that one may not have been unintentional, it did more harm than good.
I fear that if #YoSoyGary stumbles coming out of the gate, or only hits 25 home runs in 2017, fans and media alike will instead call him a bust.
How will Chase Headley and Starlin Castro react to reports that the club tried to trade them this winter to no avail? Both have been in the game long enough to know that trade rumors come with the territory. Players often react one of two ways — motivated to the point of forcing their current club to keep them because of improved play — or disenchanted, and therefore lackluster performances take shape before the players lose their jobs altogether. Luckily for Headley and Castro, the Yankees' top infield prospects aren't quite ready for "the show," so they've got a little more time to prove their usefulness.
How much leeway does Greg Bird get if it takes some time for him to find his offensive groove? After missing the entire 2016 season due to shoulder surgery, Bird struggled to put consistent at-bats together in the Arizona Fall League. A decent enough first baseman with the glove, most thought fellow Baby Bomber Tyler Austin would be the man to challenge Bird for playing time this Spring. While that still may come to fruition, Austin will need to rake like never before to hold down a roster spot due to recent signing Chris Carter.
Carter is atrocious with the glove, but with only so many roster spots to go around, the slightest blip will cast someone down to Triple-A Scranton — and well, Austin has two remaining Minor League options. You'd think Austin has proven all he can with the bat at Triple-A (.323 BA, 13 HR, 49 RBIs, 57 games, 201 AB, 59 K in 2016).
How many more chances does Rob Refsnyder deserve before the organization realizes he isn't part of the future core? A man without a position that is still with the team because he used to hit in the Minor Leagues (35 HR in 1805 ABs in the minors). How's that for logic? For Refnsyder's sake, I wish the Yankees would trade him. Perhaps elsewhere, he can settle into a low-key situation that is more conducive to his style of play — like San Diego or Arizona.
Depending on what transpires with Refsnyder, the only backup infielder worth keeping that isn't a catcher is Ronald Torreyes. Ruben Tejada and Donovan Solano shouldn't be allowed anywhere near a Major League roster.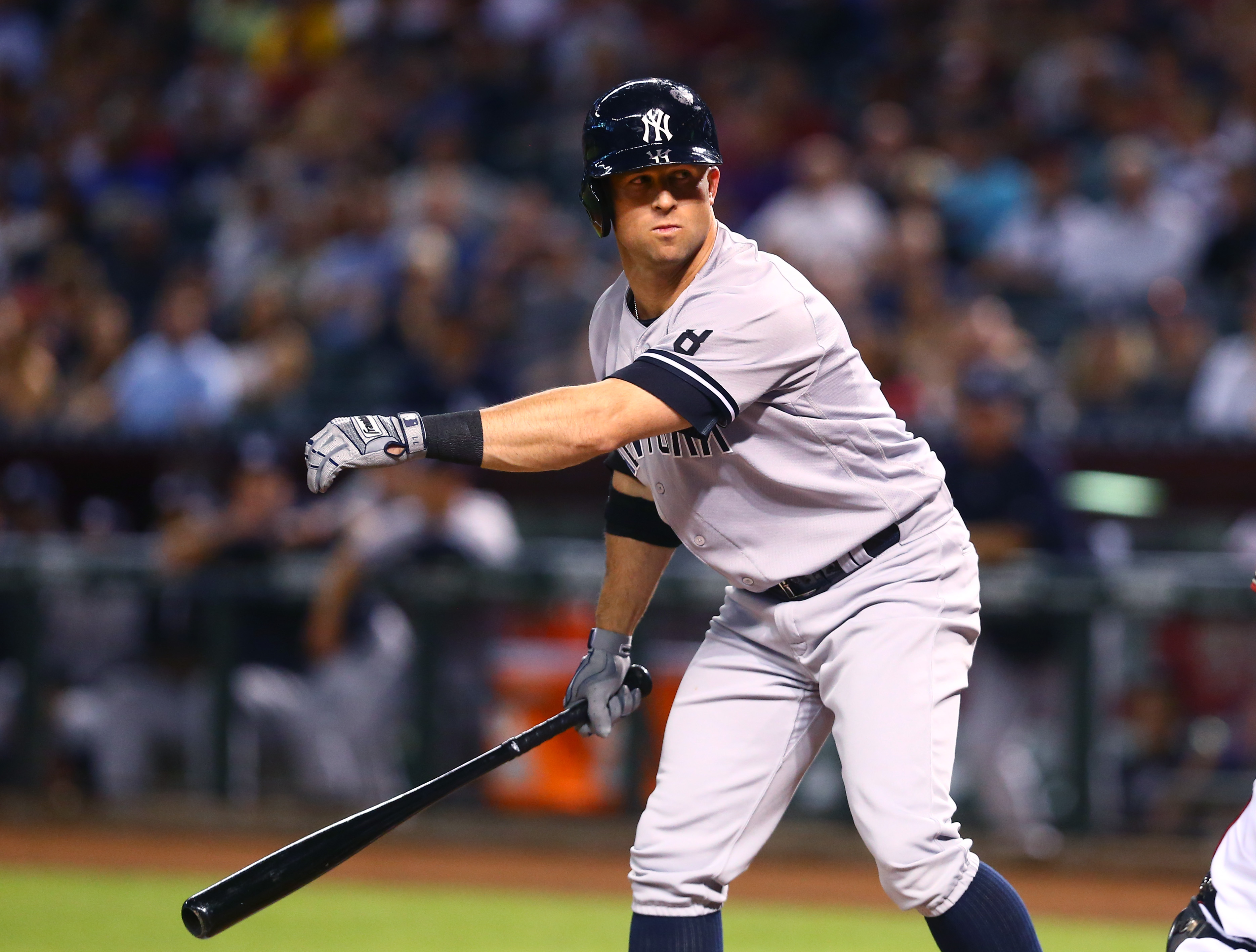 The Outfield
I wonder if Brett Gardner has some luggage packed in a hallway closet, should Cashman finally find a taker for the reigning AL Gold Glove winner. It's hard to believe that no club was willing to trade for Gardy at the Yankees' asking price. Even if Cash was asking for a top 15 prospect, Gardner could easily slide to center field for a contending team in need like the Mets, Tigers, or Rangers.
The Yankees would have been wise to lower their demands before the new season began because at 33, Gardy's best days are likely behind him. He doesn't steal many bases anymore — his power numbers have dipped — and injuries have become a real nuisance. If this trend continues, the Yankees will have to practically give him away before his contract expires at the end of '18 — should they want to open up left field for one of the kids.
What is there to say about Jacoby Ellsbury that hasn't already been said? Even Cashman was recently quoted as saying, "We're certainly looking for more from him." Ellsbury hasn't lived up to the money he's making, and there isn't a team on Earth that would take back that contract without the Yankees eating a huge portion of it. Every time Ellsbury shows even the slightest glimmer of hope, a nagging injury isn't too far behind. It looks like Boston got the last laugh on this one.
Aaron Judge may look like Giancarlo Stanton, but now he hits more like retired Yankees relief pitcher Mike Stanton. Reports are that Judge has remade his swing this offseason, doing away with the big leg kick. Will it help? Well, it certainly can't hurt. Should Judge continue to whiff at a record pace, a demotion back to Triple-A could become a reality.
Judge's demise would benefit Aaron Hicks — not that anyone is planning on Hicks being the right fielder of the future. However, Hicks showed signs of life following the Carlos Beltran deal — but without steady playing time, Hicks won't find his groove, meaning his worth to the club is as a late inning defensive replacement. Cashman even went as far as to call Hicks "terrible" and "horrible" as a part-time player. We can't go through that again. And remember Mason Williams? Me neither.
The biggest negative of the above-mentioned issues is that until the Yankees come to a resolution, we're unlikely to see top prospects, Clint Frazier or Dustin Fowler. There's no point in calling up the future to sit the bench when they can get premium at-bats at Triple-A. Cashman himself admitted, "Right now, he's (Frazier) on the outside looking in."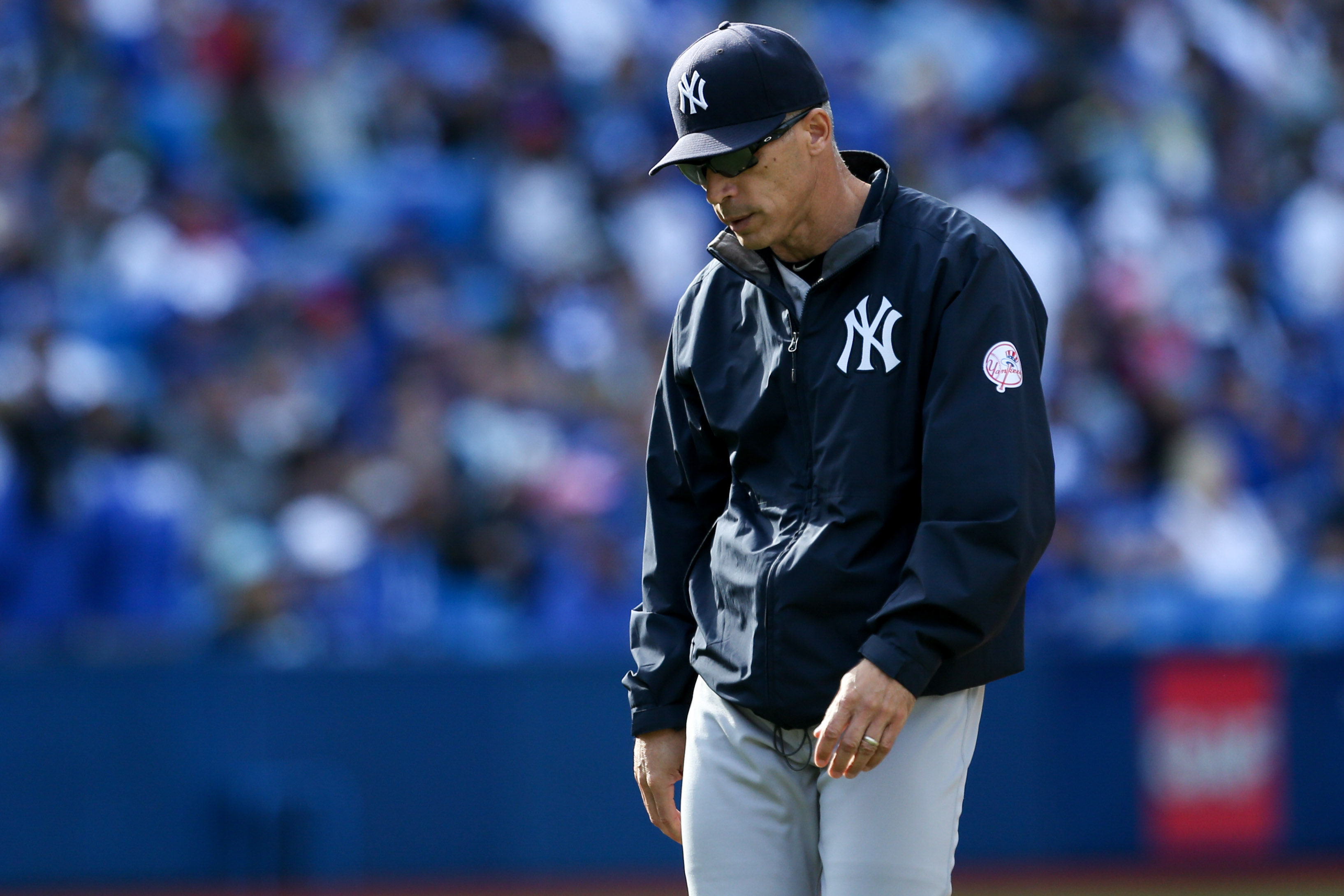 Negative Nancy
You can't be a true fan of a professional sports team if you're not at least down on them once in a while. I'm not talking about going to the lengths of the negative Indians fan from the movie Major League II, as played by Randy Quaid. Rather, someone who has withstood the trials and tribulations of up and down seasons and longs for a return to the glory days of yesteryear.
A good contingent of Yankees fans feels this way. Believe me, I monitor the comments section on this site and am well aware that there are more than a handful of supporters who still want to shun the rebuild and return to the free-spending days of The Boss.
I get their sentiment — that until the fruits of Cashman's labor begins to result in playoff appearances, there is still a gaping hole of unknown. While exciting to some, this is terrifying to others.
In regards to the questions that remain about this current Yankees team and the players that encompass it, the pessimist's attitude is quite draining, but losing streaks and missing the Postseason will do that to you when you were accustomed to winning.
Not all the bad things I spoke about in this piece will happen. As a fan myself, I hope none of them do — but that's not the way things usually go in the span of a 162-game season. Players get hurt, underachieve — management overreacts in hopes of righting the ship — and before you know it the season that had so much promise is a wash.
Want your voice heard? Join the Yanks Go Yard team!
I promise you, my next article will be much more upbeat, probably too much for some.
More from Yanks Go Yard
This article originally appeared on